Trouble in 1970
The Lawrence City Commission this afternoon asked Gov. Robert Docking to proclaim a "state of crisis and emergency" in Lawrence following five nights of violence that resulted in the slaying of two youths.
No curfew was sought, however.
The commission met this morning at 11 a.m. and it was not announced until nearly 1:45 p.m. that the city fathers had decided not to seek a curfew tonight.
A "state of emergency" does not include a curfew but it does include:
• Additional law enforcement manpower — probably from the State Highway Patrol.
• Bans on "sale, possession, carrying or use" of firearms or other dangerous weapons.
• Bans on sale of gasoline into any container other than the tanks of motor vehicles.
The state of emergency goes into effect exactly three months to the day after a similar curfew was called April 21 when arson destroyed much of the central portion of the Kansas University Student Union.
The curfew then lasted for three nights.
Docking was expected to declare the state of emergency late this afternoon after it took the commissioners nearly three hours to decide on their course of action.
City Manager Buford Watson said the "state of emergency" would go into effect whenever Docking declares it. Watson could not say when the emergency procedures would go into effect but offered a guess that the special regulations might begin somewhere between 6 and 9 p.m. today.
The state of emergency continues until Docking agrees to lift it.
Earlier today, Watson said the chief factor in his recommendation that a curfew be called was the condition of police who have been on 12-hour shifts for five days and nights.
Moreover, Watson said, the police officers are beginning to show signs of mental fatigue. "This is a different situation than April," Watson said. "They are mentally exhausted. This is like fighting guerrilla warfare. We have the men with flak jackets and helmets. How much can you take?" Watson said.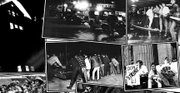 Forty years ago today, the Kansas Union burned. What followed was a year of violence and destruction not seen since Quantrill's Raid. While the unrest has long since dissipated, the memories remain.
Docking cut short his trip to the Midwest Governor's Conference in Columbus, Ohio and flew back to Topeka today as a result of the turmoil in Lawrence.
Pat Burnau, news aide to the governor, said Docking was awakened during the night so he could be informed of the disturbances and fatal shooting Monday night in Lawrence. The governor left Columbus about noon to be back in his office in Topeka about 5 p.m.
Originally, Docking had not planned to return until Wednesday evening.
Burnau said the governor's administrative assistant, John Ivan, would represent Docking during the remaining portion of the governor's conference.
Burnau said Col. William Alott, Kansas Highway Patrol superintendent, was keeping the governor's office informed of the Lawrence situation, and that Docking was checking in with his office here regularly.
"The governor is concerned over the Lawrence situation, and wants to be in his office," Burnau said.
More like this story on Lawrence.com