Trouble in 1970
A fifth straight night of violence in Lawrence ended tragically Monday night when an 18-year-old Leawood youth was fatally shot during a disturbance near the Kansas University campus.
The youth, Harry Nicholas "Nick" Rice, 18, of Leawood, was killed by gunfire at about 10:18 p.m. as a crowd of youths fled south on Oread Avenue — immediately north of Kansas University campus — from a disturbance that began near the Rock Chalk Cafe, 12th and Oread.
Two other persons were injured in the incident. A Lawrence policeman was hit under the right eye with a rock and a Kansas University graduate student was shot in the right leg at about the same time as Rice.
Patrolman Donald Dalquest, 26, and Merton R. Olds, a Kansas University graduate student from Topeka who lives at 1230 Oread, both were treated and released at Lawrence Memorial Hospital.
Rice received almost the identical type of wound which killed Donald Rick Dowdell, 19, of 918 W. 24th, Thursday touching off the wave of unrest which has gripped Lawrence for the past five days.
Both were hit with a single bullet in the back of the head. In the case of Rice, the bullet continued through his head and came out above his teeth, official sources said.
He was dead on arrival at Lawrence Memorial Hospital. Rice was a freshman engineering student at Kansas University last fall and spring.
Rice was not enrolled in Kansas University this summer. His Lawrence address was listed in the 1969-70 KU directory as 1144 Louisiana.
He reportedly came to Lawrence Monday night for a date. A young woman — apparently Rice's girl friend — was brought to Lawrence Memorial Hospital by other young people in the area after the shooting.
Rice was shot during a confrontation with police during which small fires were set and an automobile turned over on its top. The area at 12th and Oread has been the scene of turmoil since Friday.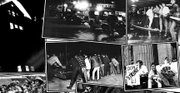 Forty years ago today, the Kansas Union burned. What followed was a year of violence and destruction not seen since Quantrill's Raid. While the unrest has long since dissipated, the memories remain.
An investigation continues today into Rice's death. It is not certain who shot Rice but policemen did fire several shots at the scene, according to County Attorney Dan Young.
In a statement issued to the press in the pre-dawn hours, Young said:
"It is not known at this time who fired the shots which struck Olds and Rice. Several tear gas cannisters were used in the area to disperse the crowd that was assaulting police officers with rocks, bottles and other missiles.
"Tear gas was used both before and after the shooting occurred. It is known that police fired several shots. It is not known whether any of these are the ones which struck Rice and Olds.
"Investigation is continuing to determine the source of the shots which struck Rice and Olds. Interviews have been conducted with approximately 10 witnesses and interviewing of witnesses will continue in the morning.
Young said he could not say in an inquest would be called or when. He said the calling of a coroner's inquest is the prerogative of Douglas County Coroner Dr. James Reed.
The incidents began about 9:30 p.m. when a crowd of youths gathered inside and around the Rock Chalk Cafe at 12th and Oread. A small brush fire was started on 12th Street at the north end of the United Campus Christian Fellowship.
Young people immediately opened a fire hydrant at 12th and Indiana spraying hundreds of gallons of water across Indiana. The fire soon died but police and firemen had to be summoned to turn off the fire hydrant.
The Rock Chalk Cafe was cleared and closed and tear gas was used to disperse the crowd. The incident appeared to be over by about 10 p.m. But just moments later, the crowd gathered again. A Volkswagen was turned over on its top and young people started to set it on fire.
Police reported that two firebombs were tossed at 10:08 p.m. and landed in shrubs across the street from the Rock Chalk. No fire resulted and no damages occurred.
When police appeared again they charged the young people and lobbed tear gas into the crowd. The youths began running south along Oread Avenue, witnesses said, and at that time policemen opened fire on the youths.
After they were shot, both Rice and Olds were helped to the Gaslight Tavern, 1241 Oread, where about 50 young people sought sanctuary until more tear gas was used to drive the young people out of the tavern. Olds and Rice were taken by ambulance to the hospital.
A number of witnesses told the Journal-World that the only persons they saw firing guns were police.
Chris Mabbutt, 21, of Greenacres Trailer Park, said he saw youths gather around the overturned Volkswagen. "The officers saw them attempting to light it. One of them shouted, 'Shoot him, shoot him." They leveled their rifles. There was one shot; two more after that.
"They threw tear gas cannisters and then fired four or five more rounds through the tear gas. The people in front of the Gaslight were in direct line from where the policemen were shooting. They just leveled their rifles. They weren't shooting over anything."
Another witness, who gave her name as Angelique Lair, no address given, said she was running alongside Rice when he was shot. She said Rice gave police officers no provocation for the shooting.
Police Chief Richard Stanwix said today that officers were assaulted with rocks and bottles before they opened fire but Miss Lair disputed this statement. Watson said a policeman is justified in shooting "when he sees a felonious action about to be committed or when protecting persons or property.
Other witnesses said they heard police telling such things as, "If you don't run I'm going to shoot you," and "Kill the —— ——."
Earlier in the day, Young had announced that tentative plans had been made to hold the coroner's inquest into the slaying of Dowdell at 2:30 p.m. Wednesday.
The slaying of Dowdell prompted City Manager Buford Watson and Police Chief Richard Stanwix to relieve Patrolman William Garrett from active duty.
Garrett, who apparently fired the shot which killed Dowdell, remains a member of the force at pull pay pending the oucome of the inquest.
County Coroner Dr. James Reed said today the inquest will proceed as scheduled.
Reed performed an autopsy on Rice's body and said the wounds of Rice and Dowdell were only inches apart in location.
Reed said the cause of death in Rice's case was laceration to the brain stem. He said the bullet entered the back of the neck just below the base of the skull.
Reed said his investigation into which type of bullet which made the wound is not yet complete. But he said the bullet would have to have "a fair amount of energy to go all the way through."
Reed said he is not sure whether a coroner's inquest will be called in the slaying of Rice.