Gene Autry will be riding back into town on his favorite horse, Champion, courtesy of the Lawrence Public Library film series.
The screen hero appeared in more than 91 movies, had his own TV show, recorded more than 600 songs and gained fame by being the singing cowboy of big-screen Westerns.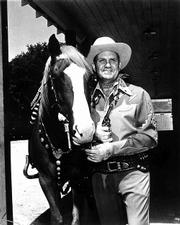 In his flicks, Autry, accompanied by co-stars like Gabby Hayes and Jimmy Durante, made the Wild West safe and won the war against desperadoes by using campfire sing-alongs and his good nature. He may be the nicest action hero moviegoers ever viewed, and that made him a top box-office draw in the 1940s.
Autry died last year, but his personality continues to inspire devoted fans.
"It was his overall kindness. They love this man," said Sandra Wiechert, the library's public relations director. "He was gentle and graceful, and there was an aura about him. That and his wonderful singing voice made him popular."
Autry's voice won him the first gold record ever, and he sold more than 100 million records, including popular versions of "Peter Cottontail" and "Rudolph the Red-Nosed Reindeer." "Rudolph" is still the second best-selling single of all time. He was also a shrewd businessman, and his holdings included the California Angels baseball team.
In 1988 Autry opened the Autry Museum of Western Heritage in Los Angeles. It contains art, artifacts, more than 40,000 books on the Old West and Autry's films, which are available through the museum's entertainment division.
The film series will be staged as an afternoon matinee. "Gaucho Serenade" and "Melody Ranch" will be featured from 1 p.m. to 3:30 p.m. Saturday. From 1:30 p.m. to 3:30 p.m. Aug. 26, "Back in the Saddle" and "Trail to San Antone" are featured. Admission is free.
More like this story on Lawrence.com