Saturday, August 12, 2000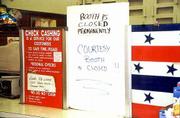 Goodbye Alvin's. The courtesy booth at Alvin's IGA is permanently closed with the store's closing. The photo was submitted by the store's lonely customers Jere and Gayle Matchett, Lawrence.
Got a shot for Friends & Neighbors? Send it, along with your name, phone number and caption information, to Friends & Neighbors, P.O. Box 888, Lawrence 66044.
More like this story on Lawrence.com