Thursday, August 17, 2000
Pantera meets its music head-on.
"We're not a radio band, and we've never been an MTV band," said drummer Vinnie Paul. "The way we deliver our music to our fans is to play."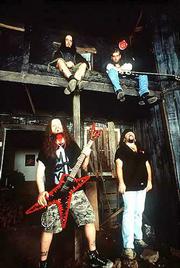 Formed in 1982, Pantera (singer Philip Anselmo, guitarist Dimebag Darrell, bassist Rex Brown and Paul) pounded the Texas metal circuit playing styles that varied from heavy metal to glam.
Eventually, the group adjusted its sound and struck gold with its 1990 major debut, "Cowboys From Hell." The group's 1992 release, "A Vulgar Display of Power," scored big with "Walk," the closest thing to a hit Pantera's ever seen, and continued to earn the quartet a rabid following of devotees.
1994's "Far Beyond Driven" debuted at No. 1 on the Billboard charts. The band's latest work, "Reinventing the Steel," is its first studio release since 1996's "The Great Southern Trendkill" and should find Pantera prowling concert stages well into next year.
"We're going to headline South America next -- Mexico and all of South America. Then we'll start a headline tour in the States, take a little break for Christmas.
"We start back up New Year's Eve in the States and go 'til March. Then we'll go to Australia, Japan and the Pacific Rim in April. In May, we're doing festivals in Europe. After that we'll probably do one more jog through the States, this time next year. Then we'll take a break and start on a new record."
All that touring doesn't bother Pantera a bit.
"Every record we've always done after at least a year and a half or two years of touring. It's a lifestyle. It's something all of us are really accustomed to and, for most of us, it's tougher to get used to going home than going out of the road. " Some bands love it, some don't. We enjoy it, it's fun."
The good and bad of touring
Pantera is currently playing the main stage at Ozzfest, which stopped Aug. 16 at Sandstone Amphitheatre in Bonner Springs.
"It's fantastic. It's the funniest tour in the world," Paul said. "You play a day and then get a day off, play a day, get a day off. We're past the halfway point -- we got about three weeks left. It's been super so far. The weather's been really kind to us."
As for the dark side of touring, Pantera has seen its share of hard times on the road. One early gig was a 1992 Russian peace festival, featuring Metallica, AC/DC and the Black Crowes, that nearly turned deadly.
"It was pretty amazing," Paul said. "We played there in September of '92, which was right after the Russian coup. We went over there and, at the time, none of the bands on the bill had records available over there. They'd been secluded from this music for so long. The Russian police didn't know how to react to it.
"We went onstage, and it was like we were Led Zeppelin or something. People just went crazy; it was unbelievable. There were over a million people there, and when people started going off like they do at concerts, the cops started beating them with these rubber billy clubs. There was no way to control it. As beautiful of a thing as it was, at the same time it was pretty upsetting to see what went on there. I think it's changing now."
Concert chaos
Paul said festival seating can lead to injuries or even death, as was the case at a recent European concert featuring Pearl Jam.
"European festivals are quite a bit more rowdy than the ones in the States," Paul said. "If somebody here asks you to scoot back, sometimes they'll listen. When somebody there asks you to stand back, they don't give a (expletive), they're coming.
"I don't know if Pearl Jam had anything to do with it, or if it was just poor security. A lot of times, if you don't have a security director who goes in and advances the show, it can be a deathtrap -- something waiting to happen. You have to be prepared for that amount of people, and if something does get out of control, you have to stop the show and straighten it out before something like that happens.
"We've had that happen several times, and we've been lucky that no one's ever been killed or anything like that. We stop the show, make sure the barricades are fully repaired and then go back and do it again.
"Back in the day, in '91 or '92, we'd encourage people to stagedive, have a good time and really let it all hang out. These days, everybody's so lawsuit happy and so many people end up being liable. So, we pretty much let people to do what they want at our shows, but we don't encourage anybody. You're on your own, so to speak."
And what does Paul make of the criticisms that hard rock concerts lead to violence and injuries?
"Generally that comes from people who aren't involved in it or aware of it," he said. "They look at people having a good time and think that it must be bad. It's nothing I pay attention to. If you're a fan of something and you enjoy it, you really don't care what anybody else thinks of it. That's kind of how we feel about it, too."
No stance on Napster
As for the Internet, Paul and Pantera don't make much of the recent Napster controversy.
"We don't really have a stance on it," he said. "We've never been involved in it, and none of us have really been in tune with the Internet.
"We've always been a street-level band. It's always been fun for us to shake somebody's hand and sign an autograph for them than it is to get online and chat on e-mail.
"The Napster thing, it's a double-edged sword. As a fan, who doesn't like getting (expletive) for free? Everybody likes free (expletive). But as artists, that is our income and it is what we do for a living. If you walked into McDonald's and they gave free hamburgers to everybody, before long McDonald's would be out of business."
More like this story on Lawrence.com