Larry and Brenda Compton have their own mini United Nations going.
The Lawrence couple have adopted six children from abroad -- three from Vietnam, one from South Korea, one from India and one from Romania.
Oh, and they have a seventh adoption under way -- of a little girl in China.
And throw into the mix the couple's own three biological daughters.
"We draw a lot of attention when we go out in public. There are so many of us, and we all look different," Brenda Compton says.
How can they possibly afford to keep all the troops in food and clothing?
"Other people have a $50,000 car or a $300,000 house. We have children, and we're going to keep them a lot longer than a car. Everybody's in debt for something," she says.
Brenda Compton also runs the Kansas office of International Family Services, a U.S.-based agency specializing in foreign adoptions.
She's working with about 40 families who are seeking to adopt children from abroad.
Reasons to look oversees
Clearly, the Comptons have taken an idea -- adopting children from other lands -- and run with it.
But other than the number of foreign children they've adopted, the family's not so unusual.
Here are the top countries of origin and number of children adopted by U.S. parents in 1999:* Russia, 4,348* China, 4,101* South Korea, 2,008* Romania, 895.
It's become increasingly common for people in Lawrence who want to start a family, or add to the one they have, to turn to international adoption.
They often site the same reasons for choosing that route over domestic adoptions:
Adoptive parents are protected by strict international adoption laws that prevent biological parents from reclaiming a child they gave up.
There are so many children around the world who need families.
International adoption can be less expensive than adopting domestically. The cost typically ranges between $15,000 to $20,000, Lawrence adoptive parents say.
Area families who've adopted foreign children say the entire process takes only 12 to 16 months, compared to domestic adoptions which can take two or more years.
Countries such as China actually encourage older couples to adopt children.
It can be easier to find and adopt a healthy infant abroad than in the United States.
But in support of domestic adoptions, Marianne Gowen, director of Catholic Community Services of Lawrence, said they aren't as expensive or complicated as often perceived.
The fee to adopt a newborn through Catholic Services is $8,500. It is a nonprofit agency, Gowen points out, keeping the cost of adoptions there lower than fees charged at private agencies.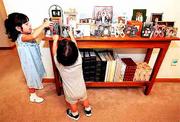 Adoptive parents might expect to pay around $20,000 through a private adoption agency, she says.
The agency at 320 Maine also offers free pregnancy and adoption counseling, as well as adoption services.
The wait to adopt a newborn through Catholic Services is two years. But it might take only a few months to adopt an older, special-needs child, Gowen said.
Catholic Services does have an age limit for adoptive parents: they must be 43 years old or younger.
But people who adopt a child through the agency don't have to worry that the adoption could be reversed later.
"We take very careful steps to ensure that both birth parents relinquish their parental rights before a child is placed, so there's no question," Gowen says.
Clients do not have to be Catholic to adopt a child through the agency.
Ages and nations
The Rev. Sherry Schultz, pastor of Unity Church of Lawrence, was discouraged from trying to adopt an American infant because she is single and over 40.
"(Domestic) adoption agencies are looking for a nice mommy and daddy, and I didn't have a nice mommy and daddy to offer," she says.
So Schultz adopted a baby from China, where orphanage officials weren't fazed by her age and marital status.
"They're looking for parents to be more than 35. They think wisdom comes with age, and I agree," she says, laughing.
Other people have a $50,000 car or a $300,000 house. We have children, and we're going to keep them a lot longer than a car. Everybody's in debt for something."� Brenda Compton, mother of nine children, six of whom were adopted from other countries
Her daughter, Rosabeth Audrey MaYin Schultz -- or Rosie for short -- turned 2 in April.
Elise Fischer and John Oliver, a couple in their 40s, have adopted an Ethiopian girl and boy and a Chinese girl.
"We're one of those unusual cases where we chose to form our family by adoption," Fischer says.
They chose to adopt children from those countries because "our hearts were just pulled in that direction."
It's been a big adjustment for the couple, who've grown accustomed to a noisy house and boisterous children.
"We're starting to function somewhat normally. But I think we're the only family with kids who fight about which is better, Ethiopia or China," Fischer says.
---
Here are the telephone numbers and Web sites of some international adoption agencies and local groups for families who have adopted children from other countries:
Associated Services for International Adoption (ASIA): (503) 697-6863; www.asiadopt.org.
Chinese Children Adoption International: (303) 850-9998.
Children's Hope International: (314) 890-0086; www.childrenshope.com
His Kids Adoptions International (Christian-based): (785) 862-6131, Kim Burghart, senior adoption specialist.
International Family Services: 832-0018, Brenda Compton, Midwest field representative.
Families with Children from China: (785) 862-6131, Kim Burghart, president.
More like this story on Lawrence.com