Thursday, August 24, 2000
Memphis, Tenn. — Elvis Week: T-shirts, dress shirts, kid's shirts, work shirts, hand-stitched rugs, ceramic mugs, Japanese Fan Club, souvenir lunchbox, genuine hair locks, hound dog mouse pad, commemorative towel rack, sunglasses, sideburns, yo-yos, sunburns, vigils at midnight, faux-diamond necklaces bling-blinging in sunlight, custom vans, "Welcome Elvis fans," karate poses, red clown noses, gold records, Sun Records, Elvis Monopoly, chess and checkers, The Lisa Marie, "Elvis Visa shopping spree," TCB, "all you can eat."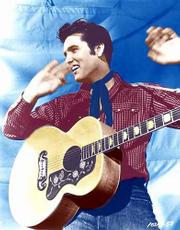 Aug. 11
Elvis Week is a phenomenon like no other. The annual gathering of Elvis tribes engulfs Memphis in T-shirt sporting, credit card-toting tourists each August, offering diehard fans the opportunity to show their love for The King, celebrate his passing and spend, spend, spend.
This year's events include everything from the Elvis 5K run (I'm sure Presley would've been all over that one!), a memorial golf tournament, the Elvis Week Blood Drive, myriad concerts, trivia contests, discussion panels and, of course, lots and lots of stuff to buy.
I ask a local woman about Elvis Week and she tells me, quite earnestly, "There's two things you don't joke about in Memphis: Elvis and religion. You just don't do it."
I consider myself warned.
Aug. 12
Graceland is ground-zero for all that is Elvis this week. Today the parking lot is packed with cars from nearly every state, and fans flock around a grandiose circus tent offering impersonators the chance to show off their stuff.
"Do you think he's still alive?" I ask one man, who vaguely resembles The King.
"Yeah, I do," he says. "I always have. Just think -- this would be the week for him to show up in Memphis. Everyone would say, 'That looks like Elvis.' And other people would say, 'No, that doesn't look like Elvis at all.' And it would probably be him!"
While most Elvis Week fans wear their love for Presley on their sleeves, some take it even further.
"I have one for every year," LaVera Chapel says, pointing to the 12 Elvis tattoos painted across her body. "I figured if I was gonna get into tattooing, it had to be something I really and truly loved.
"" Elvis gave a lot to me in my life. He's given me pleasure, he's driven me out of seclusion. The gospel brings me out. If I'm in my room for four or five hours, it's Elvis. I'll go in there angry and come out a better person. I stop, I look, I listen and say, 'Hey, I have a life, Elvis doesn't.' So, I come here every year just to show him tribute."
Sample graffiti from Graceland's outer fence: "Elvis is cool." "Elvis come out." 'Elvis re-incarnate soon." "Elvis was a Mormon." "Elvis, you still owe me $50."
As I peruse the graffiti wall, one man slows down in his truck and screams "Elvis is (expletive) dead!" to a group of startled Dutch tourists.
A minor kink in The King's armor, but just a scratch.
Aug. 13
I journey to Cordova, just north of Memphis to visit with Kang Rhee, who was Presley's karate instructor during the late-'60s and early '70s. Rhee offers visitors a free peek at his karate studio each year and is visited by busload upon busload of tourists, who are mostly foreign.
"He touched me like gold from a rock," Rhee says. "I was not recognized, but since Elvis passed through here, he made me much more valued. My contribution to him is this studio and what it meant to him."
"I went to Nashville first," says a woman visiting from Evian, France, "then Tupelo (Miss., Presley's birthplace). This morning, I went to Graceland for the first time. I cried all my tears."
Aug. 14
"Can 50,000 Elvis fans really be wrong?" I start to wonder by the week's midpoint, as I pay increasing attention to those for whom Elvis Week is a non-event.
"Honestly, I wasn't aware of an Elvis madness," says Garth Loworn, whose death metal band Fleshtized was in town for a weekend gig. "Is something happening this week?"
"I'm not much into Elvis," says Memphis guitarist Jared Hatman, who was busy busking Beale Street for enough spare change to pay for a trip to New Mexico. "A lot of the tourists who come here are, but I just never got into Elvis that much.
"A lot of the kids that you meet on the street here are into the really heavy music. That's like the underground music scene in Memphis. I don't get a lot of requests for Elvis songs. Most people just want to hear some good old rock 'n' roll."
For all its tourist attractions, Memphis also appears to be a city teeming with liquor stores, pawn shops, run-down neighborhoods and homeless people.
"There's a lot of social issues here that need to be addressed," says Richard Thompson IV, who was preaching on a street corner in Memphis' notorious ghetto, ironically dubbed Hollywood. "I know down at Graceland you don't see the poverty that's here. There are lots of people who are very poor and a lot of people who are living on the streets. They don't have anywhere to go. So, there's a lot of issues that need to be addressed."
Aug. 15
The Elvis bug is contagious, apparently. Pearl Jam, which has stopped into Memphis' Pyramid arena for a night of low-key grunge, has caught the spirit, too.
Normally stoic lead singer Eddie Vedder dons a jacket and a pair of Elvis sunglasses during the band's encore, launching into a spirited version of "I Can't Help Falling In Love With You." Dedicating the song to "The Big E upstairs," Vedder punctuates the track with a series of goofily dramatic, high-flying karate moves that would undoubtedly bring a sneering half-grin to The King's lips.
Elvis will not be ignored. Not this week.
Aug. 16
The final event of Elvis Week is the candlelight vigil at Graceland. Attended by nearly all of Presley's diehard fans, the vigil perfectly merges capitalism and catharsis into a finale truly fit for a king.
Mourners sprawl about Elvis Presley Boulevard, candles glowing, tears and hot wax streaming onto newly purchased T-shirts.
"I think it would be nice if they would do something creative and not just try to make money," says one sidewalk artist, who was encouraging passersby to add a splash of color to his ongoing art project.
The dozen or so gift shops surrounding Presley's estate stay open all night -- this is their Christmas, and Elvis their Christ. But these are things you don't joke about in Memphis