Michael to the Max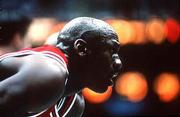 Kansas City, Mo. -- "Michael Jordan to the Max" will open Friday at the IMAX theater inside the Deramus Education Pavilion at the Kansas City Zoo. The film will run through Jan. 31.
The film takes a look at the basketball superstar, who led the Chicago Bulls to six NBA championships. The film takes the viewer on-court to show how Jordan overcomes gravity and chronicles the 1998 playoffs.
Show times are noon, 2 p.m. and 4 p.m. Mondays-Wednesdays; noon, 2 p.m., 4 p.m., 6 p.m., 7:15 p.m. and 8:30 p.m. Thursdays-Fridays; 10 a.m., noon, 2 p.m., 4 p.m., 6 p.m., 7:15 p.m. and 8:30 p.m. Saturdays and noon, 2 p.m., 3 p.m. and 6 p.m. Sundays.
Ticket prices ranges from $4 to $6. Reservations can be made by calling (816) 513-IMAX.
The family pet
Who's that next to Grandma in the family picture? Fido? Could be. More than 60 percent of cat and dog owners include news about their pets in their holiday greetings, 27 percent take their pets along for family photographs or to have their pictures taken with Santa, and 79 percent give their pets holiday or birthday presents, American Demographics magazine reports.
Pets of the stars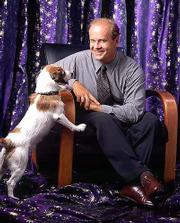 Speaking of pets, if a movie or TV show is a dog, many of you will go for it. The dog, that is. Because when a breed turns up on TV or in the movies, a boom inevitably follows, USA Weekend reports. "Right now, Eddie from 'Frasier' has everyone thinking they want a Jack Russell terrier," says Matthew "Uncle Matty" Margolis, the L.A.-based trainer, author and host of the PBS series "Woof!"
New theory of evolution
Sorry guys, but it isn't a man's world. Men and women are more alike than scientists thought in their propensity to create genetic mutations that pass to their offspring, a study suggests. Since mutations are the basis of evolution, researchers report in the journal Nature that the finding "flies in the face of the thinking that we've long held in human genetics, that men are in the driver's seat when it comes to human evolution."
Truly magical video games
You've read the books, soon you'll be able to play the game. Electronic Arts Inc. says it has received exclusive worldwide rights to develop, publish and distribute computer and video games based on J.K. Rowling's hugely successful Harry Potter books. California-based Electronic Arts says it plans to publish games based on all four Harry Potter books, an upcoming feature film and any subsequent films.
Northern exposure
Also in American Demographics, a report on really big roadkill in Alaska. In 1998, the last year for which statistics are available, there were 689 accidents involving a car and a moose. Eleven percent of all Anchorage residents have been in a car that hit a moose, and 72 percent have been in a car that had to swerve or brake to avoid a moose.
More like this story on Lawrence.com