New York — It was the last night of Bruce Springsteen's triumphant world tour -- 16 sold-out months on the road with the reunited E Street Band. The Boss and his sidekicks, teary-eyed, held hands as the Madison Square Garden crowd screamed wildly.
"We'll be seeing you!" Springsteen proclaimed after playing their last song -- quite appropriately, "Blood Brothers."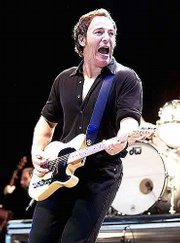 But when?
Where?
How?
On a live album? A new studio album? A DVD of the Garden shows?
Who knows? When it comes to Springsteen, who ever knows?
"Springsteen is certainly known for taking his time, changing his mind frequently while he's at it, and often doing the last thing you'd expect," says editor Chris Phillips of Backstreets Magazine, which chronicles all things Springsteen.
"Judging by all the song debuts toward the end of the tour, he's certainly got some great material."
That material includes "American Skin (41 Shots)," the Amadou Diallo-inspired song that prompted the silliest Springsteen controversy since Ronald Reagan interpreted "Born in the USA" as a paean to patriotism.
There were other new songs, too: the nightly show-closer "Land of Hope and Dreams," and three rockers -- "Further On Up the Road," "Code Of Silence" and "Another Thin Line."
Five songs, for most artists, is the start of a new album. For Springsteen, it could become the start of "Tracks II" -- a follow-up to the boxed sets of rarities and unreleased gems that he put out (to critical acclaim) in 1998.
From band to solo
Springsteen, through his publicist, has said nothing about what's next. The lone hint about the future emanating from the notoriously tight-lipped Springsteen camp came courtesy of Little Steven Van Zandt, who took questions from fans on his Web site.
Question No. 1: Would you like to see the E Street Band become a recording act again?
"Yes," Van Zandt replied.
Question No. 2: What are the chances of that happening?
"I'd take the odds," said Van Zandt.
There were no more queries fielded about the subject, no more clues offered. But given Springsteen's track record in the '90s, anything seems possible.
After breaking up the E Street Band in 1988, Springsteen disappeared until releasing two albums simultaneously in 1992 -- "Human Touch" and "Lucky Town."
He then launched a tour with a new band, leaving fans to lament the absence of the E Streeters. He dabbled in hip-hop music (the result was "Streets of Philadelphia"), and began writing music strictly on his bass.
Springsteen returned in 1995 -- but as a solo act, touring small theaters in support of his mostly-acoustic "Ghost of Tom Joad" album.
The acclaimed tour featured Springsteen channeling the spirits of John Steinbeck and Woody Guthrie: He occasionally read an excerpt from "The Grapes of Wrath," and performed Guthrie's "Plane Wreck at Los Gatos (Deportee)."
Mixed in was a brief reunion with the E Streeters to record four songs included on a greatest hits package, followed by the "Tracks" collection. Fans were left wondering if Springsteen and the band would ever get together for a larger-scale project.
Bruce & Co. emphatically answered the question with their tour of Europe and North America, selling out virtually every stop.
The North American leg of the tour began with an unprecedented 15 shows at the Meadowlands in New Jersey, and closed with 10 sold-out nights in Madison Square Garden. On July 1, after playing the tour-closing set, Springsteen delivered his cryptic comment about the future.
A 'wait and see'
During the Garden shows, director Jonathan Demme -- a Springsteen pal -- reportedly filmed some shows for possible release. Springsteen, obviously aware of the filming, uncharacteristically asked the audience to keep the noise down during the slow songs.
But getting the band back together again is not as simple as it was in the days when everybody was a Jersey guy.
Drummer Max Weinberg has a regular job as band leader for Conan O'Brien, while bassist Garry Tallent is a respected Nashville record producer. Guitarist Van Zandt has become an actor on the hit HBO series "The Sopranos."
Guitarist Nils Lofgren and sax man Clarence Clemons have solo careers. And there are wives and kids and commitments that once were not a problem.
"Who knows?" asked Backstreets' Phillips. "It's a wait and see game at this point, and we're taking everything we hear with a grain of salt."
---
More:www.littlesteven.com
More like this story on Lawrence.com