"Kwaidan: Three Japanese Ghost Stories," by conceptual artist Ping Chong, designer Mitsuru Ishii and puppeteer John Ludwig, will be presented at 8 p.m. Thursday at the Lied Center.
"Kwaidan" is based on translations of Japanese ghost stories by turn-of-the-century American writer Lafcadio Hearn. It consists of three magical and macabre tales of the supernatural, presented through a combination of puppetry and live action and enhanced by inventive lighting and sets.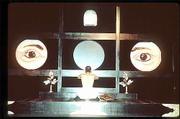 The first tale, "Jikininki," is about a Buddhist monk who wanders the countryside in search of shelter each night. He is taken in by a family, in which the father has just died. The family leaves the house overnight because traditionally strange things happen the first night after someone's passing. The monk volunteers to stay and pray for the dead man. During the night the corpse is spirited away by a mysterious presence, and the next day, the monk uncovers the mystery behind the apparition.
The second story, "Miminashi Hoichi," is about a blind minstrel, the only character portrayed by a live actor. The minstrel serves at a monastery where centuries earlier the clan of a child emperor has died at the hands of a rival clan. Their ghosts still haunt the region. One day, the minstrel is abducted by a demon and taken to perform for the amusement of the ghosts. The monks devise a plan to rescue the minstrel.
The third story, "The Story of O-Tei," is a romance about a young man who promises his dying fiancee that he will wait for her to be reincarnated so they can be together. He is reunited with his beloved while ordering at a restaurant.
The show runs about an hour and 20 minutes with no intermission. The show is appropriate for ages 12 and older. There will be a post-performance talk-back session with the artists.
Ticket prices range from $11 to $27. Tickets are available at the Lied Center Box Office, 864-ARTS; Murphy Hall Box Office, 864-3982; Student Union Activities Box Office, 864-3477; KU Medical Center Bookstore; and any Ticketmaster outlet, (785) 234-4545 or (816) 931-3330.
More like this story on Lawrence.com