Mari Pilar's paintings are a metaphor of life: a constant shifting between the known and the unknown, creation and destruction, one perspective to another.
"My painting is my spiritual practice," she said. "It is a mirror for where I am, and I'm always looking in the mirror."
Pilar, who moved to Lawrence in January, has been showing her abstract expressionistic paintings for little over a year. Already she is represented at DEL Fine Art in Taos, N.M.; Haydon Gallery in Lincoln, Neb.; Lovewell Studios in Superior, Neb.; and Salon 2000 in New York City. Most recently, her works have been taken on by Prairiebrooke Arts, a Soho-style contemporary art gallery in Overland Park.
" " People are immediately drawn to her wonderful use of color and texture and, as they look at the works closely, they see the more subtle relationships of forms and suggestions of space," Anne Pagel, director of the Haydon Gallery, said about Pilar's works. "They find they can enjoy them for a long period of time and never be bored. They seem to change over time."
A new adventure
Pilar trained as a painter at the Art Students League and worked in monoprints at Manhattan Graphic Center, both in New York City. However, she first made her mark as a filmmaker. Pilar traveled worldwide producing films on intercultural learning for AFS Intercultural Programs, based in New York City.
Her film, "The AFS Story," which was shot in France, won a Gold Camera Award from the U.S. Film and Video Festival; a Cine Golden Eagle Award; and a Bronze Apple Award at the National Film and Video Festival.
In addition to writing and directing, she produced an Alaskan television documentary, two PBS specials and a children's radio show in Seattle.
Eventually, Pilar left the filmmaking industry and moved to New Mexico, where she built an earthship, a model of an earth-rammed tire structure made famous by Tao architect Mike Reynolds.
"It's completely spontaneous. I only act in the moment, sometimes using just what's in reach of my fingertips."� artist Mari Pilar
When she became fed up with the tourist activity in New Mexico, she moved to Lawrence. What drew her to Lawrence -- she didn't know anybody here -- was meeting artists John Wysocki and Constance Ehrlich during her first visit to the city. Within a few minutes, Ehrlich offered Pilar a work space at her studio on Tennessee Street.
Looking and listening
In the studio, Pilar doesn't use easels or brushes. She works on the floor, on her hands and knees, using knives, scrapers, sticks and her fingers to apply and manipulate the paint. The works often are made of layers of paint that have been scratched through to reveal various colors and highlights.
"More and more I honor that first mark on the canvas," she said. "The energy of that first mark and the intensity of that first movement informs everything that comes after it."
Pilar never comes to her canvas with an image of the finished work in her mind.
"It's completely spontaneous. I only act in the moment, sometimes using just what's in reach of my fingertips," she said. "There's no division between the inside and the outside. It's a swinging door that swings inside and outside, and I'm simply responding.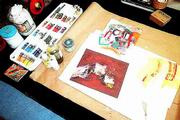 "You have to be willing to lose control. You need to surrender in a spiritual sense, and this involves enormous trust. But this is why I paint. Everything I paint is reinforcement in my trust of the universe and that there is a divine intelligence."
While her work is spontaneous, some images recur in her work, such as a circle and the layered posters she saw in New York City subways and construction sites. But unlike some other abstract painters, she knows when her paintings are done.
"Each painting has its own integrity," she said. "If you listen, it will tell you when to stop working on it. Looking and listening are important to painting. Painting is a visual language, and we listen to a language."
Pilar said she hopes her viewers will "look long" at her paintings. The idea comes from New Republic art critic Jed Perl, who said, "Only when people come to understand that within a painting or a sculpture they can find a time that is outside of time will they want to keep looking. To look long is to feel free."
More like this story on Lawrence.com