Thursday, August 31, 2000
For 20 years, Lawrence photographer Gary Mark Smith, Lawrence, has traveled the Earth searching for "Washington Squares," places where he could observe people as they go about the routines of their daily lives.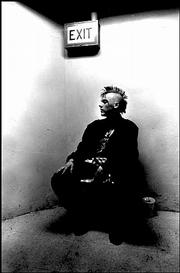 He's found them in Canada, Cuba, the Netherlands, Greece, New Zealand, France, Russia, Poland and 40 other countries.
It was Washington Square in New York City, less than an hour drive from Smith's home in Pennsylvania, that first tapped into his wandering spirit. It was a place where he first felt like his own man and was infected by people-watching.
"It was a place where the world came to show the rest of us what it was made of," Smith writes in his new book, "Searching for Washington Square."
"It was there that I noticed the appeal of common everyday street people and where I first saw buskers and street preachers working crowds and where I first experienced the zest of raving street poets. It was in that � vibrating crossroads of earth that I recognized the creative energy that an overcrowded community could muster on its best of days."
Over the years, Smith has shot thousands of rolls of film of people and places on the world's streets and maintains a portfolio of between 1,200 and 1,500 images. "Searching for Washington Square" contains 140 photos � color and black-and-white � and is available at Smith's Web site, www.streetphoto.com.
The book's foreword is written by James Hugunin, who teaches photo history and contemporary theory at the School of the Art Institute of Chicago and is managing editor of U-Turn E-zine (www.uturn.org).
Virginia Mecklenburg, senior curator at the National Museum of American Art at the Smithsonian Institution, provided a quote for the book's jacket: "The photographs and their commentaries are powerful and dramatic. Smith's created a terrific piece of work with remarkable people in remarkable places."
"Searching for Washington Square" is organized into several sections, such as "Working the Street" (bicycles, street performers, etc.), "Sleeping in the City" (women and men sleeping in public places) and "Bawdy Streets" (contraband, signs pitching sex, etc).
Its final section, "Streets in Time: The Other Side of the Street," takes a dark turn by including images from revolutions and wars.
Those photos, Smith said, represent his ability "to get past my fears and get great photography. � I do photograph on all streets, not just pleasant streets."
Smith, who earned a bachelor's degree at Kansas University and was awarded a master's degree in photographic arts from Purdue University, is artist-in-residence at the Pelathe Community Resource Center in Lawrence. He is returning to Amsterdam in September for seven weeks and plans to go to Ireland next year.
Plus, he is working on his third book, "Lone Trees and Dark Nature" (his first book was "Molten Memories," about his experiences in Montserrat).
"I have successfully done what I wanted to do. I'm not doing what they tell me to do," Smith said, commenting on his ability to become an international photographer while living in Lawrence rather than an art capital like New York City.
---
More like this story on Lawrence.com