Thursday, December 7, 2000
Sometimes you just have those kind of days on the road. Just ask Nothingface singer Matt Holt, who's currently phoning from the back of a Seattle-bound tour bus.
Sometimes you just have those kind of days on the road. Just ask Nothingface singer Matt Holt, who's currently phoning from the back of a Seattle-bound tour bus.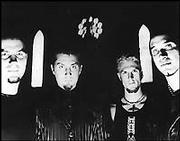 "The other day we were in San Francisco, and I was so lost and out of it. I woke up and I was walking around the street going, 'I've never been to this part of Boston before.' My friend looks at me and goes, 'Boston?'"
The Washington D.C.-based quartet (Holt, guitarist Tom Maxwell, drummer Tommy Sickles and bassist Bill Gall) are used to the traveling life, having spent much of the past few years touring. But things are looking up. The band, which recently released its major label debut "Violence," just graduated from a dilapidated van to a rock star bus with all the trimmings.
"It's so lazy, it's starting to kill me I think," Holt proclaims, laughing. "Back when we were in a van, you were constantly irritated because you were in such close quarters. Now, there's so much room � it's like a house that moves. We've got 900 channels, two DVD players, hi-fi VCR. I mean, it's sick. I'm telling you, this is why musicians do drugs, man, because we are so (expletive) bored."
When he's not on a bus, Holt is probably holed up in a studio somewhere, crafting songs with Nothingface. Forming in 1995, the band released two independent albums, "Pacifier" and "An Audio Guide To Everyday Atrocity" before signing to TVT Records and issuing "Violence" in October. Recorded during a period of months last spring in Vancouver, B.C., "Violence" provides a potent dose of finely crafted, molten metal. Part of the album's luster comes from studio time spent honing the material, carefully shaping it to perfection.
What: Nothingface, EndoWhen: 8 p.m. SundayWhere: The Bottleneck, 737 N.H.Ticket information: 841-5483
"We're not one of these bands that writes a record in 30 days and records it in two weeks," Holt explains. "We're very meticulous about what we do. We really wanted to take our time because we've been rushed so much. I listen to our previous records and go, 'Man, I wish that I had done that there' or whatever. So this time we decided to do everything we possibly could, just cluttered the songs with crap. Then you remove as you go � get down to the base layers of where it's supposed to be."
For Nothingface, logging months of studio time is all part of the process. Drummer Tommy Sickles' home studio was used to record the band's indie debut and all the band members know their way around a recording console.
"We grew up, as a band, in the studio," Holt says. "Some bands don't understand that you use the studio as a tool, not just a place to print your music."
Road to everywhere
Upon "Violence's" release, Nothingface entered the touring circuit, joining the Tattoo The Earth tour alongside bands such as Slayer, Sevendust and Coal Chamber.
"Some of the shows sucked; some of them were great," Holt remembers. "Next year will probably be better because this was the first year they didn't have their (expletive) together. There's some issues with the organization, if you can even use that word."
Organizational issues aside, Tattoo The Earth (which appeared in Lawrence last July) gained considerable attention for its show in the New York Giants' stadium when Metallica signed on as headliners-for-a-day. Unfortunately the Napster-hating mega band's "favor" to the indie tour wasn't such a coup for other groups on the bill, according to Holt.
"It was a big pain in the ass," the singer declares. "Everything got changed around. There was supposed to be a stage outside and two stages inside. Metallica decided they didn't want a second stage inside the stadium. So all the bands that were supposed to play inside were forced to play with all the bands outside, all on one stage. They literally split the stage in half, and we each got 15 minutes to play half the stage."
Though Holt still considers himself a Metallica fan ("James Hetfield was a god to me when I was a little kid"), he is an outspoken critic of most acts found busking the current popular music scene. Be it boy bands, computer geeks or Korn-worshipping "new metal" bands, Holt has an opinion about it. And it's not good.
"It's terrible," he says. "It's all about trends. Everyone talks about the disco years as being the worst time in music. Are you kidding me? I mean, the Bee Gees were cheesy but they could play their (expletive). You don't hear guitar solos anymore because half these bands don't even know how to play them.
"You have guys who basically lean on computers all the time. Korn came up with a formula that was original and fresh; it was their thing. Every band that's getting signed right now sounds like Korn and Limp Bizkit or that kind of Nine Inch Nails-y thing � the Marilyn Manson/Limp Bizkit hybrids out there. Pretty soon, just like sports, there will be no more integrity left in the music business."
More like this story on Lawrence.com