Thursday, December 14, 2000
Two Web site designers are combining their love of art with their computer skills by opening a new virtual gallery that any any art lover with a computer can access.
ArtisteGalleria.com will launch Jan. 1. For designers J.D. Willhite and his wife and business partner, Belinda, it's a labor of love to provide such a setting.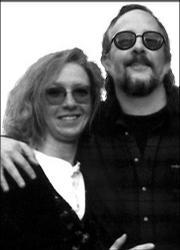 The purpose of the site is to afford any artist, whether or not they have computer access, an affordable way to display their work on the web.
"This is a service to the local community," J.D. Willhite said. "There are so many talented people here, and we wanted to help out by exposing their art to the world."
There are more working artists in Lawrence than there is gallery space available to show their works. With a virtual gallery, the space problem is eliminated. Plus, the Internet can reach artists throughout the world.
"This is open to any artists to submit any type of work they want," he said. "The Internet gives you the ability to reach the widest possible audience. With brick and mortar gallery the space is finite, but we provide an infinite amount of space."
Artists can contact the designers through the artistegalleria site or through their other site at www.blindspotstudio.com to submit their work. Each artist can submit up to 30 images that will be displayed, along with artist information, for an unlimited amount of time. The artist can then submit new work on an on-going 30-day rotation.
Each display allows the artist an individual setting, and they have a voice in how their work is promoted. They also can list their personal contact information, and each space has a unique Internet address that allows artists to refer visitors directly to their exhibit.
Since the site is not an agency, the Willhites do not collect a commission on any sales transactions. Instead, each artist pays a nominal monthly fee.
Willhite and his wife are in the commercial design business where they focus on setting up entertainment and music-related sites. Willhite handles site construction, his wife works on transferring and scanning images into the gallery, and both work on design and layout.
The gallery site enables them to combine their work with their passion for art.
"Art has always been a great interest of mine," he said. "And I'm happy as a clam that I've found my niche and can make a living at it.