Thursday, December 14, 2000
Jeremy Turner was a normal 13-year-old child until the day he got caught in a blizzard of Ozz.
"I heard the Ozzy Osbourne/Randy Rhodes tribute album and that was it," says the guitarist, now 26. "Until I heard that album, I was never really interested in guitar. But after that I immediately went out and got one."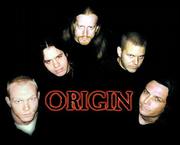 Apparently it was a good investment. These days, Turner spends his time hammering out fuzztone arpeggios and screaming leads for Origin, one of the most successful bands  let alone death metal bands  to spring from the Lawrence music scene. Signed to Relapse Records last year, Origin (Turner, guitarist Paul Ryan, vocalist James Lee, bassist Doug Williams and drummer John Longstreth) now tours the nation alongside giants of the genre such as Cephalic Carnage and Nile.
Origin officially formed in January 1998, though Turner and guitarist Paul Ryan had been playing together for some time already.
"I met Paul at a Pro-Pain show," Turner explains. "We started jamming about a week later. When the whole band finally came together, it was a completely different feel for everybody involved."
Tensions mount
In October 1998, Origin secured a spot on the much-lauded Death Across America Tour, a gig that raised the band's national profile considerably. Still, not all was rosy in the Origin camp.
Disagreements, personal and professional, led to the departure of bassist Clint Appelhanz and drummer George Fluke. While finding a new rhythm section can be an arduous task for any band, the move proved pivotal for Origin, who snagged former Angel Corpse drummer John Longstreth and ex-Cephalic Carnage bassist Doug Williams and signed to Relapse soon after.
"We started talking to John and he was friends with Doug," Turner recalls. "We played a bunch of shows and got our demo to Relapse. They called a few weeks later and we went from there."
The invigorated rhythm section gave Origin a new kick and a renewed sense of purpose, although it changed the band's sound somewhat, according to Turner.
"It was a lot different," he says. "Our old drummer was really good. He was all into jazz and stuff like that, but he wasn't really a death metal drummer. John was into the offstyle drumming. But it was a lot of hard work to make things tight and get the ideas we want to come out."
Origin hit the road, touring the Midwest with its death metal brethren, including now label-mates Cephalic Carnage. Fortunately, any bad blood between Origin bassist Williams and his former band didn't prove problematic.
"They're like our brothers," Turner explains. "They might have had feelings towards Doug and he might have had feeling towards them, but that didn't interrupt our friendship. Whatever happened between those guys happened between them."
Fresh off the road, Origin headed to Racine, Wis., to lay down tracks for its self-titled Relapse debut, spending only 10 days recording and mixing the project. The time constraints forced the band to work hard, but the final product could've used some additional tweaking, according to Turner.
"Some of it was rushed," he admits. "But it was good for a first album. The next one is going to be a lot better. We're already working on songs for the new album. It's going to be a lot more diverse, having different feels for different songs. It'll probably be a lot more complex. We've all gotten better as musicians."
Anti-Cookie Monster
Death metal has gotten a bad rap, says Turner, who listens to everything from Dillinger Escape Plan to Tori Amos to Paganini in his spare time. Though songs like "Vomit You Out" and "Manimal Instincts" might make Origin a target for critics, it's not the lyrics that get the band in trouble.
"Most of the criticisms are with the vocals," Turner explains. "Not the lyrics, but the sort of 'Cookie Monster' vocals. But you can't really sing over death metal; it doesn't really sound right. You have to have that low voice or it doesn't work. It's a really aggressive music and a lot of people just don't like that because they don't like to feel aggressive or whatever. People say they get headaches from it, stuff like that. I think death metal is the most complex music to write besides classical."
So what does Turner think of the more popular end of the metallic spectrum?
"I don't," he states bluntly. "I ask a lot of people if they like death metal and they say, 'Oh yeah, I like Rob Zombie. I like Marilyn Manson.' But that's not really death metal. Those bands are doing what they do and obviously making lots of money at it, but it's not really my taste."
As for death metal's potential in Kansas, Turner's talks about the lack of venues still willing to take chances on heavy music.
"I think it's getting better than it was a few years ago," he says. "But 1990-1992 was the high point of the death metal scene around here. The Outhouse was in Lawrence and that's where every tour came through. Since they closed, there's not really many places to play metal around here. There were a lot of people who kind of got off the scene because of the lack of shows and radio support. But we got signed from here, so there's really no reason for us to move."
More like this story on Lawrence.com