Sunday, December 24, 2000
New York — The life of American painter Jackson Pollock, who battled inner demons, drank too much, thrilled museum-goers with his loopy paint-spattered canvases and then died behind the wheel in 1956, was full of angst, art and aspiration.
It was the kind of artist's life that seems to hold a special fascination for filmmakers.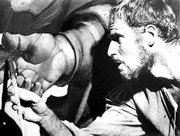 Audiences can "look at this guy Jackson Pollock and he's kind of vulnerable, a guy who has a lot of problems that other people might have in a smaller way," argues Peter M. Brant, co-executive producer of "Pollock," which stars Ed Harris as the abstract expressionist and Marcia Gay Harden as painter Lee Krasner, the woman who loved him.
Hollywood continues to mine painters' lives as subject matter despite some seeming difficulties: translating the inner, creative life to the screen, and overcoming many moviegoers' assumption that a biopic about a painter will be as much fun as, well, watching paint dry.
Just in the past five years, movies have depicted Jean-Michel Basquiat, Goya, Vincent van Gogh, Andy Warhol (twice), Rembrandt, Pablo Picasso and Dora Carrington, to name a few. Films about Georgia O'Keeffe and Henri de Toulouse-Lautrec are in the works.
And two actresses, Jennifer Lopez and Salma Hayek, each star in dueling portrayals of Mexican artist Frida Kahlo.
"The word 'art' still carries a tremendous kind of respect in this society, even though it's probably not understood," says Bruce Ferguson, dean of Columbia University's School of the Arts.
Yearning for recognition
Part of the appeal of these life stories is easy to understand: Artists are notorious for misbehaving, flirting with madness, taking massive amounts of sedatives and even slicing off body parts.
Take the feverish van Gogh in "Lust for Life," the ornery Francis Bacon in "Love Is the Devil" or the thoroughly unlikable title character in "Surviving Picasso."
"They're exaggerations, essentially," says Ferguson. "It's the standard myth of the artist, the romantic myth of the artist. It has a lot of cultural purchase � not just by Hollywood filmmakers, but by the artists themselves, to some degree."
Of course, it's not just painters who have been made mythic. Creative people of all stripes have been fodder for screenwriters, from Wolfgang Amadeus Mozart to Camille Claudel to the Marquis de Sade.
Still, painters continue to, er, draw filmmakers. Both professions, after all, have a common goal: visual seduction.
Maybe moviemakers find in painters a ready-made drama. Maybe it's an attraction to creativity. Or maybe it's just because they yearn to be taken seriously as artists themselves.
"Film is the art form of the 20th century," Ferguson explains. "Essentially, it's a canvas that has sound and movement."
Real-to-life portraits
Yet things have changed since the 1930s when Charles Laughton played the title role in "Rembrandt." These days, Charlton Heston's overwrought Michelangelo in 1965's "The Agony and the Ecstasy" has given way to Greg Kinnear's anti-hero in 1997's "As Good As It Gets."
"If you watch the trajectory, the artist is less heroic as we go through the 20th century," Ferguson says. "I think it's gotten more realistic in the sense that the aims are more modest, the ambitions are more modest. The artists don't change the world."
Lately even the lines between artists and filmmakers have begun to blur: Directors Rebecca Horn ("Buster's Bedroom"), David Salle ("Search and Destroy") and Robert Longo ("Johnny Mnemonic") all turned to film after building careers behind the easel.
And this month, Julian Schnabel, another painter-turned-director, follows up his well-received "Basquiat" with "Before Night Falls," which profiles exiled Cuban poet and novelist Reinaldo Arenas.
"I've been a painter since I was a child," says Schnabel. "Maybe the battles and notions about perception that I've worked through as a painter, I solved as a filmmaker."
Does he feel better qualified capturing a portrait of an artist?
"I try not to get too lofty about being a creative person or making a movie about a creative person," Schnabel says. "I mean, there have been movies made about very important people � and they're terrible movies."
Making them human
Schnabel has a few pointers for making them: "First of all, whether you're a creative person or just a person, anyone that you're depicting, you have to give them human qualities."
That means giving them flaws � the ability to be both funny and nasty � and remaining true to their story.
chnabel says he uses the same set of values to make movies that he uses to make paintings.
As for Brant, who also produced "Basquiat" and the Warhol film "L'Amour," any film that features art � no matter how it eventually turns out � has the potential to educate in a way that a museum simply can't.
"All these movies about artists have been interesting," says Brant. "I think that any story you can tell to elevate what it is to dedicate one's life to being an artist is very noble."
---
MORE: www.spe.sony.com/classics/pollock/index.html
More like this story on Lawrence.com