Thursday, December 28, 2000
First impressions are so rarely what they appear to be.
"I'm a Loner, Dottie, a Rebel" reads the title of one of The Get Up Kids' better-known numbers. The song's moniker, a quote from "Pee-wee's Big Adventure," suggests that a black-comedy take on '50s-era romance is soon to follow.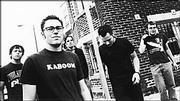 Not so fast.
Listen closely and you'll hear that there's actually little humor in this searing ode to road romance.
"One night doesn't mean the rest of my life" screams singer-guitarist Matthew Pryor over The Get Up Kids' heady backbeat � hardly the stuff of storybook teen-age romance. Herein lies the key to the Kids' world: You have to take a closer look to find out what's really going on.
Meet the Lawrence-based five-piece in person, and they're a lot like their music: sarcastic, edgy and darkly humorous on the surface. Scratch just below that hubris, however, and you'll find the living, breathing spirit of rock 'n' roll � a band firmly committed to making music that matters.
The Get Up Kids (Pryor, keyboardist James Dewees, guitarist Jim Suptic, bassist Rob Pope and his brother, drummer Ryan Pope) sat for a rare group interview in a downtown Lawrence restaurant, spinning yarns of major label headaches, the trials of touring life and their unwavering drive down the thunder road of rock glory.
The Kids grew up in various areas of Kansas City, cutting their teeth in musty garages and stale talent shows. From the ashes of those acts, the group came together in 1995.
"Certain members of different bands wanted to go in one direction," Suptic explains. "We were thinking outside of the box. I think we all had the same vibe going on."
"Vision," Pryor corrects wryly.
"Vibe is so '97," Ryan Pope chimes in.
Sprinting through the studio
The Kids first appeared upon wax on the "Woodson" EP in 1997. "Woodson's" four tracks offered only traces of what the Kids were to become. Songs such as "Second Place" and "Newfound Interest in Massachusetts" contained the raging guitars and keening vocals that remain at the forefront of the band's sound, but the EP lacked rhythmic cohesion and the production was notably ragged.
Recorded over a hazy weekend in a Chicago studio that same year, the band's full-length debut "Four Minute Mile" fared better. A more hit-than-miss effort that faithfully documented the band's progression toward solidifying its sound, songs such as "Coming Clean" leapt out, striking with an urgency to which "Woodson" merely alluded. Still, other numbers ("Don't Hate Me") suffered from the same lo-fi production values that plagued the EP. The album remains popular, though, and has sold more than 40,000 copies to date. Those numbers mean nothing to the Kids, who now look upon "Four Minute Mile" with a decided lack of fondness.
"We should've spent a longer period of time doing it," Pryor explains. "We did it in two and a half days, including the mix. It was strictly a time thing and a budget thing. (On "Woodson") we did four songs in one day and then we mixed them in another half day. We thought, 'If we can do four songs in one day, we can do 11 songs in two and a half days. But we were wrong."
"We did it but it sounds like crap," Suptic offers.
"It's a 'classic' record pretty much," Ryan Pope says, voice dripping with irony.
"Don't print that because sarcasm doesn't come across in text," Pryor says.
The Kids' early efforts were issued on Doghouse Records, but the success of "Four Minute Mile" allowed the band to look for greener pastures. Major labels started sniffing around, and the band wasted 18 months on fruitless negotiation. Frustrated, a contract was inked with Vagrant Records, which offered the Kids a sweet deal and their own label, Heroes and Villains.
"Our major label courting period kind of took the life out of us," Pryor explains. "It took like a year and a half, meeting with labels, negotiating with labels, deciding on a label and then being in the exact same spot that we were a year and a half ago. We didn't make any progress at all. So we were like (expletive) this. Vagrant wanted to expand; they wanted a band they could build the label on. So it was a good solution. It was kind of an experiment at the time, but it's worked out really well for us. And we signed a three-page contract instead of a 60-page contract."
"And we've kept all of our creative control," Robert Pope adds.
Still, the Kids insist that a major-label deal is not out of the question in the future.
"We're not opposed to the idea," Pryor says. "We're not Fugazi."
'Home' alone
In June 1999, the Kids went back into the studio and recorded a second full-length effort, "Something to Write Home About." Though the group's growth during this period is hinted at on the 1999 EP, "Red Letter Day," this sophomore effort placed the band into a whole new arena.
"Something to Write Home About" is the Kids' masterpiece � a fully realized work that shows just how far the act has come in its few short years. The five members spent a total of six weeks in a Los Angeles studio, and the increased time helped shape "Something" into a powerful collage of emo passion, scuzztone guitars and headrushing harmonies. The wall-of-sound production soars and screams, highlighting the full force of the Kids' rhythm section and lending the project a punchy sound that spits and snarls like a crouching tiger.
"The neatest thing, I thought, was living in a city other than Kansas City," Suptic says. "I've never been in one place other than home for that long. So it was a reality change."
"I think we spent at least a day or two in traffic if you add it all up," Pryor recalls. "It was a 25-minute drive from our house to the studio."
"I think we all became better musicians," Ryan Pope says of the experience. "We decided that we wanted to be not just some high school band anymore. We wanted to be a real band and make really good records."
Following the release of "Something," the Kids hit the road, touring the United States, Europe, Australia and Japan.
"After this record came out, we did a 10-week U.S. tour with four days off," Ryan Pope recalls. "It definitely wasn't good on the minds."
"Our band almost broke up after that tour," Suptic says.
"Short tours are the way to go," Dewees says. "Two or three weeks is the perfect length for a tour."
"Nobody can do that," Pryor says. "It's almost like a family where we're all gonna bicker and fight with each other. It's because we're sleeping two feet away from each other for 72 days. Some of us are up; some of us aren't."
Side fills
The band's heavy roadwork did render handsome financial and artistic dividends � "Something to Write Home About" has moved more than 100,000 copies to date, making it one of the best-selling records to ever come out of the Lawrence/KC region. "Something's" success also allowed the Kids to expand into side projects, including full albums from The New Amsterdams (featuring Pryor and Rob Pope) and Reggie and the Full Effect (Dewees and Pryor).
"It's just fun," Dewees explains. "It's just meant to be fun; it was started for fun."
"You know how James rambles on periodically?" Pryor asks. "That's what Reggie and the Full Effect is, but in a band."
"We're all gonna keep putting out records," Ryan Pope explains. "Whether they're Get Up Kids records or not."
"It's healthy to do other stuff," Pryor says. "It can only help make you a better songwriter and a better player. But you just gotta remember what the focus is, you know? None of it's anything that will ever clash with the band. Ultimately, it's about doing something that's fun. At some points, our band does start to feel like a job because it is what we do for a living."
Scene stealers
Since the beginning, The Get Up Kids have enjoyed a love/hate relationship with the area music scene. While regularly packing clubs on both coasts, the band first met with relative indifference at area shows and was ignored by the local press. At one of the Kids' early gigs, a "battle of the bands" sponsored by Kansas City radio station 98.9 FM The Rock, the group received a mere 30 percent of the audience votes.
"Murphy (Wells) from 'Johnny Dare and Murphy' was making fun of us when she was introducing us," Suptic recalls.
"She called us sissies. She made fun of my glasses," Ryan Pope adds.
Still, the Kids remain fans of the local scene, rattling off a list of area bands they admire, including The Anniversary, Appleseed Cast, Ultimate Fakebook, Arthur Dodge and the Horsefeathers, Casket Lottery, Kill Creek and The Creature Comforts.
"It's gotten a lot cooler in the last five years," Dewees says. "For a while it was kind of dead. Even in Kansas City, there are finally bands coming out."
Is there a "Lawrence sound?"
"Not that I can tell," Pryor says. "It seems like everybody's really different."
"There was when Paw was huge," Dewees says. "Every band had that same sound."
Again, though, a closer look reveals insights as to the band's true feelings. A telling moment is found on The New Amsterdam's CD "Never You Mind." The CD's 11th song, "Never Treat Others" finds Pryor seemingly taking shots at Manhattan-based Ultimate Fakebook, specifically singer Bill McShane. The song (allegedly titled "McShame" in its early stages) features lyrical barbs carefully aimed at a "little apple" who hasn't straddled the tightrope of fame with humility and grace.
"I'm depressed you're the mess that I looked up to/I retract every word that I say and I swear I will never treat others that way," Pryor sings acidly. That UFB's longtime producer Ed Rose chimes in for a bit of Neil Young-ish noodling just adds to the mystery.
Enter the arena
Ever prolific, the Kids already are hard at work on material for their third full-length, which they hope to record in Seattle. In only 10 rehearsals the band has crafted eight new songs.
"We're a well-oiled machine at this point," Dewees laughs.
"Our goal is to write a double record and then pick the very best songs," Pryor explains. "We're trying to write 30 songs to pick 12."
For now, though, The Get Up Kids are again heading out on the road, this time supporting multiplatinum-selling act Green Day, who tapped the quintet to open the current leg of its tour. The high-profile arena circuit will undoubtedly expand the Kids' fan base even further, granting the opportunity to reach audiences unfamiliar with the Midwest group's potent concoction of power pop.
"I think at first we may have been concerned because we didn't want to go on tour with a pop-punk band again," Suptic explains. "We kind of wanted to go out with different types of bands. But I think Green Day is considered a rock band now. They're such a big band, we'd be idiots not to take this tour."
"But we've been idiots in the past so why stop now?" Pryor adds.