Listen to the YoungBlood Brass Band, and you'll hear a mix of styles you might never have imagined.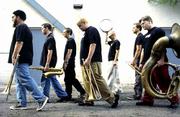 Take a little New Orleans jazzy brass, like the Dirty Dozen Brass Band, throw in some hip-hop -- The Roots, say -- and mix it together with a Michael Jackson or Madonna tune or two and you've got ...
Well, what do you have exactly?
If YoungBlood's last gig in Lawrence, back in March, is any indication, you've got a hungry young band that enjoys playing fun music.
"Brass band music isn't easily mistaken," said Carl Bartsch, saxophonist for the Wisconsin-based octet. "Any kind of influence we add will make it sound more like us, but people will still know it's brass band music."
The band started about six years ago, the brainchild of brothers Nat and Ben McIntosh, who had moved from Colorado to Madison, Wis., and started sharing music with their new friends.
The lineup has evolved, before stabilizing the last two years with players on sousaphone, snare drum, bass drum, saxophone, two trombones and two trumpets.
That doesn't sound like a recipe for creating a hip-hop sound, but the band finds creative ways to make it happen.
"Nat (McIntosh, the sousaphonist) decided to learn how to emulate DJ scratching sounds on his horn," Bartsch said. "Not an easy feat."
In fact, Bartsch said, playing such an eclectic mix requires serious musicianship.
"Musically, we're all interested in different styles. We want to be the best musicians we can, and that takes some serious study of all different genres of music."
YoungBlood's set list, featuring occasional pop song covers, can catch a listener off guard.
Who: YoungBlood Brass Band.When: 10 p.m. Friday.Where: The Jazzhaus, 926� Mass.Ticket price: $4.Ticket information: Call 749-3320.
"We just play great songs that we like," Bartsch said. "We don't really go into it trying to surprise anyone. We just play what we love, and it tends to surprise them."
But confounding expectations is what the band seems to be all about. That's why YoungBlood's upcoming album is called "Unlearn."
"We want people to put aside all their preconceived ideas of what music is supposed to be and, more specifically, what a band like ours should sound like, or how much influence we should have," Bartsch said.
New listeners usually don't need much time to catch on, he said.
"After they get sort of used to this new thing that they're hearing, they realize that they should dance, and that it's OK to get into it."