In a swelling rainstorm while driving out of Austin towards Dallas, Rhett Miller is battling the elements.
"I just woke up and haven't eaten, and now I'm on the highway," he says. "I've got my headset on, though." At least both hands are on the wheel.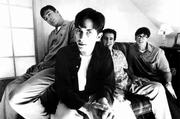 The lead singer/guitarist of the formidable Texas band Old '97s unwittingly offers a suitable metaphor for his group's own direction. Old 97's have always traveled the musical road between the country-roots of Austin and the "big rock acts" of Dallas.
Now preparing to issue "Satellite Rides," their fifth full-length album, and third as Elektra recording artists, Miller says, "I've always approached the release of each album with trepidation, but this time around it's with aggression."
Part of the reason Miller exudes such confidence is that the band embarked on this project like, well, more of a BAND. Two years ago, Miller left his Dallas cohorts (bassist Murry Hammond, guitarist Ken Bethea and drummer Philip Peeples) and relocated with his girlfriend to Los Angeles. The group continued to progress as if nothing had happened, but the effects of cross-country collaboration began to take their toll.
"For this new record, I basically moved back to Dallas for about three months," he says. "On the last record ("Fight Songs"), I didn't do that. I came back for one week a month for three months. I thought it was a good record, but the process suffered because of it.
"This will be the first interview I've done since we made the record, so I don't have the pat answers down like I did by the end of the interview process of the last one," Miller prefaces his answer about why the lengthy stay made the latest recording go smoother. "We were a lot closer this time. Because I came back to Texas for this one, there was just a closeness we didn't have as a band on the last record.
Unlike "Fight Songs," which was recorded in New Orleans, the "Satellite Rides" sessions took place nearer to the band's native home. The quartet holed up in Willie Nelson's studio in Austin, built from a golf course clubhouse that still connects to the lobby of a pro shop. Though the course itself suffered from the Texas heat, it was fertile enough to induce dozens of deer to gather around dusk. The setting was one of tranquility for the band.
"There was a relaxed air to the recording that wasn't around on the last one," he says. "Musically, we had done so much horizon-expanding on 'Fight Songs' that when we went in to do this record it was less scary. 'Fight Songs' was like, 'Is this going to work? Are people going to buy this? Is this what we want to do?"
What: Old 97's, 34 SatelliteWhen: 8 p.m. SundayWhere: The Bottleneck, 737 N.H.Ticket prices: $10-$12Ticket information: 841-5483
Whereas that album was a necessary foray into diversity, "Satellite Rides" has refocused the band toward something simpler.
"We realized while we were doing the pre-production that this is a ROCK record," Miller emphasizes. "I think it's the best record we've ever done. It's the most grown-up. It's the most rockin'. It's going to be fun to do this live."
That country thing
Rock hasn't exactly been the word used to describe the Old 97's. While they can be counted on to provide a raucous, high-energy set on-stage, their material has always straddled the country trough � or at least the "insurgent country" one.
"The twang element got played up during the early years of our band," Miller says. "And we had to answer a lot of questions about if we 'abandoned some movement we were a part of.' To be honest, I always thought my songs were too weird to be anything traditional. It seems like in the '60s and '70s, bands didn't have to deal with as much of the pigeonholing. Like if Tom Petty came out now, would he be a No Depression posterboy and that's it? If R.E.M. came out now, would they have to answer a million questions about their twangy-ness?"
Though the 30-year-old guitarist is convinced "Satellite Rides" leans more to the rock side, his bandmates have other opinions.
"I kept thinking that there wasn't any country (on the record). But then the guys pointed out to me plenty of examples. Like we've got a full-on bluegrass song on the record, which we haven't had in a while.
"I cringe saying this, but I know Ken would tell me to say it proudly: We also get into a little bit of Eagles territory. It's not like we're huge fans, but we have the same influences, maybe. Hopefully, the lyrics are a little better than theirs. There's a bit of that backbeat, swingy, California country. Murry would kill me if he heard me say that."
So happy together
Part of the reason for the Old 97's success is their ability to remain together (without killing each other) in the same lineup � a rare thing in this era of musical free agency.
"None of us think about that," he says, the rain pounding heavier in the background. "We just take it for granted that we're such good friends, and we've been going so long. It's almost impossible to find guys who you relate to as well and get along with as well. It's still hard. You still have to find the way that you move around each other and talk to each other and deal with each other. You find other things you have in common other than business, and those are the things that you talk about. Most of the bands that stay together find things, like video games or even drugs. In our case, thank god, it's not either of those."
When asked what unusual interest helps keep the band bonded, Miller says, "I'm afraid to tell you because if you put it in print it will make us sound less than serious and uncool." But he does eventually confess that he and Bethea have teams in Fantasy Football Leagues, while he and Peeples share a love of hockey."
Perhaps another reason why the band members are so compatible is that they reside in different areas of the country when they're not touring or recording � thus proving that adage about absence making the heart grow fonder. But certain artistic practicalities also arise from the situation. To satisfy his lust for performing during the months away from the other bandmates, Miller has begun to wage some solo acoustic gigs.
"I started in L.A. in a club called Largo in Hollywood," he says. "(Producer) Jon Brion does a set their every week, and Elliott Smith and Grant-Lee Phillips. It's a great room with a really quiet, appreciative audience. So I got into doing a monthly gig there, just to try out new songs. Ten of the 13 songs on this album were written to play at this Largo set."
Miller insists this isn't the first step toward ditching his buddies and launching a solo career.
"The guys don't mind," he says. "I'm just keeping my chops up and trying new material. I think they realize that the band benefits for it."
Miller's exodus to sunny California didn't hurt the band's credibility with the hometown fans. The Old 97's snagged five Dallas Music Awards last year, including Best Act Overall, with Miller winning Male Vocalist and Musician of the Year. The band is one of the rare breed to find critical success alongside populist appeal.
"Almost all the reviews have been good," Miller reflects on the group's track record. "The hardest review to take was on (1997's) 'Too Far to Care.' Rolling Stone panned it, which was really hard. It was (written by) one of the editors of No Depression magazine who had his own agenda that we didn't meet the criteria of. That was really hard, because it was the only magazine in Tyler, Tex., Ken's hometown, that they were ALL going to read. And it was the one bad review."
Apart from critics, one normally acerbic personality who has taken a shine to the band is actress/comedian Janeane Garofalo. When Garofalo guest-hosted David Letterman's "Late Show" during his recovery from heart surgery, she personally invited the Old 97's to be the night's musical guests.
"She's helped us a lot," Miller says. "Every time that we're in the same town and we're playing, she comes out. I still get publishing checks for 'Timebomb' being the theme song to the movie 'Clay Pigeons' all the time. And that was her turning the director (David Dobkin) on to it. We're lucky enough these days to have a few fans in Hollywood � not that that's what it's all about. But it makes it a lot easier."
With the skills delivered by the Old 97's, it's just a matter of time before Miller converts those in his new hometown like he did the old.