Thursday, November 30, 2000
Almost everyone is familiar with the typical story arc of VH1's "Behind the Music." The celebrated documentary series has traced the lifeline of dozens of popular bands, with the outcome usually falling into a similar pattern: obscurity, hard work, fame, drug addiction, car wreck, decline, break-up, sobriety, reunion.
But this blueprint generally pertains to FAMOUS bands � the kind that once churned out handfuls of top-40 hits and filled stadiums. There's another pattern that seems to apply to hundreds of medium-tier acts who found success on a more modest level, through either a minor radio single or MTV video or tour supporting a major headliner. These bands usually adhere to another outline: obscurity, indie record, major label deal, drop from label, loss of an original member, minor label deal, label folds, legal and financial trouble, band presses on.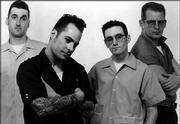 The Amazing Crowns fit comfortably into this second model.
Through many tribulations, the Rhode Island-bred rockabilly act has remained a case study in perseverance. Now on the road alongside fellow Time Bomb recording artist Reverend Horton Heat, the band recently released its second studio album, "Royal," before things started to once again come unglued.
"Touring is the only thing we have," says Jason "King" Kendall during a recent phone interview from his Rhode Island home as he prepares to drive to Boston for a gig that night. "We just found out we're not on Time Bomb right now. They're having problems, and I'm not even sure they're going to be a label anymore.
"They worked the album for about three and a half months, and then we got news about this. I was starting to become suspicious of them, anyway. Once again, another label has lived up to my expectations. But it just doesn't matter. A label has nothing to do with the longevity of a band, as far as I'm concerned. Labels are just the cars that get you there. And there are a million cars."
What: The Amazing Crowns, Reverend Horton Heat, Frantic FlattopsWhen: 9 p.m. FridayWhere: The Beaumont, 4050 Pa., Kansas City, Mo.Ticket information: (816) 561-2560When: 9 p.m. Dec. 7Where: The Bottleneck, 737 N.H.Ticket information: 841-5483
Act of rebellion
Part of the reason all this adversity seems so frustrating is that The Amazing Crowns are such a terrific band. Part rockabilly throwback, part punk insurgence, The Crowns bring killer riffs, convincing lyrics and catchy hooks to the musical table. And in Kendall, they possess a good-looking, dedicated frontman who can whip a crowd into a tattooed frenzy.
"We just got off a tour with The Supersuckers. You can't get more rock and roll than that," Kendall says. "The Supersuckers, Southern Culture (On the Skids), Horton Heat, The Blasters � those bands take everything that's great about American roots music, and they mix it all up. And we're included in there. I'm proud to be included with those bands."
Like tourmates Rev. Horton Heat and Frantic Flattops, The Crowns have fostered a niche audience that appreciates acts ostensibly grounded in the past but unafraid to throw in modern influences.
"Any purist music form � rockabilly, ska, punk rock � it's a low ceiling room," Kendall explains. "And if you're going to be hanging out in that room for any amount of time, you're going to hit your head because you're going to grow. When we started out, we got a lot of crap from rockabilly purists. Our thing is that we never set out to be a traditional rockabilly band, so we were pissing people off from the get-go. Lately we don't hear anything about it. I think we're accepted now."
Kendall grew up in Rhode Island at his dad's truck stop on I-95. Not impressed with his father's roots/country musical tastes, Kendall turned toward punk music. ("I broke my wrist at a Black Flag concert," he proudly remembers.) As a way to avoid the repercussions of his misspent youth, he joined the Army. It was while stationed in Germany that he became infatuated with the psychobilly scene characterized by bands such as The Meteors and Guana Batz. Returning to America, Kendall immediately went back and started listening to his dad's old records for inspiration.
"It's the same reason I was excited about 1977," Kendall says of discovering the 1950s rockabilly scene. "There was a new music style that was shaking up the foundations of what was accepted at that time. I'm just as fascinated by punk rock culture as I am by rockabilly/rock and roll culture. It's the same kind of thing: a rebellion against the norm."
The Crowns' music pulls off a balancing act between the old sounds of the Eisenhower era and the new sounds of the Can't Elect a President era.
"The first album has more old, and the second album has an equal mix of old and new," Kendall says. "I don't know what the next album is going to be like. We still have a lot of rockabilly in us, but we're definitely growing."
Lawyers everywhere
Kendall's quartet first formed in 1994 as The Amazing Royal Crowns, taking their name from a '50s pomade product. In the spirit of that name, things quickly began to get greasy. The band released an eponymous indie debut in 1997 that was eventually picked up by Velvel Records. Soon after, the company went out of business. Meanwhile, Warner Bros.' retro act Royal Crown Revue (the band from the zoot-suit dance scene in Jim Carrey's "The Mask") sued Kendall and crew because their band's name was too similar. More than $30,000 in legal fees later, The Amazing Royal Crowns were forced to shorten their moniker to The Amazing Crowns.
"Money-wise for lawyers and all, that hurt," he says of the episode. "It did kind of give us this underdog tag. People who don't know a lot about us, one of the first words out of their mouth is '(Expletive) the Royal Crown Review. They suck.' I'm quick to say, 'Well, at the time, tempers were flaring. But in retrospect, who cares?'"
The incident is summarized on the new record's leadoff track titled "Still Royal." The lyrics claim, "Royal to the loyal we stay," in reference to the group's relationship to its fanbase.
In a bit of poetic revenge, Warner Bros. dropped Royal Crown Revue after the lawsuit.
The long haul
"At this point, we're on a low swing," Kendall says. "Sometimes I feel like it's so hard to continue. You know, I'm 35 years old, and I'm not making a lot of money doing this. I went to culinary school for two degrees, so I could be making money. It's no big deal � I didn't get into this for money � but I definitely feel I've put my life completely into this. I gave up a very good relationship a few years ago for the band. It was one of those things where she said, 'Choose me or the music.' I chose the music."
The one mechanism that constantly seems to be in the Crowns' favor is touring. Whether crisscrossing the country with their favorite bands, joining the Warped Tour or playing Australia, the group (which also includes upright bassist Jack Hanlon, drummer Judd Williams and new guitarist J.D. Burgess) manages to always secure the good shows.
"After the gig tonight, I'm going to come back and update the tour diaries," Kendall says of his report that appears on the band's Web site, amazingcrowns.com. "This last tour had some great stories of hanging out with X in Los Angeles. We also got our van tossed by a Texas cop for the very first time."
The incessant traveling has honed The Amazing Crowns into a live-performance machine that is undeniably worthy of the word "amazing."
"Even if you're in a bad mood or really tired or sick or don't have the greatest sound, I tend to think we turn it into something pretty good," Kendall says of the band's performances. "We let the momentum of the audience and our music carry us. I know that sounds clich�, but it's the only thing we've got left."