Thursday, November 30, 2000
The Creature from the power-pop lagoon isn't done terrorizing Lawrence music fans. In fact, it's multiplying.
Alt-rock troubadours The Creature Comforts lit up regional earwaves two years ago with their debut, "The Politics of Pop," featuring "Sentimental Bliss," one of the truly great songs to unfold from Lawrence's historic music scene. This head-rushing morsel of spun sugar won the band wide acclaim as well as Klammies for both Song and Album of the Year.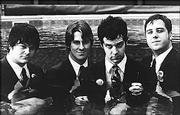 But as often happens, audiences have recently been asking, "What have you done for me lately?"
The group can now officially respond to that through "Teaching Little Fingers To Play," a sophomore effort that finds the Comforts (singer/guitarist Chris Tolle, bassist Brian Everard, drummer Bill Brimblecom and new member Jon "J.D." Warnock, who plays a variety of instruments) honing their sound and expanding their sonic canon.
Packed with 13 short, sharp blasts of pop dynamite, "Teaching" was produced by local studio wiz Ed Rose (Paw, Kill Creek) and Tolle. Fresh off the road from five weeks of touring, Tolle phoned recently to discuss The Creature Comforts' unique approach to indie pop and the hard work that comes from teaching those little fingers to play.
"We built this record from the ground up � the artwork, everything," Tolle says, explaining why the band chose to self-release the project rather than issue it through previous label, Noisome Records. "It was all done within the band and paid for by the band. It just seemed really obvious to us that this was our record to do. We wanted it to come out looking and sounding exactly the way we wanted it to."
Rather than hitting the studio for a couple weeks of garage-band pummeling, the Comforts spent more than a year working on "Fingers," recording only when the moment seemed right.
"As songs came along and we had money, we would go record," Tolle says. "The plan was to record and complete three songs at a time. 'The Politics of Pop' was done in like a week's worth of time. I really felt that, in a way, we sort of homogenized it by recycling the same guitar sounds � because we were snapping them off so quickly. With this album, I wanted to really capture each song and finish it, finish the idea, so ideas from other songs weren't leaking into each other. So we'd do extremes � a rocker, then the extreme of a mellow one and sort of a mid-tempo song. That way they wouldn't infect each other, and if they did, they would bring something that wasn't obvious."
Friend and bandmate
The Creature Comforts' sound has evolved via the recruitment of Warnock, who added organ, piano, guitar and mellotron to the band's aural arsenal. According to Tolle, it was a move the band was looking to make for some time.
"After 'The Politics of Pop,' it became apparent that we were going to need a multi-instrumentalist of some sort � somebody who could play keyboards," he explains. "The songs that were going to be on this record were definitely not going to be just trio-pop, they were going to require a lot of instrumentation. To replicate that live was going to require a second musician.
"I really wanted somebody that was going to be a friend and build a lineup that would be good musicians and people that I like and like to be around. So not only is it hard to find a keyboard player, but it's hard to find somebody you like. I've been friends with JD forever, and he'd expressed interest in learning how to play keyboards. We kind of had enough time to let him get in there and take some lessons. I knew he'd be a good guy for the job."
The comfort factor
The addition of Warnock (who had played guitar with Tolle in the early '90s act Rise) and the band's commitment to taking its time in the studio paid handsome dividends on the new record. "Teaching" begins with Tolle's world-weary voice rasping over an introspective piano melody. Just when you think The Creature Comforts have gotten soft, the guitars and drums kick in.
"It's a lot more song-oriented as far as each song being individual unto itself," Tolle says. "Each song kind of has its own personality. There's not a lot of common themes running through it or anything. It's just a really different record. The identity of the band is sort of in the songs."
Part of the band's identity is also wrapped into the fabric of the local music community � and not just because the quartet prefer to wear suits on-stage. Tolle is a former member of Action Man, Brimblecom played in Stick, while Everard held down the bass chores in Crutch. The Creature Comforts cut their teeth in local clubs and bars since uniting in 1997, playing alongside regional heroes such as Ultimate Fakebook and The Get Up Kids.
"I wouldn't even call it a scene," Tolle says of Lawrence. "From my view, it seems like everybody's really doing what they want, and everyone seems genuinely supportive of each other. I think there's a nice comfort factor when all the bands don't have to be alike to be supportive or be friends. I don't think bands around here are very self-important, and that makes it a good place for musicians. There's not a lot of prima donnas or attitudes. You don't have to be the most-loved band in town because there's a lot of towns."