Thursday, October 5, 2000
It's not Zoo TV, but it ain't your basic bar band, either. Wichita musician Gooding's recent tour is being touted as a multimedia event, replete with giant screens flashing video montages cued in time with the music and a host of other special effects. But, there's substance beneath the flash, says Gooding, who phoned from a Tennessee hotel room to discuss his unique approach to art.
Gooding, who plays guitar in the band's live show  augmented by longtime bassist Bryan Kelly and drummer Jesse Reichenberger  calls his band a "nomadic" group. "We try to stay on the road as much as we can," he says.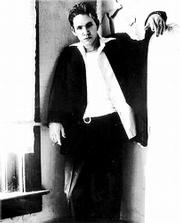 Off to Wichita
Gooding's musical roots lie in Lawrence, where he gained a fair amount of underground notoriety as a member of Safety Orange and an independent producer. He eventually decided to pack up and relocate to Wichita.
"You get to the point where you start to be known as an engineer and to some degree a producer," Gooding says. "But I had a million times more fun on the other end of the glass, playing. I wanted to kind of get away and concentrate on doing music full time."
Despite Wichita's conservative, musician unfriendly reputation, Gooding created a niche for himself in the small-but-fertile music scene and went to work.
"There is more going on in Wichita than people would think," explains the 26-year old Ann Arbor, Mich., native. "There's not a whole lot of clubs to play. We're really missing the 300-seat venue. We've got a couple of places that are good 150-seaters and the next step up holds 1,500. That's too big for us right now. We get people who play the Coliseum there, like Kiss, who have a huge fan base in the Midwest. We don't have the luxury of a place like The Granada, where you can see hip-hop, electronica or drum 'n' bass. But, the flipside is that people are hungry for music there. The people who come out are really die-hard. They really appreciate the people that do manage to come through there.
"We do OK there  we're able to finance all our losses from the road by playing in Wichita. It's not a very liberal community, but I can't say anything bad about the place. We're lucky to have enough fans there to support our rock 'n' roll dreams."
Fortunately, rock 'n' roll dreams come fairly cheap when you're doing everything yourself. Gooding writes, produces and plays all the instruments on his recorded work, which helps keep the costs down.
"It's all DIY (Do It Yourself)," he explains. "I think it's good and bad to have that kind of creative freedom. A lot of times when you collaborate, you have someone to show you what your limits are and suggest new directions. One of the nice things about spending the years building up the studio is that I don't have the confinements that come with having a recording budget. I think it's bad in the sense that you can start cutting records before you have a chance to learn how to record. You have to spend some time letting the gear kick you around a little bit  throw away the manuals and get as deep into it as you can."
Who: GoodingWhen: 9 p.m. WednesdayWhere: The Jazzhaus, 926 1/2 Mass.Ticket prices: $4Ticket information: 749-3320
This DIY ethic is present in everything Gooding does, spilling over into his approach to honing his art and making the best possible music.
"I think the time spent woodshedding, meeting with other musicians and trying to really get good at your craft can take years," he explains. "I'm still trying to figure it out every day. I go to these radio stations where they get 50-75 discs a day and clubs that have 100 discs a week to listen to. We're so oversaturated right now because the technology has become so cheap. It makes it much harder to break through because of the sheer amount of stuff that's coming in. It seems like radio stations and clubs are getting a bit jaded right now because they get so much stuff."
Buried by technology
Interestingly, Gooding may be one of the few indie musicians not relying on a rack of computer-generated bleeps and blips to produce his music. Rather, he works with tape, albeit digital, to get the sounds from his head to your headphones.
"I record on eight-track digital machines," he explains. "I had a computer when I was living in Lawrence that had Pro-Tools. To be honest, it was too much, too many options. I find myself getting lost in the manuals and all the possibilities. I think there's something good to working out the song a little bit before hitting the record button. It's not that you just can't do brilliant work on a computer, but for me, I'm not good. I'm a fool on computer. Â So, I prefer kind of the older mediums."
Gooding does believe in the power of the computer when it comes to getting his music to the masses, though.
"It's great for me when people want to swap stuff and listen and trade," Gooding says of Napster and related sites. "Â But, at the same time, people have to understand that the quality of recordings are definitely going to diminish. When Lars Ulrich (of Metallica) first came out, I was like 'Oh, those guys are selling a billion records.' I haven't seen it hurt retail yet. Â I implore people to bootleg our live shows, bring a video camera, whatever."
Gooding believes wholeheartedly in the power of music and puts effort, energy and sweat into his live show.
"We try to speak to people's minds, but we also try to speak to their booties a little bit, too," he explains. "I want to help take your mind someplace, or make something that transcends. You have to hit people right where they live, move people emotionally."
More like this story on Lawrence.com