Thursday, October 5, 2000
Perhaps the only thing worse than having a bad case of road flu is having a bad case of it and slated to do an interview.
Voice frail and whisper-soft from a recent bout with every musician's nightmare, Hooverphonic vocalist Geike Arnaert phones on the eve of a recent tour for a brief discussion of all things musical.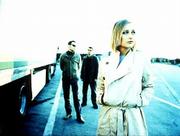 "We did a showcase gig last night," she says. "It wasn't the best gig we've ever done. Hopefully, my voice will be doing better tomorrow."
Arnaert's singing voice � part sultry siren, part buttercream croon � is at the center of Hooverphonic's sonic gravitational pull, drawing listeners deep into the nucleus of the band's sound.
Growing up listening to artists such as Joni Mitchell, Janis Joplin, Jimi Hendrix and other "Woodstock music," Arnaert currently lists PJ Harvey as her favorite vocalist.
"I started singing when I was about nine, as a joke," she says. "I got good compliments on it. It's something I like and it's something I'm good at. I also went to music school and started singing in bands. I loved doing it and it was the only thing I could really see myself doing. So, I guess I got lucky."
Formed in Belgium in 1991 as Hoover, the band (Arnaert plus multi-instrumentalist Alex Callier and guitarist Raymond Geerts) came to prominence via an early single, "2 Wicky."
Eventually, Hoover became Hooverphonic as the result of a dilemma that often plagues bands seeking international audiences.
"There was already an American band and an Austrian band called Hoover," Arnaert explains. "The label didn't really see the point in going through a bunch of lawsuits and stuff."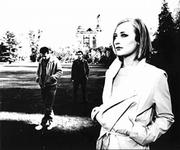 From the studio to the road
Hooverphonic is currently touring the U.S. on a cross-country jaunt supporting its recently released effort "The Magnificent Tree."
Though "The Magnificent Tree" has the freshness and vitality of a garage-band debut, it's actually Hooverphonic's third full-length release. Though the group's earlier works, 1997's "A New Stereophonic Sound Spectacular" and 1998's "Blue Wonder Powder Milk," were met with critical acclaim and brisk sales abroad, the band failed to make a serious dent in the consciousness of America's music-buying public.
Hooverphonic's U.S. breakthrough came via a series of soundtracks, including songs featured in "Stealing Beauty," "Shades" and "I Know What You Did Last Summer." The band's ability to capture the hearts of film directors probably comes from its commitment to spending months in the studio perfecting its dark, haunted soundscapes.
"That's where everything starts," Arnaert says of Hooverphonic's lengthy studio excursions. "Alex has his little home studio, and he'll start writing songs. Then we'll come in and see what we can put in there. But, I really want to go different right now � get more involved. We haven't really tried rehearsing first. We usually record the album and then start rehearsing live. That's why it usually sounds really different live. Maybe we'll try it that way in the future, but it's kind of fun to go to the show and not just hear the album. It takes us a long time to record, but that's because we won't compromise on anything."
Though the band's reputation was originally minted via studio work, the group has slowly built a following as a superb live act. Touring with the likes of Fiona Apple, Duncan Sheik and Massive Attack, Hooverphonic has made a concerted effort to transform its live show into more of an event.
Who: Hooverphonic, BT and DJ Tony StewartWhen: 9 p.m. MondayWhere: The Granada, 1020 Mass.Ticket prices: $15Ticket information: 842-1390
"The last couple of tours, we had a lot of tapes running along for the strings and stuff," Arnaert says. "But now we're working with two new musicians. It's a really live show. There's a lot more rock influence. Still, it has a real Hooverphonic feel to it. We're playing together as a true band now, which wasn't always the case on previous tours. So, it's a lot more fun."
Into the arms of America
Touring the States and Europe has proved an eye-opening experience for the trio. Before coming to America, Arnaert and company weren't sure what to expect. What they found was diversity and acceptance that often belied the image they'd come to anticipate.
"Everywhere is different," Arnaert explains. "L.A. is different from Austin, you know? European audiences are a lot colder, especially in Scandinavia and Belgium, although they're very enthusiastic and you can see them listening. The applause is so nice and is from the heart, but they're more introverted than Americans. That's why I love coming here, because everyone's so open and you really get treated well as an artist."
The band has certainly found an audience on the Internet, where its music seems to be everywhere, including its own site hooverphonic.com. Of course, Internet popularity does not necessarily translate into increased CD sales, the singer points out.
"There's two sides to it," Arnaert says when asked about Napster and other Net-based file-sharing software. "It's a great way of getting to know people's music, but I definitely think it's stealing. I can understand people's opinions about stars � they make all the money they need. But the small bands and artists suffer the most from it, because they're the ones who aren't making much money to start with. But, I think as long as you have the respect to buy the album afterwards, then it's great. It does take a lot of work to get good music done."
Time is certainly on Hooverphonic's side. With a new album in stores, tour dates lined up and a dedicated fan base, the band members undoubtedly will continue to craft the heartfelt, ethereal pop that has made them European press darlings and heroes of the American underground.
More like this story on Lawrence.com