Thursday, October 19, 2000
Reggae fans around the world may not be familiar with the name Winston Rodney, but nearly all know his stage moniker, Burning Spear.
"Each time I go out there, people try to let themselves be present," the legendary Jamaican musician explains during a recent interview. "A lot of people been listening to Burning Spear before seeing Burning Spear live in concert. So each time it really encourage I to go back out there and do it again for the people. I know a time will come when I'm not gonna be out there doing it for the people. People play a big part in my going out."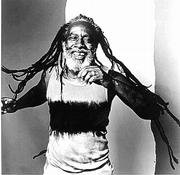 Spear, who has been touring the world for more than 30 years, is most at home on the stage, where he still spends approximately 10 months of every year.
"The music grow," he says. "Music creates self. Music develops itself for better. There are different people all over the world, different countries. I enjoy them all."
Burning Spear recently released his 34th album, "Calling Rastafari," which won a Grammy for Best Reggae Album. Spear seems pleased about the award, but is more interested in inspiring younger reggae artists to carry on the musical and cultural traditions of the genre.
"The younger people now do things different," he says. "I don't know if they're gonna change up what they been doing now. The music not gonna be the same way, and it been through a lot of changes already. Each time a new generation come, they come with different ideas and different ways of doing things. Nevertheless, hopefully some of these younger people will feel the conscious section of the music and try to build on that and maintain it. Therefore, our music will maintain international recognition.
"Today most of what these younger people are doing, it's not getting no international recognition. It's not international. Today, the youth doing this and the next two to three years a different youth start to do something. It's not a continuous thing. So hopefully they'll start to feel that kind of light and be a part of the original section of the music."
Spear also speaks of remembering the artists who struggled to make reggae an international phenomenon, particularly Bob Marley and the recently deceased Dennis Brown.
"Bob was a man, a musician and a singer," Spear says. "A man with his doctrine and his religion and his musical philosophy, Bob was that and Bob is still that in some ways. Bob was the man who really told I about studio in 1969. Dennis Brown? We know each other. When we bump into each other we pay our respect and stuff like that. Dennis was a very old standard singer. I was listening to Dennis before I get started in the business. A lot of Dennis' music inspired I."
Spear, who has continually emphasized the teachings of Marcus Garvey in his lyrics, doesn't consider himself an explicitly political artist.
"The music present everything and everything come with the music," he explains. "Sometime I singing a song and not thinking political. Then again, some of the stuff we are saying and some of the stuff we write can be classified as political. But, it's the music, it's the art. Artists, we're not thinking political, regardless."
In fact, Burning Spear's music isn't as much about thinking as it is about being, he says.
"I'm not trying to be anything. I'm just doing what I have to do, singing the songs for the people. I sing for the people to understand what I'm singing about. And the people can feel the vibes and the inspiration. Some people cry because they're happy, some people cry for Jah and some people cry for freedom. People hug, people discuss, people shout. I just go on-stage and sing the songs for the people. I am the people's singer."