Sunday, September 3, 2000
Jewelry, paintings, pottery, textiles and other art forms are part of the 12th Annual Lawrence Indian Arts Show juried competition at Kansas University's Museum of Anthropology.
The juried show will be from Saturday through Oct. 22, with a benefit opening, sale, silent auction, art preview and awards ceremony from 7:30 p.m. to 9:30 p.m. Friday.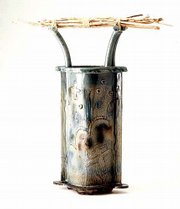 Museum hours are from 9 a.m. to 5 p.m. Mondays-Saturdays and 1 p.m. to 5 p.m. Sundays. Admission is $1 for students and $3 for adults.
Maria Martin, organizer of the show, said 83 artists entered this year's show. The exhibit will include 171 separate artworks.
Barry Coffin and Suzan Shown Harjo are this year's judges.
Coffin, of Potawatomi and Creek heritage and a Lawrence resident, is a sculptor and painter whose works reside in the permanent collections of museums across the country and in private collections.
Harjo, of the Cheyenne and Arapaho tribes, is an art curator, writer, lecturer and poet. She is the president and executive director of the Morning Star Institute, a national nonprofit Indian rights organization.
Martin said the show provides an opportunity for area residents to learn about and gain an appreciation for the art and craft productions of American Indians; provides financial support to American Indians through the sale of their works; and enhances cross-cultural understanding.
The poster image for this year's Lawrence Indian Arts Show is "Intertribal Pow Wow," a colored pencil drawing by Gwen Coleman. The drawing depicts the many styles and colors of intertribal regalia seen through 16 individual pencil drawings.
The official T-shirt will feature a recent petroglyph watercolor design by Caddo artist Dolores Purdy Corcoran.
Other events held in conjunction with the Indian Arts Show are:
� Haskell Indian Art Market, from 10 a.m. to 6 p.m. Saturday and 10 a.m. to 5 p.m. Sept. 10, powwow grounds, Haskell Indian Nations University, south of 23rd and Massachusetts. No admission charge.
More than 165 American Indian artists will display and sell traditional and nontraditional art, such as beadwork, pottery, jewelry, sculpture, paintings, textiles, drawings and quillwork.
Performances will showcase Haskell's Apache Club, Kiowa Club and Thunderbird Theatre. American Indian food, arts demonstrations and a hands-on children's tent will be available.
� An exhibit of recent works by Navajo artist Anthony Emerson, Friday through Oct. 3, Lawrence Arts Center, 200 W. Ninth. A reception for the artist will be held from 7 p.m. to 9 p.m. Sept. 15. Hours at the Lawrence Arts Center are from 9 a.m. to 5 p.m. Mondays-Fridays and 9 a.m. to 3 p.m. Saturdays. No admission charge.
� A hands-on American Indian metalsmithing workshop taught by Santo Domingo Pueblo jeweler Don Nieto, October 19-22, Haskell Indian Nations University. Participation is limited and by reservation; a fee is charged.
� "American Indian Traditions Transformed" exhibit, Saturday through Oct. 22, Helen Foresman Spencer Museum of Art, Kansas University. The museum's hours are from 10 a.m. to 5 p.m. Tuesdays-Saturdays, with extended hours to 9 p.m. Thursdays, and noon to 5 p.m. Sundays. No admission charge.
� Southern Plains flute and drum performance by Comanche/Kiowa artist Cornel Pewewardy, 2:30 p.m. Sept. 17, Lawrence Public Library, 707 Vt. Free.
� "Freedom to Worship: Native American Perspectives" lecture at 7:30 p.m. Oct. 4. Call Lawrence Public Library, 843-3833, for more information.

---
MORE:
www.cc.ukans.edu/~lias