Thursday, September 7, 2000
The Dillinger Escape Plan is a band that doesn't mind spending six months in a van, touring and playing tiny venues.
"It's definitely fun," said Dillinger vocalist Dimitri Minakakis during a recent interview. "Sometimes it gets to be a pain, but that's like anything else. Bottom line is it's really fun. Once we get cooking, we don't want to stop. Honestly, it's easy for all of us. We all have our jobs and just go and do it. Once you're in that groove on the road, it becomes secondhand."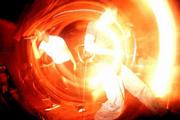 The New Jersey quintet � Minakakis, bassist Adam Doll, drummer Chris Penniem, guitarists Ben Weinman and Brian Benoit � has toured with Drowning Man, Isis, Converge, Jesuit, Candiria, Mortician, Origin, Burn It Down, Mr. Bungle as well as festivals like the Warped Tour.
"It was great," Minakakis said of the Mr. Bungle tour. "It was definitely a big learning experience for all of us. It was an opportunity to play in front of a whole new audience. We definitely collected a larger fan base from it and learned a lot from touring with Mr. Bungle themselves."
"I didn't really hang out with (Bungle vocalist and former Faith No More frontman) Mike Patton," Minakakis said, "but he's definitely low-key and a really nice guy. I was shocked at how friendly he was. Their audience consists of Internet kids and a lot of music-oriented kids who really know what they're talking about. It's definitely a different crowd. Half of them had heard of Mr. Bungle and half of them hadn't. They're your typical online message-board kids who don't get out too often."
Speaking of the Internet, what about Napster?
"That's a whole 'nother can of worms," Minakakis said. "It could help, but on the other hand, it couldn't. We've had dozens of kids e-mail us asking us to send them our lyrics. The lyrics are printed in the CD, so it's obvious that they're downloading it from somewhere. Stuff like that hurts our record sales versus Metallica's. Metallica is well-off, but bands like us definitely get hurt more. I don't mind if people put an MP3 of one or two songs, kind of a sampler, but when people put the whole album online, it kind of bothers me. You can say it's Napster's fault, because they don't supply the MP3's, they're just supplying the forum. But they are supplying the forum, so I'm not too cool with it."
Minakakis gave reserved praise to neo metal MTV bands.
"The only thing I can give to Korn and bands like that," he said, "is that they're paving the way for smaller bands like us. I think it's great that there's a new wave of people who are loving hard rock and metal. You see these guys on TV all the time � at awards shows or whatever. I think it's great, but I'm not too into the music."
Triumph and tragedy
The Dillinger Escape Plan got its start in 1998 when its three-song demo, "Under The Running Board," was released as the band's debut. The band toured everywhere and built a loyal fan base only to find tragedy striking as it began work on 1999's full-length "Calculating Infinity."
"Adam got into a car accident and he's paralyzed from the chest down," Minakakis explained. "He's a band member but he's also one of our best friends. It was the major shock of our lives so far. It definitely put things in perspective. As a band, it set us back six months or so. Right now, he's coping and learning how to live with his handicap. He helped out with the new record immensely, even though he didn't play a single note. Our guitar player, Ben, played bass on the record which was a whole new ball game. Adam helped out in the studio with technique and approach, so he's a major part of the record. Even though he didn't play a single note, he helped out with the bass parts. He'd just sing them to us."
The period surrounding Doll's accident was one of the worst eras in the band's history.
"We had everything written and down to the T," Minakakis said, "but it was really hard. The accident was a major setback, but just before that, we also had a guitar player (John) quit. Then Brian came in and everything was totally upside down. So, trying to get Brian into the shape of playing in band, along with filling the bass void and trying to write songs was really tough. We were pleased with the record, but we're at the point where we're saying, 'We could've, would've, should've."
Fortunately, Dillinger is getting on with life, touring the West Coast (with road bassist Jeff Wood) in September and October and Europe later this year. The band also has recently released a new self-titled EP. Minakakis talked about his catch-as-catch-can approach to songwriting.
"If I'm in any kind of mood and I think of something I want to write," he said, "I grab a pen and instantly write a whole page. But, if I force myself to do it, I usually can't squeeze anything out. So, whenever it comes, it comes naturally. I can be thinking of the day I was walking down the street and skinned my knee and probably write a song about it. I'm not saying I have written songs about that, but if I think of a subject that gets me cooking, I'll go with it."
More like this story on Lawrence.com