Thursday, September 21, 2000
Ashley Davis is pragmatic about her music career.
As a folk singer and songwriter whose music belies a strong Celtic influence, Davis knows she is probably not going to make a fortune. But she loves what she does, and fresh out of college she is finding both an audience and critical success for her songs.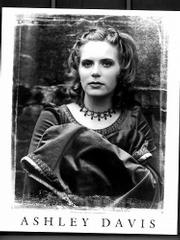 "Folk singers never make millions of dollars," Davis says during a recent phone interview. "But I've enjoyed the underdog, independent level."
A Lawrence native, Davis left right after high school and moved to Nashville, a town teaming with wannabe musicians and writers. And a folk singer in a country music mecca has even greater obstacles to overcome.
Davis has managed to produce her first CD, the self-titled "Ashley Davis," and in the process garnered recognition from the Nashville industry.
Her CD is available at Kief's Downtown Music, 823 Mass., and at the Classic Gourmet, 3300 W. 15th.
Recently, her album was nominated for a Nashville Music Award in the Best Independent Album category. And in a town with numerous industry awards, her nomination is especially sweet because it is the only community-based award given by local musicians.
Davis has worked on her career for more than five years, playing mostly Nashville clubs and some festivals, but she only started pursuing it full-time this past year.
She pursued her education, concentrating on studying English and music business at Belmont College. The double major helped Davis with her songwriting and her business skills, and that is a track other performers, such as Trisha Yearwood, have followed.
Along with developing these abilities, Davis wanted to make sure she could enjoy the whole college experience.
"I've known so many kids that were so focused on life beyond college. They spent all their time networking on cell phones, trying to scrap together gigs, and they missed that time of being young and of just savoring college," she says.
Now that she is out on her own, Davis is working full throttle on her career. She spends time with other songwriters. She plays her own shows, and when visiting musician friends, she will often sit in on their gigs for free, just for the experience.
She has a Web site in the works, and is contemplating pursuing a recording contract. Though she might lose some independence, she knows she might also gain some business assistance.
"It's a hard decision to make, but I would like to start shopping for someone to pay for the next album, besides me. With a label, doors open and you meet many new people whose interest is in the business side. I detest it. The time spent managing myself could be spent creatively," she says.
The write stuff
Davis studied Medieval Scottish and English literature, and the stories have proved to be a source of songwriting inspiration.
While she reads she makes notes to herself for possible material, then when she sits down to write she refers back to the folktales and the notes she made.
And when does she find the time to write while balancing her other career duties?
"When I get so fed up from not being able to write, then I pull out the scraps of paper and see what fits and goes with the songs," Davis says.
Her primary influence came much earlier than college, though. Her mother, former Lied Center director, Jacqueline Davis, played folk tunes from the likes of Peter, Paul and Mary and Joan Baez, and Davis grew up listening to their music.
She sees strong ties between American folk music and British tunes that derived from earlier folk literature.
"American '60s folk music is essentially the recycled British sound," Davis says with a laugh.