Thursday, September 28, 2000
For Dilated Peoples, it's all about the show.
"I love to perform," says Dilated mic master Rakaa, phoning just prior to a San Francisco soundcheck. "I got into this thing as a performer. We want people to feel the energy and get sweated on and everything else. We gotta bring it to them. It's not easy, though. A lot of people think you spend a half hour on-stage and then don't do anything the rest of the time. But it's a 24-hour day sometimes. We're doing 40 cities in 45 days, so it gets kind of hectic."
Art comes alive
The three-man hip-hop wrecking crew known as Dilated Peoples formed in the early '90s, beginning with freestyle sessions at the now-legendary Hip Hop Shop in Los Angeles. Rakaa, who's also a card-carrying member of seminal rap outfits Rock Steady Crew and Zulu Nation, hooked up with the other members of DP � Evidence and DJ Babu � while working at the Shop.
"They had open mics there, open turntables," Rakaa explains. "People would come in there all the time and just do their thing. It was definitely an underground scene, but they would have rap battles and all kind of stuff there. We ended up hooking up to do a song, and from that song it just snowballed."
For Rakaa, MC-ing was the inevitable outcome of his first love: graffiti art.
"I came up into the hip-hop scene as a graffiti artist," he says. "I was also dabbling in DJ-ing and all that before I got into rhyme. But graffiti is really where I kind of blueprinted my life. Even my approach to writing rhymes, making songs or doing a live show is the same thing. It has the same fundamentals of balance, composition, the textures, 3-dimension, outlines, highlights. Everything in graffiti I can apply metaphorically to how I work in music."
Musical platform
Dilated Peoples' unique approach eventually won the act a recording contract but, as with many up and coming artists, its first effort was shelved � an un-released victim of legal entanglements and corporate politics. Nonplused, DP went back into the studio and recorded "The Platform," its major-label debut.
"We did the album over a period of a couple of years," Rakaa explains. "There's songs on there that are years old and some that are brand new. It was a culmination of work that we collected, and we felt that it was all timeless material. We recorded it in a lot of different studios in a few different cities, working with different producers. It's an eclectic blend of music and vibes and energies. It's like exotic spices. If you get it right, you can open up the palette to a whole different view of things."
For Rakaa and his DP crew, there is little distinction between the regional labels placed on rap today.
"It's no different than jazz," he says emphatically. "There's an East Coast sound, a West Coast sound, a Chicago sound, a Southern sound. We're influenced by people from all over the place. What's recognized traditionally as an East Coast or a West Coast sound and promoted in the mainstream media is different from what's happening on the street. We developed a world view pretty early on. We were really able to get in the mindset early enough to not really trip on this type of sound or that type of sound."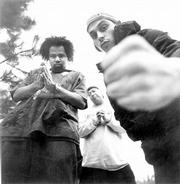 The success of "The Platform" has allowed DP to play shows around the world, rocking stages from Bangkok to Berlin. Touring has proved an eye-opening experience for the band, expanding its range of influences and fattening its sonic arsenal.
"They're there to party and have a good time," Rakaa says of European audiences. "They're not there to critique you or see if you're as dope as their friends said you were. If you go over there and handle your business, they pick up on that. Every time I go, it's a beautiful experience. The people there rock out really hard. There's a lot of partying out there. It's kind of like the first time we came to Lawrence. I didn't know what to expect. We're from L.A. � we'd done shows in New York, San Francisco, places like that. It's like cats (in Lawrence) are really ready to have a good time, really ready to party.
"We can spend a lot of time trying to get the smirk off your face or you can just come down to the show with the same positive energy that we have. It's the people's party anyway and we're just out there to radiate and shine for the folks out there."
Touring right alongside Dilated is Jurassic Five, another L.A. hip-hop band that eschews the trappings of gangsta rap for a more sophisticated sound. Currently, the two groups are practically synonymous.
"I don't really know those dudes," says Rakaa laughing. "Every town I go, they're there. We finish, we headline, we close the night out, and then they're always doing the late set! No seriously, I love those cats. They're like family. I see those cats more than I see my family. It works well. We do different things, but we come with that same professionalism and originality. ... I think we compliment each other."
Political platform
What: Dilated PeoplesWhen: 7 p.m. SaturdayWhere: The Granada, 1020 Mass.Ticket prices: $17.50Ticket information: 842-1390
Rakaa and company have lent support to several important causes, including the Unbound Project for political prisoners as well as Funky Precedent, which helps fund music projects in schools. Still, Rakaa insists that DP has no agenda other than bringing its music to the masses.
"I wouldn't call us a political group," he says. "I'm more conscious than political. I deal with politics, I deal with religion and whatever out there that's a force in society. As a group, we kind of turn on the channel and open it up and just try to let the energy flow through us. Some shows might seem more political, some might feel more comical. It just kind of depends on how we feel and what the issues are. If there's something pertinent happening, something serious that needs to be dealt with, it'll definitely get spoken on."
The government's failed war on drugs is a fitting example of an issue that Rakaa feels needs addressing.
"America is a capitalistic society," he explains. "If you're in a capitalistic society with borders, you're definitely setting things up to capitalize on the citizens within those borders. There's a lot of things that are done for gain, for profit � not necessarily for the betterment of society. When you target certain neighborhoods or a certain form of a drug, like crack versus powder cocaine, a divisive effort is� being�made to pull strings. I think that's very dangerous for society � when they can make that type of distinction, which is ultimately a class distinction based on taste. So, it's really a negative circle, man. � When you couple that with the fact that they're privatizing prisons, which are just business in themselves � cheap labor subsidized by the state � you start to realize that across the board it benefits everybody but the people."
So what solutions are out there?
"You have to get people to recognize that they're playing a game they don't have to play," says Rakaa. "You do what you can to stay out of that type of hustle, because that's a hustle that's stacked against you. If you gotta get yours, then try to get it legit. But, don't play a game where the odds are against you unless you're willing to take those kind of chances. It's set up that way; it's booby-trapped."
More like this story on Lawrence.com