Brian Jacques, author of the best-selling Redwall series, is not a man of the computer age. He writes his fantasy novels in longhand with a pen or hammers out the words on an old manual typewriter.
It's a process that he describes as "volatile." His intensity and concentration are imprinted onto paper.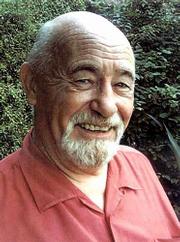 "It can take all day to write a page. But if it's an action part, I can write pages and pages. It's mercurial," he said. "� I can turn the pages over to the clear side, and I can feel if it's an action (scene). It's a page of braille."
Jacques, who lives in Liverpool, England, is in the United States on a whirlwind 36-city tour to promote his first non-Redwall book, "Castaways of the Flying Dutchman." He will make stops in Lawrence and the Kansas City area this week.
"I dearly loved the Redwall books, but I have imagination and would like to write about something else," he said during a recent phone interview.
"Castaways" retains the elements that characterize the 14 books in Jacques' Redwall series, such as "Marlfox" and "The Legend of Luke," both of which appeared on The New York Times best-sellers list. The novel's characters and situations are bigger than life, and mysteries, riddles and camaraderie abound.
In brief, "Castaways" is about a sea captain who has blasphemed God and is condemned by an angel to sail the world's seas with his mutinous crew. However, a stowaway mute boy and his dog are spared because of their innocence and directed by the angel to help those in distress. Adventure ensues as the boy and dog time-travel, from 1620 to 1896, to an English town under siege by an evil man and his henchmen.
"I have always been fascinated by the sea, its lores, poems and legends. I like the romance of it all," Jacques said of the book's theme. "It's a yarn of the sea. There's a warrior-hero � a young boy against all kinds of (evil) � but he wins and comes out of the adversity."
Catching the writing bug
Jacques, born in 1939, said he knew he could write at age 10 � thanks to a teacher who called him a liar.
On his first day at St. John's School, an inner city school in Liverpool, he was given an assignment to write an essay about animals. He wrote about little birds who clean the teeth of crocodiles.
"My teacher asked me where I had copied it," he said. "The teacher said boys of 10 can not write like this."
When he would not say that the story had been copied, he received whacks with a cane � and he realized that he had a talent for writing.
"I was fascinated by books. I never read any children's books. I read books that were politically incorrect and old-fashioned," he said, listing Daniel Defoe, Sir Arthur Conan Doyle, Robert Louis Stevenson, Sir Thomas Mallory and Edgar Rice Burroughs as his favorites. At age 14, he had saved enough money to buy "The Iliad" and "The Odyssey."
Jacques, as many English boys at the time, dropped out of school when he was 15 and became a merchant seaman. After traveling the world, he returned to Liverpool and worked as a truck driver, boxer, bus driver, police officer and stand-up comic.
In the 1960s, he began writing music, poetry and plays. His first commission was "Brown Bitter, Wet Nellies and Scouse," a play for Everyman Theatre. His Redwall stories developed while he was a volunteer storyteller at a school for the blind. In order for the students to imagine the tales, Jacques had to describe the characters and action in great detail. He eventually began developing his own stories with the blind children in mind.
Jacques was discovered when Alan Durband, a retired schoolteacher and writer, sent "Redwall" to a publisher without his knowledge. In short order, the publisher signed Jacques to write five books that would become part of the Redwall series.
Far from slowing down
Since 1986, when "Redwall" was released, Jacques has become known for his children's books, plays and as a radio personality hosting his own show on BBC Radio Merseyside.
One of his books of poetry, "Get Yer Wach," has the distinction of being the most stolen book from bookshops in Liverpool, he said.
Jacques never seems to have writer's block: He is writing "The Angel's Command," the second volume in the "Castaway" series; a cooking book of Redwall recipes; "Winter's Tale," an illustrated children's book that will be part of the Redwall series; and another Redwall book that will be released next year.
And Jacques � the school dropout-turned-seaman/truck driver � seems genuinely surprised by his literary success.
"I have everything I want. I just can't believe it," he said. "I'm published in 19 countries and in 17 languages. It's a dream come true."