There's a bundle of liability that goes along with writing a hit song. And not just any song that marginally cracks the Top 40, but one that is seemingly omnipresent � the type of pop ditty that punctuates sporting event PAs and TV programs, and will no doubt be included in "Best of the '90s" compilations 20 years from now.
For Semisonic, that hit of all hits is "Closing Time" from the trio's previous album "Feeling Strangely Fine." And now the Minneapolis act (and its record label) is hoping another one will emerge from the band's just-released "All About Chemistry."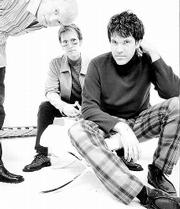 "I kind of made a little chalk mark on my life when Weird Al Yankovic (performed a parody of 'Closing Time') on his album," says Dan Wilson, singer/guitarist of Semisonic. "It was like, 'There, I've accomplished something if Weird Al is going to make fun of it.'"
Though Wilson believes "All About Chemistry" is Semisonic's finest studio showing, he understands the importance of the previous record's hit. And it isn't just Weird Al who helped validate that single. Wilson has enjoyed a number of odd encounters with "Closing Time" since the song became unavoidable in the sphere of pop culture.
� "I walked into the Minnesota State Fair last year, and it was being played on the Scream-a-twist, or whatever it was called. The Fear-o-blender? It was blaring very violently out of one of those scary, rickety-chute metal rides."
� "I heard it on an airplane on a set of headphones when we were going over the Pacific to Australia. I put on my headphones to 'escape into a world of music,' and I heard it coming out all tinny from these tiny speakers, 30,000 feet up on someone else's stereo."
What: Semisonic, Pete YornWhen: 9 p.m. TuesdayWhere: The Granada, 1020 Mass.Ticket information: 842-1390
� "Some family members of mine in the Philippines e-mailed and said they heard the song on the news on television during a rash of bank closings. 'News item: Six major Manila banks closed today' Then you heard (Wilson mimics the opening chords of the tune). That was weird."
For the last three years, Semisonic has been basking in the multiplatinum success of "Feeling Strangely Fine." Conversely, such fiscal results equal amplified expectations.
"The label (MCA Records) was looking for us to make a blockbuster that would sell a zillion copies in the first week, but I wasn't expecting that or planning for that," says Wilson, calling from a tour stop in Toronto, Ontario. "But definitely there is the sense like, 'Oh, they sold a couple million copies. This is going to be like 'N Sync or Dave Matthews.'
"I think my expectations are that we would make something that would probably take a little time to find its audience � as we seem to have always done. Multiplatinum or not, it took 'Feeling Strangely Fine' more than a year to be platinum. And 2 million came two years later. It wasn't one of those things that could be done in two months."
'Chemistry' equation
In following the texture-heavy debut LP "Great Divide" and the stripped-down and soulful "Feeling Strangely Fine," Wilson reveals how Semisonic took a different approach to its latest record.
"I had a couple things in mind," he says. "I wanted to write songs that would be fun to play live. We'd been doing so many big stages and loud places. That was really inspiring me to have the band still keep our specific sound, but to sound big on a big stage. Secondly, I was telling the guys that I wanted it to be a party CD. But no one understood what I meant until the lyrics started coming through. Then at one point John (Munson, bassist) said, 'Oh I see. We're not making a party album that is dance music that everyone can boogie to � but the songs are ABOUT a party. There's a lot more action and characters, and every time something happens in these songs, it seems like people are standing around paying attention or involved.'
"That was a good way of translating from my head to something that we all could understand. Because the songs seems to be more about a group of people and me, instead of just me alone. I wanted to reflect the social chaos we'd been living in because of the success of the last album."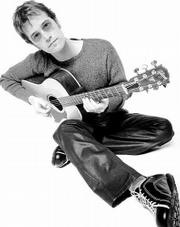 In addition to contributions from The Jayhawks frontman Gary Louris and Wilson's talented brother Matt Wilson, "All About Chemistry" provided the opportunity for the band to collaborate with Carole King. The singer-songwriter's landmark 1971 record "Tapestry" was for 25 years the biggest selling album by a female artist (Alanis Morissette's "Jagged Little Pill" eventually trumped it). The band's partnership with King came about quite randomly.
"I told our management, record label and publisher, 'I would love to co-write with somebody who doesn't really do guitar rock. Find me somebody interesting who is off the path for us,'" Wilson remembers. "Our publisher called up and said, 'What about Carole King? It sounded interesting to her.' I could hardly be coy, could I? I was like, 'When do we go?'
"I e-mailed my mother and said, 'I'm going to write a song with Carol King.' And my mother wrote back, 'You'd better spell her name with an "e" unless you want to be really embarrassed � it's Carole.'"
The result of the alliance was the mid-tempo ballad "One True Love," where King plays electric piano and contributes vocals to the recording.
"She's really passionate about (writing), but she's also willing to throw something away if it doesn't seem right," Wilson says of their song, which was inspired by the film "American Beauty." "That spontaneity coupled with that (ability) to completely forget about something and move on to the next idea, that made it really easy ... She just sort of pumps out ideas. 'How about this? How about that?' And they're all cool, and they're all really 'Carole King.'"
TV land
In the spirit of celebrity cooperation, Wilson and bandmates currently are preparing for an April 9 appearance on "The Late Show with David Letterman" to hype the new record. A couple weeks prior, Semisonic completed a stint on "The Tonight Show with Jay Leno," where the performance gave the impression that the band was a tad nervous.
"Yeah, wouldn't you be?" Wilson asks. "I won't pretend to claim that's my venue. This last one ('Leno') was actually more fun than it's ever been before � after about a minute. It's just a bizarre setting. What crowd they have there is about 100 feet away. And there's only about 100 of them. And all you can think about is you can't see the other millions of people. Being kind of an introverted person, all of those situations are slightly weird. Anybody who is a big fan of Semisonic's music, actually probably knows that. They know we're not going to leap into the mudwrestling area with a bunch of Playboy models."
The TV gig did reveal that the trio is now touring as a quartet. Multi-instrumentalist Chris Joyner supplied keyboards to the "Leno" version of "All About Chemistry," and he has now become a fixture on the group's current excursions.
"I had written a whole bunch of the new songs on the piano, and when it came time to perform them, I just didn't want to go sit by a piano somewhere," Wilson explains. "Then it just seemed the songs would sound cooler with piano and guitar. And here you go, we're playing as a quartet now. But it's actually been really fun. There are a couple songs where I don't play anything. It's really fun to just stand up there and sing."
This marks quite a departure for Wilson, who has never before taken the stage without the tactile crutch of a guitar or keyboard.
"Somebody recently told me that I looked awkward, but in a good way," he says.
In another life
Wilson first found his rock footing in the mid-to-late '80s with Trip Shakespeare. The group was formed with his younger brother Matt and included fellow Semisonic member Munson on bass. A band worthy of the term "experimental," Trip Shakespeare managed to combine the "Fargo"-like imagery of its Northern upbringing with outstandingly arcane lyrics, complex three-part harmonies and performances that at any point could veer off to unexplored territory. Trip was arguably the most consistent out-of-town club draw in Lawrence and Kansas City during the pre-grunge era, selling out back-to-back weekend shows dozens of times. The ensemble went on to release several albums on A&M; Records before disbanding in the early '90s.
Keeping their working relationship intact, Wilson and Munson recruited drummer Jake Slichter and formed the band Pleasure, and by 1995 had signed a deal with Cherry Disc Records. Opting for a name change to Semisonic, the trio released its first EP (titled "Pleasure"), and within a year had inked a deal with MCA Records.
Gradually, the band streamlined its sound, jettisoning the Shakespearean eccentricities and focusing on pop hooks and emotive lyrics. The group's first album, "Great Divide," managed to land three videos on MTV as well as positioned tunes onto various soundtracks. But it wasn't until 1998's "Feeling Strangely Fine," which yielded the singles "Singing in My Sleep," "Secret Smile" and, of course, "Closing Time" (for which Wilson was nominated for a Grammy), that Semisonic became somewhat of a household name.
"I don't know if we're a moth just kind of circling around a flame or if we're getting closer," says Wilson, describing the group's artistic arc. "I like to think that certain things get better. Ask our fans, they'll argue until the sun goes down which is our best album."
There are those who believe the latest record may be the group's pinnacle. In a recent issue of the music magazine Q, critic John Aizlewood writes of "All About Chemistry," "Pick a track, any track, and it sounds as if it's baying to become a hit single, but there's a little spark of genius to each." This review begs the question (albeit a leading one), does Wilson feel he possesses any type of musical genius?
"The thing that I can do really well is combine a normal phrase that you can hear in a conversation, and in one of my songs it suddenly sounds like a really songy, hooky, classic thing," he says. "But even though if you take it apart and think about it, it's very ordinary and daily and mundane. Vice versa, I think in the songs I can make an 'Oh, I never thought of it that way' observation, but I can put it in a way that most people can understand. I think I can straddle this line � or this huge gap, possibly � between Midwestern-style plain thinking and imaginative, up-in-the-clouds, spacey guy. That's a strength of mine, and maybe a spark of genius lies in there somewhere."
More like this story on Lawrence.com