Wednesday, April 18, 2001
Could Denis Leary be out of a job? "The Job" airs its sixth and final original episode tonight (8:30 p.m., ABC). Mike is sentenced to anger-management classes after his fit in a taxi is captured on video and broadcast on television. His actions might have something to do with his decision to quit drinking and smoking.
ABC has some decisions of its own regarding this quirky series. While critical notices have been favorable, the ratings for "The Job" have slid considerably. This might be too reminiscent of "Sports Night," another critical favorite that combined comedy and edgy drama. No word yet if there will be additional installments of "The Job."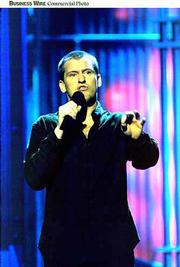 � There has also been some Internet chatter about the eventual fate of "Once and Again" (9 p.m., ABC). In tonight's episode, the ongoing investigation into Rick's big project drives him into a melancholy place where only Lily can reach him.
The series has a loyal fan base. But not enough viewers watched during the February sweeps period, and it was replaced by "Millionaire." If there was ever a time for a fan letter-writing campaign to save "Once and Again," it is now. You have to figure that was half the reason that a report of inner network turmoil was leaked to the Drudge Report in the first place.
The ABC medical drama "Gideon's Crossing" has also ended its first season without a clear indication of its prognosis.
� Over at the WB, there is no doubt about "Felicity" (8 p.m., WB), which returns to the schedule with six new episodes. The teen network has employed a largely successful strategy to keep its audience interested by avoiding the endless repeat syndrome.
They're hoping that the show's young viewers will be hungry for their curly-coifed coed heroine after six weeks of the smarmy "Jack and Jill." Tonight picks up with the aftermath of the party shootout cliffhanger.
� Part hero worship, part gushing fan film and part home movie, "A Conversation with Gregory Peck" on "American Masters" (7:30 p.m., PBS) takes an unabashedly affectionate look at the actor. It follows Peck as he fields questions and answers from audiences, as he screens scenes from his favorite films, and as he cavorts with his children, grandchildren and pets. Peck maintains a good-natured dignity in the face of all this adulation.
Tonight's other highlights
� Leo asks Josh to woo an angry columnist on a repeat of "The West Wing" (7 p.m., NBC).
� On back-to-back episodes of "My Wife and Kids" (ABC), Michael and Jay can't remember what started their argument (7 p.m.), and facing a school bully (7:30 p.m.).
� Denzel Washington and John Goodman star in the 1998 supernatural thriller "Fallen" (7:30 p.m., CBS).
� New evidence emerges linking a wealthy relative of a political dynasty to a 25-year-old homicide on a repeat of "Law & Order" (8 p.m., NBC).
� The doctor's attempt at fiction ruffles some feathers on "Star Trek: Voyager" (8 p.m., UPN).
� Anne Robinson hosts "The Weakest Link" (9 p.m., NBC).
� The president gets a lecture from NRA honcho Charlton Heston (Robert Legionnaire) on "That's My Bush!" (9:30 p.m., Comedy Central).
Series notes
Drama ensues at the anniversary party of Frankie's parents on "Some of My Best Friends" (7 p.m., CBS) ... Red disapproves of Kelso and Laurie on "That '70s Show" (7 p.m., Fox) ... Werewolves get the best of Nick on "Special Unit 2" (7 p.m., UPN) ... Confronting Jen's dad in New York on "Dawson's Creek" (7 p.m., WB).
A very foul ball on "Grounded For Life" (7:30 p.m., Fox).
Two more recruits get the boot on "Boot Camp" (8 p.m., Fox).
More like this story on Lawrence.com