Oscar-winners Russell Crowe and Geoffrey Rush may be more acclaimed, but no actor is better known simply for being Australian than 60-year-old New South Wales native Paul Hogan.
Thanks to the runaway success of the 1986 film "Crocodile Dundee," its 1988 sequel (the first film made $360 million worldwide, while the second brought in $250 million) and some tourism commercials where he invites the world for "shrimp on the barbie," Hogan will probably remain the world's most famous symbol of his country. That recognition won't change with the release of his latest flick "Crocodile Dundee in Los Angeles," in which he reprises his role as the rough and tumble croc hunter Michael J. "Crocodile" Dundee.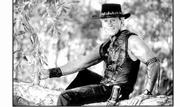 When discussing his daunting status during a recent roundtable interview in Chicago, Hogan says, "It's not weird if you think about it. Let me ask you this: Name a Swede. Name a Brazilian. The population of Brazil is 110 million, but aside from Pel�, a soccer player from 50 years ago, people don't get known around the world. If you get to know one or two Australians around the world, it's amazing. When I came here, they sort of knew me and (golfer) Greg Norman, 'The Shark.' Now that the Tiger's (Tiger Woods) up, you don't hear about 'The Shark' much."
Because actors Crowe and Rush have gained recognition for being convincing as other nationalities, one wonders if Hogan has tried his luck in that department. He briefly demonstrates a convincing Brooklyn drawl in the new film.
"When I was going to do the western ("Lightning Jack"), I started working on an accent which we would call 'Arizona,'" he recalls. "It was sort of coming along, and I thought, no, it's distracting me too much. I'm so heavily typecast that if I came out with another accent, it's like Arnold Schwarzenegger suddenly loses his German accent (actually Austrian) or Sean Connery suddenly starts sounding like a Yugoslavian.
"Some people are stuck with what they've got. That's never really been a problem with me because I didn't set out to be like (his countrymen) Heath Ledger or Russell Crowe where 'I'm going to be Hamlet this year, a hunchback this year or I'm going to be an idiot.' Typecasting is a terrible thing for an ambitious young actor. I'm neither ambitious nor young. I sort of had a career before I ever did 'Crocodile Dundee.'"
Portable character
That career included the popular Australian television comedy series "The Paul Hogan Show," which ran from 1973 to 1984.
"I had the satisfaction of playing 100 different characters for four or five minutes, which is long enough sometimes with some of them because you get bored. A lot of them went into Mick Dundee. I had a small but loyal cult following in America on about five stations where it came on at 11 at night, cut up in bits we thought would travel. And it did a bit. Most of stuff I did was too topical or too Australian."
Mick Dundee, however, seems quite portable. So much so that Hogan, who owns the "Dundee" franchise, decided to make the sequel more than a decade after the last film hit the theaters. When asked about the sizable gap, Hogan corrects the phrasing of the question by saying, "No, it's a HUGE gap. When I started doing (the new film), I had a lot of major animation companies contact me about doing an animated 'Dundee.' They don't all do that because they suddenly have a good idea. You know how Hollywood works. They don't go to lunch without research. Without me spending a dollar, I found out there were a lot of kids out there who had seen 'Crocodile Dundee' on television and liked the character. There might be a whole new fresh audience."
When creating a new backdrop for the character, Hogan always new what city would be ripe for exploring.
"L.A.'s another country," he says. "It's the cultural capital of the world � which is a rather terrifying thought. The first place I noticed it was Sweden. You look out on the street and see the teen-agers, and you might as well be in South Central. They had their caps on backwards and the baggy shorts. They were high-fiving each other and calling each other "dude." Even in Japan, it's the same thing."
Shady inspiration
Like the city he pokes fun at, Hogan's character is referenced worldwide, but one quickly senses he'd rather not talk about Rodney Ansell, a man who boasted of being the "real" Crocodile Dundee until his death in a shoot-out with police two years ago. Dundee co-writer Ken Shadie had heard of how the outdoorsman had managed to survive two months on his own in the wilderness in 1977 and worked the adventure into the script. To Hogan, however, the parallels between Ansell and Dundee are weak.
"(Ansell) came back to haunt me," Hogan explains. "He died a drug addict (and) killed a young policeman after beating up his (own) wife. People have been telling me he's the 'real' Crocodile Dundee. I thought, 'What's wrong with this picture?' He became the 'real' Crocodile Dundee after the picture, even to the extent where an American journalist, who I guess is still his wife, came there to interview him and moved in with him.
"There was no 'real' Crocodile Dundee. His background is a conglomeration of some friends of mine, but it's just fiction. The first real crocodile hunter I ever met was a guy named Jaco (like Dundee's sidekick in the new film). He was in Mossman, Queensland, and was the official croc hunter of the town. What I got off him was the black hat with crocodile teeth and the vest. He was heavily tattooed and completely toothless. He had the charm of a death adder. You wouldn't want to have a drink with him."
With his knowledge of the Australian landscape, it's tempting to quiz Hogan if the contestants on the Outback version of the TV show "Survivor" actually have anything to fear from the animals.
"Yeah," he says. "But they really have to worry about each other."
More like this story on Lawrence.com