Wednesday, April 25, 2001
George Carlin will receive a Lifetime Achievement Award on the 15th Annual American Comedy Awards (7 p.m., Comedy Central). Irreverent as always, Carlin has already lampooned the event on his own Web site, www.georgecarlin.com. He rants: "If you're watching the ... American Comedy Awards ... you'll see Garry Shandling giving me what they call the Lifetime Achievement Award. When they told me about this, I immediately inquired, 'Who's lifetime are we talking about?' ... I said I would accept the award on the condition that, in exchange I at least be allowed to live out the rest of my life."
In addition to Carlin's big moment, comedians will be honored in the fields of motion pictures, network, cable and syndicated television. Nominees include Jennifer Aniston, George Clooney, Billy Crystal, Robert Downey Jr., Jane Kazmarek, David Hyde Pierce, Jon Stewart and Fred Willard.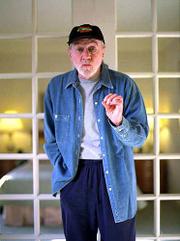 � Jodie Foster is outstanding in the smart, luminous, if overlong 1997 sci-fi adventure "Contact" (7 p.m., CBS). Based on a novel by Carl Sagan, Foster plays an ambitious scientist who has dedicated her life to space exploration, and the awe-inspiring search for life out there. She fights space agency politics and government intrigue to pilot a mission to the center of the universe.
Directed by Robert Zemeckis ("Cast Away"), "Contact" features the most cosmic and visually dazzling space trip since "2001: A Space Odyssey." Although, like many of Foster's films, "Contact" is more cerebral than romantic, it reflects a passionate attempt to reconcile matters of faith and science. With Matthew McConaughey, Tom Skerritt, James Woods and Rob Lowe.
� Tonight Oliver Platt (of the short-lived "Deadline") guest stars on "The West Wing" (9 p.m., NBC). He's a natural as the blunt new lawyer brought in to counsel the president on the legal and constitutional ramifications of his medical cover-up. Bartlett doesn't necessarily like what he hears.
Tonight's other highlights
� Janeway tries to make peace with an alien race almost destroyed by a 21st-century nuclear device launched from earth on "Star Trek: Voyager" (8 p.m., UPN).
� Caitlin becomes one of the guys as "Spin City" returns to the schedule (8:30 p.m., ABC).
� Eli mulls moving out just as Lily and Rick prepare to move in together on "Once and Again" (9 p.m., ABC).
� Christian Bale stars as a yuppie serial killer in "American Psycho" (9 p.m., Cinemax), a gory satire of Reagan-era styles and consumerism. In this funny and unsettling film, Bale's character offers twisted commentary on 1980s pop music as a prelude to murder. Not for every taste. Also starring Willem Dafoe, Jared Leto and Chloe Sevigny. You'll never think of Huey Lewis in quite the same way after watching this.
Series notes
� "Ed," "'70s," the first "Wife," "Drew" and "Law" are repeats ... Crafting a will for Molly's grandpa on "Ed" (7 p.m., NBC) ... A chemistry class crush on "That '70s Show" (7 p.m., Fox) ... On back-to-back episodes of "My Wife and Kids" (ABC), Claire has problems with her eyebrows (7 p.m.), and Michael remains too nice to Claire's ex (7:30 p.m.) ... A wayward mummy tries to conquer the world on "Special Unit 2" (7 p.m., UPN) ... Joey worries that she may be expecting on "Dawson's Creek" (7 p.m., WB).
Walt's gift for Jimmy makes Sean's seem like second best on "Grounded For Life" (7:30 p.m., Fox).
A process of elimination on "Boot Camp" (8 p.m., Fox) ... Drew tries to rebound with Mimi's cousin on "The Drew Carey Show" (8 p.m., ABC) ... Romance ensues after the lights go out on "Felicity" (8 p.m., WB).
More like this story on Lawrence.com