Some bands complain bitterly about life on the road, but not The Honeydogs. Given the band's history of heartache, setback and strife, being on tour probably seems like a walk in the park.
"It's nice to be out here again," Honeydogs vocalist/guitarist Adam Levy says, calling from the back of a crowded Baltimore-bound tour bus. "I feel like a lot of people have the record that are coming to the shows. It's been kind of a nice trial by fire."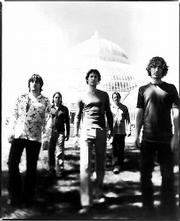 Honeymooning
The Honeydogs' sound is centered around the melodious, harmony-tinged songs of Levy and his brother/drummer Noah. The pair's rhythmic give-and-take, combined with harmonies that come across like the house band at Big Pink, give the 'Dogs a somewhat retro rock flavor. However, it's Levy's penchant for composing songs packed with cynically wry lyrics that keeps the group afloat long after the flood.
Unlike many of rock music's famous brother-bands (Oasis, The Black Crowes, Van Halen), the Levys don't live up to the clich�s of that particular dynamic. They aren't constantly at each other's throats, they've never trashed a hotel room and they weren't raised in a musical household.
"My parents had a really small record collection and they loved music, but neither of them were musicians," Levy explains. "Noah and I kind of grew up listening to the radio and records and wanting to do this from a pretty early age."
The brothers played together and separately in various local outfits, eventually forming The Honeydogs in 1994 with bassist Trent Norton.
"Noah and I had been in bands, but I'd always been the side guy guitar player," Levy explains. "We just decided to do something ourselves. I started writing songs and wanting to sing more, so we put the band together around that."
The band cut its teeth on the Minneapolis music scene, scrounging up any gig it could get its hands on and passing demos to anyone who'd listen. Minneapolis has a long-standing reputation for friendly-but-fierce competition among bands, a perfect setting for the 'Dogs headstrong rock.
"There are a lot of cool bands coming out of there right now," Levy says of the city. "There always seems to be something brewing, musically. It's a great town with all different kinds of music. People seem to have a sense that there's one style of music coming out of Minneapolis, but it's always been this kind of weird soup."
What: The Honeydogs, The Old 97'sWhen: 9 p.m. todayWhere: The Bottleneck, 737 N.H.Ticket information: 841-5483
After months of plugging away in roadhouses and nightclubs, The 'Dogs debuted in 1995 with an eponymous indie album that had its moments but merely hinted at the band's potential. 1996's "Everything, I Bet You" was a huge step up, documenting an ever-maturing sound. On a creative roll, the group was signed by Mercury Records and released "Seen a Ghost" the following year to critical acclaim and its best sales to date. Unfortunately, the carpet was pulled from underneath the band's feet when Mercury "re-engineered" itself during massive music industry downsizing.
Lucky 'Dogs
The Honeydogs fourth album, the masterful "Here's Luck," was recorded in the fall of 1998 but languished in Mercury's vaults for the next three years.
"They were kind of hot and cold about the record when we made it," Levy remembers. "We weren't really sure when we were making the record if we even had a deal. We got enough money to make the record so we sort of ran with it and made the record we wanted to make. Unfortunately, all the people who were working with us lost their gig at the label. We were kind of free-falling for a bit."
Though Mercury opted to pass on releasing "Here's Luck," Palm Pictures, a division of the artist-friendly Rykodisc label, signed the band and finally released the album last February. The 'Dogs, who added guitarist Brian Halverson and keyboardist Jeff Victor last year, quickly became press darlings as rave reviews poured in. (The San Francisco Chronicle wrote of Levy, "Witty yet passionate, brainy and vulnerable, he can make misery sound sexy.") Currently, the act is out on tour, basking in the glow of its newfound success and showing off its new-and-improved lineup.
"I think the band has definitely evolved considerably in the last three years," Levy says. "The songwriting has changed a lot. Everybody in the band sings now, so in terms of performing live, there's a lot more open to us. Before we made 'Here's Luck,' we were pretty much a guitar band � a four-piece rock band on the road. Now there's all kinds of transmutations, crazy covers. It's a different band."
More like this story on Lawrence.com