The early word on Chris Duarte had him sounding like just another directionless guitar whiz imitating Stevie Ray Vaughan doing Jimi Hendrix. Duarte can, in fact, replicate the Hendrix and Vaughan catalogs perfectly. But after playing 250-plus gigs a year for more than a decade, he's nobody's wannabe.
Duarte, whose third CD, "Love is Greater Than Me," was released late last year, can hold his own with any of the big boys. And, more importantly, he has something to say.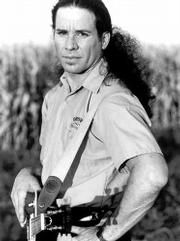 "I have all these influences that have helped me grow and evolve," Duarte explains. "I'm just trying to get them all out. I want people to say, 'Hey, that's Chris Duarte!' when I'm lucky enough to get on the radio. I want my own distinguishable voice."
Duarte does his talking in a traditional power blues trio setting that goes back to Eric Clapton in Cream, Hendrix's Experience, Johnny Winter's Blues Experiment and Vaughan's Double Trouble.
The guitarist dropped out of San Antonio's Jefferson High School in 1979 to move to Austin, where he hoped to hone his skills in a blues scene dominated by Vaughan and The Fabulous Thunderbirds. After a short stint in an Austin jazz band, Duarte joined Bobby Mack and Night Train, followed by a stint with Junior Medlow.
Signed to New York-based Silvertone Records, Duarte's 1994 debut, "Texas Sugar/Strat Magic," earned him "Best New Talent" recognition in Guitar Player magazine's 1995 Reader's Poll. That same year, Chris finished fourth in Guitar World's "Best Blues Guitarist" category behind legends Eric Clapton, Buddy Guy and B.B. King.
Q: Early in your career, you were tagged as a Stevie Ray Vaughan wannabe, which, at the time, was a bad thing. Now your press kit cites Vaughan as a major influence and you hired Doyle Bramhall, a Vaughan confidante, to produce "Love is Greater Than Me." I'm wondering if the whole 'Stevie thing' has sort of gone full-cycle? What once was a negative is now a positive.
A: "At first, I think (people) used it as a negative: 'Oh, he's a Stevie clone or a Stevie yawn.' But now I think people see that I have talents of my own; I have some weapons in my arsenal. I've always seen my 'Stevie influence' as something that I've respected and that I always tried to handle in a way that's complimentary and tasteful. There are people who are comfortable being Stevie clones, that's what makes them happy. But I can't do it ... But I have to tell you that when Doyle came into the picture he let everybody know he doesn't want anything to do with anything that's going to be associated with Stevie. He's totally tired of the whole 'white-boy blues wannabe' thing. He's really reaching out to do other things."

Q: Did you have any interest in ? or were you approached about ? playing on Double Trouble's new album, "Been a Long Time?"
What: Chris Duarte Group, IndigenousWhen: 9 p.m. TuesdayWhere: The Granada, 1020 Mass.Ticket information: 842-1390
A: "I wasn't asked, but it didn't bother me because I was busy, and I think they were going with people who've sold a lot of units. Everybody on there is a big name. But back in January or February ? I can't remember when it was, exactly ? I got called for a session with (Double Trouble's) Chris (Layton, drummer) and Tommy (Shannon, bassist), Malford Milligan (ex-Storyville, vocals) and (Austin session ace) Derek O'Brien. We did 'Boom, Boom, Boom' for a CD that's supposed to come out in June. It's supposed to be sort of a compilation of John Lee Hooker songs."
Q: You grew up in San Antonio. Is there anything in your music you can point to and say, "There, that's the San Antonio influence?"
A: "You know, it's there, but I don't think it's really come out yet. I'd still like to play in a Tejano band some day or do some Tejano stuff. And I really want to play the accordion because, man, there's nothing better that a cookin' little band with a baja sextro, drums, bass and accordion. I love it."
Q: You've been sharing a lot of gigs lately with Indigenous. What's the connection?
A: "Oh, man, I remember when Mato (Nanji, Indigenous lead guitarist) was just starting out about five years ago. We'd do gigs together and I always knew he had the talent, and he's been steadily growing into just a ferocious player. He's one of few young guitarists who's out there pushing it farther."
Q: This'll be the first time you played in Lawrence since long-time bassist John Jordan left the band. What's behind his exit?
A: "John just wanted to do something different. He had been in Chris Duarte Group 10 or 11 years, and he felt his time in the band had run its course. His tastes in music were changing, and he wanted to be around his daughter more; she was reaching that impressionable age. It was just an evolutionary kind of thing that musicians go through: You change, you grow, you move on to other things."
Q: Among musicians ? as opposed to librarians ? you're certainly well-read. What's impressed you lately?
A: "I just finished 'Guns, Germs, and Steel: The Fates of Human Societies.' It's about the evolution of man and society, and why some societies make it and some don't. It's really good. Most of it seems plausible. Now I'm reading 'Undaunted Courage,' which is about the Lewis and Clark expedition. It's good too."
Q: On your latest CD, I suspect the song "Brand New Day" has jolted most listeners in that it's a hard-rocking tune that has you thanking the Lord for letting you live another day. What's that all about?
A: "People can interpret it any way they want, but I wrote 'Brand New Day' after we were in a traffic accident in 1993. We were heading for Lincoln from Denver when we pulled out in front of a 16 wheeler and got hit. The police all said we all should have been dead. Paul Mills, our drummer at the time, was in the hospital a couple months. I had a bunch of internal injuries ? a bunch of broken ribs, a punctured lung and my spleen was all messed up. That's what it's about for me, but music is open to all kinds of interpretations."
More like this story on Lawrence.com