With the dubious exception of Slipknot, the mainstream music world has yet to recognize the wealth of talent that springs from Iowa, possibly the only state considered less cool than Kansas.
"When we tell people where we're from, there'll be a slight pause and they'll go, 'Wow,'" says Iowan and House of Large Sizes frontman Dave Deibler, phoning from a Toronto soundcheck. "But after they get over the initial 'I didn't think there was anything in Iowa,' most people don't give a rat's ass where you're from."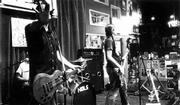 For the last 14 years, the members of House of Large Sizes � Deibler, bassist Barb Schilf and drummer Brent Hanson � have done their best to put their Cedar Falls home on the map, churning out superchunky guitar riffs and potent power pop on wax and in concert. Though the group's home state has come a long way in the last decade or two, the hierarchical nature of its various music communities leaves little room for collaboration or strength in numbers. Thus, bands like HOLS must fend for themselves, treading murky musical waters that sink more acts than they save.
"There's not really a statewide scene," Deibler says. "Everything tends to keep to itself, which I don't think is a positive thing. There's no real radio and no arts magazine to really document it and let people know what's going on. I guess the problem with Iowa is that bands tend to come and go without leaving any trace."
HOLS is determined to do things differently.
Building a House
Deibler was studying radio and television at the University of Northern Iowa in 1986 when he met Schilf. The pair became bandmates and bedmates simultaneously, found a drummer and dubbed themselves House of Large Sizes � a moniker shoplifted from a chain of clothing stores. A few gigs later, Deibler and Schilf were married. For the singer/guitarist � whose song "Fingernail" contains the acidic line "I'll give you anything except a wedding ring" � being permanently bonded to his bassist made life easier.
"I've never not done it like this so I don't know what that's like," he says of the union. "When I talk to other bands and their significant others are away from them, I'd say this is a hell of a lot easier. We're not really away from something besides our cat. It certainly could be a challenge, but if you talk to somebody who's gone for months at a time, it would be way tougher the other way."
The stuttering sonic stampede of HOLS's early recorded efforts shows a brash, punky collective ready to take on the world. Though most bands tend to mellow out as their careers progress, HOLS just became more intense. ("No matter how fast we play stuff on a record it invariably seems slow a year later," Deibler laughs.) Starting with 1989's "One Big Cake" and 1990's "Heat Miser," the band crafted cassette-only releases that were passed around by fans and friends. These created a regional buzz that enabled HOLS to tour the region, drawing increasingly larger crowds with sandblasting performances and teeth-gritting rock.
What: House of Large Sizes, Frank Black and the CatholicsWhen: 9 p.m. WednesdayWhere: The Bottleneck, 737 N.H.Ticket information: 841-5483
But it took a city called Seattle, a genre dubbed grunge and a band named Nirvana to take HOLS to the next level. HOLS was snapped up by Columbia/Red Decibel Records in 1994 and issued the now-classic "My Ass-kicking Life." The album's relative success was due in part to the grungy musical climate of the time, according to Deibler.
"It sold, for us, a lot of copies," he says. "It was definitely something that happened because of Nirvana. We've never really been in fashion. When we came out in 1986 there were a lot of hardcore bands � fast punk rock stuff. We didn't fit in with that. There was a bunch of funk bands because of the Chili Peppers and we didn't fit into that. So our 15 minutes happened when the kind of music we played was kind of popular. Although, I would say that even though Nirvana and us have the same lineup, there's some severe differences there. It gets lumped into one thing."
Though signing to a prestigious major like Columbia would be a dream come true for many musicians, Deibler downplays its role in his band's history. After all, he notes, HOLS only released one album for the label before being unceremoniously dropped.
"I know enough bands who had real horror stories about going to all this trouble recording and then the record never even came out," he adds. "Ours did come out."
Undeterred, HOLS quickly signed with indie What Are Records? (WAR) and continued touring and issuing records. "Little HOLS on the Prairie," a compilation of rarities, outtakes and B-sides (including a stun-gun version of Cher's "Half Breed") appeared in 1997 and "Glass Cockpit" arrived in 1998. "Not For Sale," a fan club-only release was issued in 1999 and last year's "Idiots Out Wandering Around" (an acronym of Iowa) caught HOLS in concert at various Iowa and Minnesota venues.
"We got tired of people telling us that our live show was so great," Deibler says of the live album. "We tried to capture that and move on. When you've been in a rock band for 14 years, you know you're not really supposed to be together that long. Rock bands are supposed to last 18 months and then you break up and hate each other's guts. So it's kind of uncharted territory. I never really thought we'd have a live record. It's tough enough just to do a show, let alone record it."
WAR also re-released the group's early records, packaging them with bonus tracks and Deibler's droll liner notes. Now, he says, signing with another major would only hurt his band's career.
"We're not trying to get on another label. We're not trying to play showcases or do anything. We're just trying to have a career in music as opposed to some big break or something."
Escaping deadlines
Currently, HOLS is opening for Frank Black on a nationwide tour � "a good match," according to Deibler. More importantly, the band has prepared songs for a new album to be recorded this summer, the act's first official studio release in four years.
"I think my role models are people like Bob Dylan or Sade or whoever � people who put out a record when they should," Deibler explains. "We have six albums, which kind of gives us the freedom to put out an album when it's done. There's no real pressure, which is kind of a problem in itself. The record will be done when we think it's good enough. There's not really any deadline."
Though HOLS has a reputation for speedy, headstrong rock � powered by Deibler's reedy vocals and Schilf's monstrous distorted bass tone � the new songs have taken the band down new musical highways, according to Deibler.
"It's different," he says. "In one sentence: We're not starting and stopping so much. There's less tempo manipulation. I really felt like we needed a break from that. It was getting to be a dead end. We've done all that stuff � weird time changes and tempos and stops. I still like writing like that, but I consciously put on the brakes. Most of the songs don't stop. They just kind of start and go. If a song gets boring, one of the things you can do is stop. I tried to figure out subtler ways to do that and to not just bail and throw in some crazy part."
Deibler is one of those rare musicians who can play almost any instrument and composes a song nearly every day. Like Billy Corgan or Prince, Deibler is constantly penning new material, recording demos and trying out new sounds.
"I think the secret is to keep playing," he says, "Just to have a guitar in your hands and not really stop for long periods of time because it can really dry things up. I try to play � badly � all the instruments that are in our band: bass, drums and guitar. That helps to kind of know what angle the other people in the band are seeing. But the only rule is that there is no rule except to always be working on something."
Songs about whales
With all those extra songs floating around, it's surprising Deibler hasn't delved into the solo spotlight yet, though it's not out of the question.
"Sometime I'd like to just have a CD of that stuff," he says. "There's certainly a lot of songs that don't fit into House of Large Sizes � they're too silly or whatnot, but I still think they're good songs. There's a few embarrassing moments � songs about whales and things like that. When you play the songs it becomes really obvious, really quickly what's going to work. My restrictions now are not as hard as they used to be. More than ever I don't care if it fits into certain parameters of House of Large Sizes. It's just a gut feeling. We'll be practicing and I can just tell. Off every record there's only five or six songs that you'll play live repeatedly. As time goes on, that even gets lower and lower. We probably only play one or two songs off of 'One Big Cake.' You just change. When you've been together 14 years, it's almost a different band."
Though the new HOLS record will undoubtedly find a home at college radio, which has embraced the trio from the early days, Deibler has no illusions about ever having a hit record. He does have a solution though, in the form of low-power FM stations, which have now been officially sanctioned by the FCC after years of back-and-forth legal struggle.
"They're legal now, not pirate," says Deibler, who's in the process of starting a 100-watt station in Cedar Falls. "They have to be educational and non-profit, but if enough of them open up, it could be a break. We need it. Radio sucks right now."