Sons of the Desert coming to Ottawa
Ottawa � Sons of the Desert will perform at 7:30 p.m. Saturday at Ottawa Municipal Auditorium, 301 S. Hickory St. The opening act is Dave Adamson and the Stone Creek Band.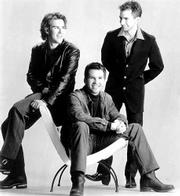 Members of Sons of the Desert are singer/songwriter Drew Womack, guitarist Tom Womack, bassist Dough Virden, keyboardist Scott Saunders and drummer Rob Steitler. Their first CD, "Whatever Comes First," gave the band its first top 10 hit and follow-up singles "Hand of Fate" and "Leaving October." The band's new CD is "Change."
Sons of the Desert has provided background vocals for Ty Herndon's "It Must Be Love" and Lee Ann Womack's "I Hope You Dance." The band is nominated for four Academy of Country Music awards this year: Single of the Year, Song of the Year, Vocal Event of the Year and Top New Vocal Group/Duet.
Tickets range from $12.50 to $17.50 and are available at the auditorium box office or by calling (785) 242-8810.
Erica Wheeler on tap at ECM
Singer/songwriter Erica Wheeler will perform at 7:30 p.m. Saturday at Ecumenical Christian Ministries, 1204 Oread Ave.
Wheeler is winner of the 1995 Rocky Mountain Folk Fest Troubadour Contest and a Signature Sounds recording artist. She is among the leading figures in the New England folk scene. Her CDs include "Three Wishes" and "Harvest." She has appeared with the Indigo Girls, Shawn Colvin, Iris Dement, Greg Brown, Patty Larkin, Bill Morrissey and John Gorka.
Tickets are $10 for the general public and $7 for students. Tickets are available by calling 865-FOLK or at www.westsidefolk.org.
Lawrence writers to be recognized
Three Lawrence writers are winners in the 2001 Kansas Voices Contest.
Winners in the adult category are Richard Minder and Ellen Schoonover, who both received honorable mentions for short stories. Justin Riley received an honorable mention in the youth category for his short story.
The winners will be recognized at 7 p.m. Saturday at Southwestern College Downtown Center in Winfield.
Kaw Mission marks sesquicentennial
Council Grove � The Kaw Mission Council Sesquicentennial Commemoration will be Saturday at the Kaw Mission State Historic Site, 500 N. Mission.
Events include "The Kanza Camping Circle Exhibit," works by watercolorist Arthur Short Bull and graphic designer Kate Wootton, 10 a.m.-10 p.m.; the Riverwalk Indian Tour for Youth, 10 a.m.-noon; "Kaw Mission Architecture Over Time," a lecture by Dan Prosser, preservation architect for the Kansas State Historical Society, 1 p.m.; a tour of the Little John Creek Reserve by Clyde F. McCauley of the Kaw Nation; a silent auction, 4 p.m.-7 p.m.; "The Kaw Nation in Prehistory: What the Kaw Language and Place Names Tell Us," a lecture by Robert Rankin, professor of linguistics at Kansas University, 7 p.m.; and "The Kansa (Kaw) Treaties of 1825 and After," a presentation by William Unrau, Wichita State University history professor emeritus, 8:30 p.m.
Artists picked for Hays show
Lawrence artists Kristin Dempsey and Shakura Jackson were recently accepted into the 32nd Annual Juried Smoky Hill Art Exhibition in Hays.
The art will remain on display through May 26.
Ramberg and friends to give concert
Karl Ramberg, a Lawrence actor and musician, will present "Last Chance Dance" at 8 p.m. Friday at the Lawrence Arts Center, 200 W. Ninth St. Ramberg, joined by some of his musician friends, will celebrate the arts center in its current building before it moves.
Admission is $5. Tickets are available at the door.
Photo contest deadline nears
The deadline for Kansas/KC Camera's statewide photo exhibit is Saturday. Slide entries must be submitted to the Lawrence Arts Center, 200 W. Ninth St.
Juror is Mary Wessel. Any resident of Kansas or the Greater Kansas City area is eligible to enter. The show runs June 6 through July 20.
For more information, call Shakura Jackson, 841-6138.
Rockin' Jamboree to benefit school
Lawrence Community Nursery School will hold its Red School Rockin' Jamboree, the nursery school's annual family concert, from 4 p.m. to 8 p.m. Saturday at the school, Seventh and Alabama streets.
Melanie Dill and Betty Peterson will perform original songs and lead traditional sing-alongs. The jamboree also will feature Acme Jazz, Four Corners, Danny Wycoff, the Usual Suspects and other musicians.
Tickets are $4 at the door and $3 for children ages 3-12. Discounted tickets can be purchased in advance by calling the school, 842-0064. In case of rain, the concert will be rescheduled at 4 p.m. May 12.
Artist showing works in Lindsborg
Lindsborg � A Lawrence artist has been chosen to show his works in "Flowers for Betty," a group show at the Birger Sandzen Memorial Gallery, 401 N. First St. The exhibit is part of the 103rd Midwest Art Exhibition.
Doug Guess, a Kansas University special education professor, is showing his watercolor floral paintings. The exhibit honors the late Elizabeth "Betty" Fury of Salina, who supported cultural organizations and activities in the Lindsborg-Salina area.
The exhibit runs through May 27.