Aaron Marable and Brant Watson have a pretty good gig going for themselves. By day they tend the bar and coffeehouse at Henry's, 11 E. Eighth St., and after hours they pursue their love of art. Marable does it with a brush, canvas and oil-based paints, while Watson focuses his attention through a camera lens. And they can view their art all day, as Henry's is displaying the efforts of both young artists in its existing gallery space.
The two men are new to the art scene, but they plan on making their mark in the industry. And they can keep a sense of humor about the whole thing.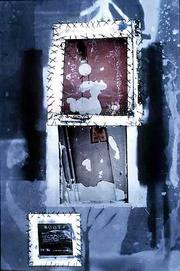 "My first show was actually hung on a bathroom wall downstairs, but now I'm upstairs, so I'm moving up," Watson says with a laugh.
Watson is working toward a degree in printmaking from Kansas University, but takes any photography class he can squeeze into his schedule. Shooting pictures is pretty much a life-long habit for the KU student, who got his first camera in grade school and is still using it. It's similar to a Canon AE-1 and Watson has used it for squeezing off thousands of shots. His work habits are simple in that he shoots subjects that catch his eye.
"I've got a lot of stuff that I've just spotted driving around all over the place," he says. "I keep my camera close."
Nowadays he is fascinated with bones, which one doesn't generally spot for drive-by photo shoot opportunities. Watson is looking for something with a certain flair to it, and his stark black and white photos of animal � and human remains � are definitely attention grabbing. And now he's doing it in multiple overlay projections, so viewers can see several images in one print.
What: The art of Aaron Marable and the photos of Brant M. WatsonWhen: On display nowWhere: Henry's, 11 E. Eighth St.Ticket information: 331-3511
"I like to keep things dramatic, anything goes," he says. "It's really a photo montage where I put several negatives on one print. It's like a rotating slide show, only it's all standing still in one print, and you can pick out the different images."
Marable falls into the same thematic line of thinking. He wants his work to reach out and visually grab the viewer.
"It's a big art world out there, and you need to find your niche," Marable says. "I consider my work as 'melodramatic realism with a twist.'"
Marable works primarily in oils. He's drawn to it by all the patterns and schematics he can create by layering the oil on in multiple coatings.
"I like everything about it � the way the oil feels on the end of the brush. And I like the translucents' of the layers and the way it adheres to light. The lighting is so important," he says.
He obtains his inspiration by going on the prowl, like Watson, only Marable does it by searching for various pop culture images in the pages of magazines like GQ. He's not into the publications for the articles, but he does find motivation in the photo layouts. It's a linear thing with Marable. It's all about looking for lines and shapes. He then filters the images through his brush and merges them with themes revolving around power struggles and gender role-playing.
"There's a lot of pop culture in my work," he says. "I slip through the pages of a magazine and a pose strikes me, and that leads to the narrative."
Marable hopes his works will tell a story, and he sets up specific scenarios that will build psychological tension, like the conflict between the sexes or how miscommunication can lead to discontentment. But he leaves the ultimate interpretation to the viewers.
"The utility of art is self-serving and gratifying, that's why I like what I do," he explains. "But I also like that it allows people their own interpretation. We live in a world where mass media is always telling us what our opinion should be. But looking at art allows you to come up with your own original ideas."