Las Vegas — Ron Townson, the portly centerpiece singer for the Grammy-winning pop group The 5th Dimension, has died. He was 68.
Townson died Thursday of renal failure at his home in Las Vegas after a four-year battle with kidney disease, said Bobette Townson, his wife of 44 years.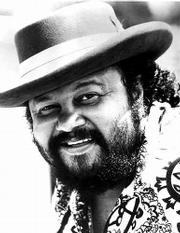 "Ron always felt that he would get well enough that he would perform again," his wife said. "He never lost his desire to do that."
The 5th Dimension combined the sounds of pop, jazz, gospel and rhythm and blues for such 1960s hits as "Aquarius/Let the Sun Shine In," and the Laura Nyro songs "Wedding Bell Blues" and "Stoned Soul Picnic." The group won four Grammys in 1968 for the Jimmy Webb tune "Up, Up and Away."
Declining health forced Townson to retire in 1997, ending a career that saw him tour with such music legends as Nat King Cole and Dorothy Dandridge.
Townson was born in St. Louis and began singing at age 6 in school and church choirs. He attended Lincoln University in Jefferson City, Mo., where he directed choirs, and moved to Los Angeles in 1957.
In 1965, he and a childhood friend, LaMonte McLemore, formed a singing group called the Versatiles that, McLemore recalled Thursday, they soon renamed The 5th Dimension at the suggestion of Townson's wife.
Other original members were Florence LaRue, Marilyn McCoo and Billy Davis.
Early on, some critics dismissed the smooth-sounding group as black singers trying to sound white.
"I know some people accuse us of singing white, but it makes me laugh," Townson told the Los Angeles Times in 1970. "It is based on ignorance. People sing styles. They don't sing colors."
As various members left The 5th Dimension in the 1970s to pursue solo projects, Townson formed the group Ron Townson and Wild Honey. Later, he reunited with McLemore and LaRue in a new version of The 5th Dimension that included Phyllis Battle and Greg Walker.
Townson also appeared on television and in films, including the 1992 movie "The Mambo Kings."
McLemore, calling news of Townson's death difficult, said from his home in Los Angeles that he hopes to see his old friend again some day.
"I hope we're all going up, not down," he said. "It would be great if we could all sing together again."