Saturday, August 11, 2001
Pulitzer Prize-winning author Alice Walker, actor Danny Glover and former U.S. poet laureate Robert Pinsky are among the artists and scholars planning to celebrate the 100th anniversary of writer Langston Hughes' birth Jan. 31 and from Feb. 7 to 10 at Kansas University.
KU and the Langston Hughes Society in Athens, Ga., will welcome artists and scholars to join a centennial celebration of the life and legacy of Hughes, who spent his childhood in Lawrence.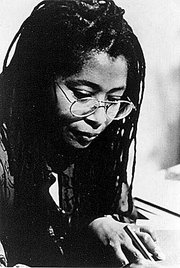 In addition to Walker, Glover and Pinsky, the following people also will attend:
� Ossie Davis and Ruby Dee, actors who performed the first audio recordings of Hughes' works.
� Kevin Powell, writer, founding staff member and former senior writer for Vibe magazine, who helped introduce the hip-hop generation to Hughes' work.
� Paule Marshall, New York University professor and MacArthur grant winner, and Ishmael Reed, novelist, who are writers influenced and nurtured by Hughes.
� Arnold Rampersad, Hughes' biographer and Stanford University professor.
Hughes lived in Lawrence from 1903 to 1915. His book, "Not without Laughter," is a fictionalized account of a bittersweet childhood in Lawrence, said Maryemma Graham, KU professor of English.
"When he died in 1967, there wasn't much recognition of his Lawrence connections. This is our opportunity to recognize him, his work and his childhood in Lawrence," Graham said.
Walker will begin the celebration on Jan. 31 with an evening of readings and commentary on Langston Hughes at the Lied Center. Walker, who also has written a biography of Hughes, won a Pulitzer Prize for her novel, "The Color Purple."
The symposium will be Feb. 7-10. Program details and related events will be posted regularly at www.kuce.org/hughes.
"We are working to make this a public festival in the spirit of Langston Hughes," said Graham.
"We're using the theme 'Let America Be America Again,' to provide a stage for renowned scholars from the United States and abroad to present fresh and illuminating perspectives on Hughes and his work."
"Let America Be America Again" is part of the Langston Hughes National Poetry Project, a series of activities and performances designed to encourage a deeper understanding of the role of poetry in American culture and everyday life.
The symposium will include performances of Hughes' works by noted artists; an exhibit of Hughes' papers; a post-symposium Poetry-in-Motion Festival; and related events at the American Jazz Museum in Kansas City, Mo.
People may register online to attend the symposium and may enter an online discussion forum in advance. The Web site also provides a bibliography of Hughes' work and of books about him and his work, historical resources and links to related events.
More like this story on Lawrence.com