Thursday, August 16, 2001
With the advent of Ken Burns' ambitious documentary "Jazz" and the museum at 18th and Vine in Kansas City, Mo., it's hard to believe that for a while much memory of K.C.'s jazz scene had almost faded for good.
Fortunately, in 1974, a young attorney named Bruce Ricker entered a building on 1823 Highland with some camera equipment and a special group of men. In the process, Ricker, a novice filmmaker, helped a city get back in touch with its cultural roots and reacquainted the world with Cowtown's unique musical legacy.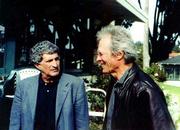 "The Last of the Blue Devils" opened in 1980 and featured live performances from a diverse group of legends like big band leader Count Basie, blues shouter Big Joe Turner and pianist Jay McShann. It also featured several talented players who never hit the big time. The title refers to The Oklahoma City Blue Devils, a band whose members later helped form the Count Basie Orchestra.
The film's rich historical background (it was shot primarily at the Mutual Musicians Foundation, which once housed the city's black musicians union) and informal tone impressed critics. Roger Ebert, for example, declared, "To see it is to love it. 'The Last of the Blue Devils' is the second half of 'Woodstock.'" Ricker's experiences on "The Last of the Blue Devils" also landed him a segment on indie film guru John Pierson's "Split Screen" cable TV series.
The flick has finally come to DVD from Kino On Video and is available this week at stores or directly from the company's Web site, www.kino.com. The DVD comes with commentary by Ricker and, most importantly, 20 minutes of previously unseen musical numbers featuring wicked jams from McShann and Turner.
Despite the impact the film has made, Ricker, on the phone from New York City, recalls that the origins were modest, if deliberate.
"I was living in Kansas City when I found out about the Foundation, where all of these black jazz musicians hung out," he says. "It was sort of like an after-hours club because the bars in Kansas City closed after 1 o'clock back then, and being from New York, I was always looking for a place to go until four in the morning. I went down there, and I realized there were all of these great jazz musicians just hanging out there.
"It was 1974, so I thought it would be a good idea to make a movie about them before they died. I'd never made a movie before, but I'd always wanted to be a novelist. I was perceptive enough to realize that this was a cultural gold mine. The musicians knew it, too. Jay McShann and I developed a relationship over a period of five months, and then once Jay trusted me, musicians would call Jay and say, 'We trust Bruce,'" he says.
To maximize the potential for the film, Ricker recruited Turner and drummer Jesse Price to appear in the movie. His biggest coup was gaining the cooperation of Count Basie, who was still actively touring at the time.
"I'd already made agreements with Joe Turner and Jesse Price," Ricker recalls. "I got really ambitious, so I decided to call (Basie's) manager, and it was just unbelievable luck that he happened to be playing in St. Joseph, Mo. the week that Jesse Price and Joe Turner were flying in from L.A. Basie was staying in a hotel in Kansas City. So I just brought him over in the afternoon."
Lawrence connection
The movie was filmed during four weekends in 1974. Some of the other footage includes a drum duet between Jo Jones and Baby Lovett, whose performance seems even more astonishing after considering that he was 90 years old at the time. There also are some still photographs and some archival footage of Charlie Parker, Big Joe Turner and Count Basie. Also included are four songs by the Count Basie Orchestra that were filmed a year later in Lawrence.
"I knew he was coming to Lawrence," Ricker remembers. "So I called his manager again. I said, 'We're trying to finish the film, and we could use some concert footage.' He said, 'OK. Count Basie says you can film two numbers. I hired Bob Gardener (who ran the audiovisual production unit at the Early Childhood Development Center at Kansas University), and he filmed it for me."
Period of neglect
"The Last of the Blue Devils" was made during an era when jazz and its importance to Kansas City's history were being neglected.
"You meet somebody like Jay McShann, and you realize he was connected to Charlie Parker," Ricker says. "You realize he was much more important than a piano player in a Holiday Inn, which is essentially what he was doing back then. Back in '75 when we screened the footage in New York to try to raise money in New York, people thought he was dead."
"The film was financed with no grants at all. I was limited by budget. Sixteen millimeter film was always so much more expensive to buy than shooting on videotape, and I didn't have that much money. When Count Basie said, 'Shoot four numbers,' that's three rolls of 16mm," he states.
Ricker eventually gained the support of jazz enthusiast Clint Eastwood, who helped secure a European release for "The Last of the Blue Devils." The actor also was instrumental in getting Charlotte Zwerin's "Thelonious Monk: Straight No Chaser," which Ricker produced, backed by Warner Bros. Ricker has returned the favor by serving as a musical consultant on Eastwood's "The Bridges of Madison County" and by directing "Clint Eastwood: Out of the Shadows," a documentary that aired as part of the PBS series "American Masters."
Ricker's enthusiasm for movies and filmmaking hasn't faded, even if he's had some difficulties. He's working on two projects: one about director Budd Boetticher, who came to prominence helming gritty, morally ambiguous westerns starring Randolph Scott; and another about the friendship between New Yorker magazine critic Brendan Gill and publisher James Laughlin. He's also the president of Rhapsody Films, which sells and distributes jazz-oriented videos.
Ricker is the first to admit it's a rewarding but limited market.
"It's like a small publishing company," he says. "I try to keep copies in print even though I'm lucky to sell 10 copies (of some titles). If people have money, they'd rather buy CDs. Jazz schools, if they have any money, buy instruments. They don't have the budgets to buy videos. It's OK. Fortunately, Eastwood comes in once in a while and finances something bigger, so things can get done that way."
More like this story on Lawrence.com