Wednesday, August 22, 2001
Santa Fe, N.M. — Actress Kim Stanley, whose roles ranged from a nightclub singer in the Broadway play "Bus Stop" to the mother of Frances Farmer in the movie "Frances," has died. She was 76.
In plays like "Picnic, "Traveling Lady" and especially William Inge's 1955 "Bus Stop," Stanley captivated Broadway audiences and dazzled the critics.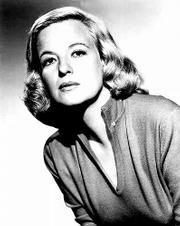 In "Bus Stop," she played Cherie, a worn-at-the-edges nightclub singer who meets a dimwitted cowboy who falls in love with her. Despite the praise, however, Hollywood passed over Stanley in favor of Marilyn Monroe for the movie version.
Although Stanley established herself as one of Broadway's most brilliant actresses in a little more than a decade, she never won a Tony.
She was nominated for two Oscars � one for portraying a crazed medium in 1964's "Seance on a Wet Afternoon," the other for her role in "Frances" (1982). Her film credits also include "The Goddess" (1958) and "The Right Stuff" (1983), and she was the uncredited narrator in "To Kill a Mockingbird" (1962).
For her television work, she won two Emmy awards � one for a 1963 appearance in a "Ben Casey" episode and another for her role as Big Mama in a PBS production of "Cat on a Hot Tin Roof."