Thursday, August 23, 2001
When Emmett Garcia, founding member of the American Indian reggae group Native Roots, was growing up on his New Mexico homestead, his fellow tribe members were battling the residual, traumatic effects left over from when their grandparents had been forced into reservations. Where he called home was a place teeming with depression, both the economical and emotional kind that came with trying to be a part of two cultures and feeling that neither one was a comfortable fit.
His neighbors found solace is the politically active, peace-oriented, feel-good sounds of Caribbean reggae music. Growing up on those vibes, and seeing the positive, uplifting influence on his people, led Garcia to devote his life to spreading the reggae beat.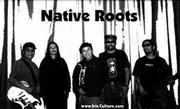 "It was pretty depressed where I lived," Garcia says of his childhood home, 18 miles north of Albuquerque. "Everyone in the community listened to Bob Marley. In the early days we could not afford cassettes, so we'd pass around a record and tape off of it. That's what I listened to as I was growing up."
Garcia's first career choice was to become a social worker, and he attended Haskell Indian Nations University and Kansas University in the early 1990s. But while attending school he also was developing his reggae interests to include performing. Garcia's � and Native Roots' � development in that short period of time has been nothing short of meteoric.
"When I was in Lawrence I would sing along with cassette tapes," he says. "I got better and developed texture and I found out I could sing."
In 1997, while attending a reggae concert, he jumped up on the stage and performed a tune with the band, and a career was born.
What: Native RootsWhen: 7 p.m. SaturdayWhere: Haskell Auditorium on the Haskell University campusTicket information: 864-ARTS
"Someone saw the show and liked what she heard. She said she knew another Native American who composed music. She got my number and gave it to him and he called me," he says.
The composer was John L. Williams (no relation to the classical soundtrack guru), and the two struck up a friendship that also has led to a remarkable musical collaboration. They formed Native Roots, Garcia adopted the moniker "Shkeme" and they started producing and recording their own material. Garcia adds the lyrics and Williams comes up with the music. Rounding out the band are William Bluehouse Johnson, Victor Vigil, Carlo Johnson and Susan Williams, who is literally the only known female American Indian reggae drummer in the recording world.
The group promotes diversity by appealing to listeners outside the indigenous strata, and has a new CD, "Rain Us Love," about ready for release on the market.
Since Native Roots started four years ago, it has gotten to play at various reggae festivals, providing Garcia the opportunity to share the stage with his idols Jimmy Cliff and Ziggy Marley.
But while the members of Native Roots cite the veteran performers among their peers, and their sound carries with it the familiar refrains of roots reggae, dance hall and Nyabingii influences, their American Indian culture runs deeply through the music, making Native Roots one very unique reggae band. That has so far proved to be a double-edged sword for the performers.
"There is not much of a Native American reggae music scene, and when we go out people want us to be stereotypical and incorporate native chants," Garcia says. "So it's hard for us to get gigs in the native scene, and we're nowhere near where we want to be in the reggae scene."
Garcia has remained unshakable in his belief that his band can inspire American Indians, and he writes lyrics that touch upon their mutual experiences of trying to remain true to their roots while also living in a predominately white culture.
"The lyrics are about our people and their struggles," he says. "I hope to lift up their spirits and rekindle pride in the old days, and pride in who they are."
That's not to say that Native Roots is focused entirely on the American Indian experience. Garcia wants to reach out to people of all ethnic backgrounds with his music.
"We sing about the pride of Native people. We want to encourage people to put down their arms and unite all the people," he says.
Sadly, the reggae performer admits that it is an uphill battle in combating the various problems that continue to plague his indigenous kindred.
"Mainly native people at this time are depressed. They can't find their station in life. They live in two worlds � native and non-native, and that's two very different things," Garcia says. "It's a struggle to live in two worlds, and it takes energy. Where I grew up is a land in the middle of nowhere. It's like a ghetto out in the country."