Thursday, August 23, 2001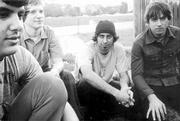 After three albums, a few hundred gigs and a number of years in Lawrence, The Appleseed Cast still views itself as a group of outsiders.
Though the band guitarist/vocalist Christopher Crisci, guitarist Aaron Pillar, bassist Marc Young and drummer Josh Baruth has earned serious respect and a small-but-devoted following on the area music scene, sometimes it's hard to fit in and find a niche.
"The whole time I've been in this band, I've never really felt like we were a local band," Baruth says. "You guys (Pillar and Crisci) had already built a reputation nationally, so when we moved here, everyone's like, 'They're not from here, they're all from California.' And it still feels that way."
Not necessarily to Lawrence music fans, though. On Sunday night, Appleseed Cast's recent effort 50-plus minutes of artful angst entitled "Low Level Owl: Volume 1" will receive its official debut at The Bottleneck before what's likely to be a crowded house.
Funny how perception is often the opposite of reality.
Appleseed past
AC has always been a band that's inspired opinions, both good and bad. The group's first effort, "End of the Ring Wars," was released in 1998 to mixed reviews, underscoring the notion that one either loves or hates this band. The prestigious CMJ (College Music Journal) praised the former Los Angeles-based quartet for its "dynamic song structures, hurricane-force rhythms and ultra vivid lyrics," but other critics weren't nearly as kind. One wag acerbically opined that, "These boys produce more unleavened, flavorless, mass-produced product than the fine folks at Maneschewitz," while another scribe wrote that he was "left with the feeling that I'm listening to watered-down versions of songs I really used to like."
Regardless, "Ring Wars" and a tireless touring schedule helped the ensemble build a small-but-devoted core audience that's stuck around ever since.
Three years ago, Pillar, Crisci and former bassist Jason Wickersheim moved to Lawrence from sunny California, setting up shop in Crisci's basement and seeking a replacement for drummer Louie Ruiz, who stayed behind in L.A.
"When we first started touring, we got rid of our cars and our apartments and just lived in the van more or less," Crisci recalls, shaking his head.
"When that got old after nine months we went back to California, but that didn't work out. From being on tour, we made a lot of friends here (in Lawrence), and we just wanted a change of pace."
The group's ongoing search for a permanent drummer ended when Baruth, who had kept time for Los Votros (now Mates of State) and Everest, was recommended by Jim David, bassist for The Anniversary.
Pillar was rooming with current bassist Marc Young in January, 2000, when Wickersheim departed suddenly to attend a Nashville, Tenn., recording school. Young was quickly tapped to fill the vacancy.
"I basically said 'learn the songs' and he learned them in about three days," Pillar laughs. "It was like the one person I knew and we were friends, so it was perfect. I know some bands that just have people who play. I don't think I could do that. I think it would be horrible to just have someone who could play and you don't talk or anything. I wouldn't want that at all."
Appleseed Cast took to area stages immediately, showcasing in tiny clubs and opening for a handful of national acts. Soon enough, Lawrence was calling AC one of its own, and the band became a fixture on the local scene.
"There's so many opportunities for bands to play here," Baruth says. "Open mike at The Bottleneck, at The Replay it's easy to get a show, there's two places that do house shows, KJHK's awesome. There's so much room to be heard and play and not just sit in your basement."
AC also was embraced by local stalwarts like Kill Creek and The Get Up Kids, two area acts that the group lists as influences. Pillar remembers buying Kill Creek's first EP, "Stretch," at a 99-cent bargain bin in California, prior to moving here.
"(I appreciated) their whole mentality of 'practice is fun,'" he says. "They just get together. Instead of going to play poker, they have band practice. That's cool. Looking ahead, I hope I can have that mentality and not just be at home watching sitcoms."
Vitalogy
With its newly solidified lineup in place, AC entered Red House to begin work on its sophomore effort, "Mare Vitalis," released in March 2000. "Mare" expanded considerably upon the band's musical vocabulary, creating a rich dynamic that was partially brought about through the quartet's newfound association with legendary Lawrence producer Ed Rose.
"At that point, Ed had done so many straight-ahead rock records," Pillar says. "Not to say that 'Mare' isn't a rock record, but it's a little quirkier and different. Ed's fairly demanding; it's good. Sometimes I want to kill him, but that's OK. At the end of the day, you're stoked."
"He gets it done in there," Baruth offers. "He's not wishy-washy."
"He wants your best take," Crisci adds. "He's not willing to settle for what he thinks is not up to what you can do. It's really frustrating because you will have played something over and over, and then you finally make it all the way through something, and you think it's good and he's like, 'Let's do it one more time.' He's got tons of patience. He swears he's gonna snap when we're in the studio."
Rose's patience during the "Mare" sessions paid off in droves. Songs like "Fishing the Sky" all jangly guitars, stop-on-a-dime time changes and howled vocals proved that AC was clearly looking to the future, no longer the brash garage outfit found on "Ring Wars," but a rock-solid unit capable of generating something akin to greatness. Creatively, "Mare" was on a whole different plane than "Ring Wars," bathing in a sonic soup of strange noises and haunted-house echo, wrought about via intensive studio experimentation.
"The way we write songs is not really that structured," Baruth explains. "We all just kind of do our own thing. It's not like a dictatorship. We're all to a certain extent in charge. It's just tough to have someone who doesn't fit creatively. We just do it and don't talk about it."
Maintaining that perfect blend of characters helped AC stay on the road for the better part of 2000, touring Europe for the first time and the United States for about the millionth. Pillar also used his spare moments to write and record a solo project "Little Eyes" under the moniker Hundred Hands where he (backed by Crisci and Rose) took center stage for the first time. Though the guitarist enjoyed his stint as frontman, Pillar got the most enjoyment from messing around with Rose's trunkful of studio gizmos.
"That's the funniest part," he says. "Just sitting there playing with guitar pedals or whatever."
Apples in stereo
The Cast had plenty of opportunity to horse around with sonic gadgets while recording its latest effort, "Low Level Owl: Volume 1," last winter. Rather than returning to Red House for another round of volatile emo rock, AC took some chances with its formula, crafting not one but two entire records (Volume II of "Owl" will be issued later this year), without a single break between numbers and plenty of experimentation to flesh out the more straightforward material.
"We recorded it all at the same time," Baruth says. "We just distributed where the songs and parts were going to go. We recorded everything we had 23 separate tracks."
The result is a monster album, an astonishing feat of texture and beauty that goes far beyond anything AC's done to date. Rife with ethereal, surreal vocals, stacks of mood-shifting rhythms and elegant, weeping guitars, "Owl" marks another huge step forward for what has become one of Lawrence's most interesting, artful bands.
"It's kind of a chance to do some stuff that you can't normally fit into a 60-minute, conventional 10-song record," Pillar says. "You can't do a whole bunch of really long, weird stuff. So it was a chance to sit in the studio for a lot longer and do some weird stuff. It just stretched on and on to more reels of tape."
Rose was obviously in full Phil Spector mode during the "Owl" sessions, concocting an immense wall-of-sound that's easily one of the most ambitious efforts of his career.
"Owl's" seamless song cycle begins in a dreamstate with an instrumental, "The Waking of Pertelotte," leading into the slow-motion car crash of "On Reflection." The effortless hook buried in the epic gloom-pop of "Blind Man's Arrow," belies a typically bitter lyric from Crisci: "I fell down this day light/Blind man's arrow buried in my love's heart/Tape was wound."
Though Crisci's vocals were often doubled, tripled and quadrupled in the studio, the singer laughs that he was as "unprepared" for the "Owl" sessions as he was for AC's previous releases.
"Between records there's like a year," the singer/guitarist explains. "In that time, you write a certain amount of songs. You have all that time to write lyrics, but inevitably it's always the last two weeks. The lyrics that make it are always written within the last two weeks. You'll practice singing during band practice, with all this noise. Then you get to the studio and you realize, 'Maybe I want to try something different. So there's a lot of revision and a lot of headache."
"Owl" includes plenty of experimentation from the group as well. "Messenger" and "Bird of Paradise" find Crisci and Baruth, respectively, making weird sounds on a Fender Rhodes, while "Doors Lead to Questions" contains a looped hip-hop beat and other aural oddities. AC also turns a few musical corners on the breezy "Mile Marker," which trots along to jangly sleigh bells and clip-clopping wood blocks, with a bit of tambourine thrown in for good measure.
"We just wanted to do a lot more auxiliary percussion on this record," Baruth says. "The record before this, I don't think we had any percussion. So we made sure not to limit ourselves at all in that area. We just broke out everything."
Innocents abroad
On the band's inaugural trip abroad, AC paid its dues by opening shows for Jimmy Eat World and International Noise Conspiracy. For its recent European tour, which just ended weeks ago, the group headlined small venues, with all the glamour and grimacing that entails.
"Twenty-nine shows in 30 days," Pillar exclaims. "There was a lot of being tired, and trying to sleep in a crowded van with five Germans and four of us, and it smells like ... the most horrible smell ever."
"It was like a vacation," Baruth adds.
"We drank a lot of liquor," Young laughs. "There were quite a few nights where we were up until sunrise."
AC's second European tour has produced a plethora of fond memories, tall tales and forget-me-nots: having bags stolen in Hamburg, being kicked off-stage in Berlin, sunning on the beaches of Italy, getting the full rock star treatment in England, meeting fans who'd traveled days to see them.
"Really it's kind of embarrassing because they ask for encores every night," Pillar says of the diehards. "There's all these kids in the front and you got to play it up you feel kind of stupid but you do it. You walk off-stage and do the encore thing. They started hitting their beer bottles on the stage. We walked back onstage and all of us were just like red, it was just goofy."
Though the AC members encountered plenty of "Wizard of Oz"-style Kansas stereotypes, they were surprised that so many people knew about Lawrence's myriad musical offerings.
"There's plenty of bands that are from here that are known throughout Europe: The Get Up Kids, The Anniversary, Casket Lottery," Crisci says. "People kind of know about the scene."
The greatest reward of all that touring, according to Pillar, is coming home a better band.
"We don't just go to practice and play our set twice," the guitarist says. "We might just dick around with a song for two hours. The highlight of the tour was that we finally felt really comfortable playing together. The material felt more comfortable because we hadn't played every night for so long. Every night for 30 days, we were playing almost every song we know. We needed to do that. You can't just make a record and sit at home."
The "rock" record
Sunday's CD release party also will serve as kickoff for a two-week tour that will take AC around the Midwest, covering territory between Austin and Minneapolis before returning home. More roadwork will follow in November, and the quartet hopes to have enough material penned to record a new album this winter, right around the time "Owl II" is scheduled to hit shelves.
"Definitely the plan is to have a new record completely demoed and ready to go by the end of the year," Pillar says. "We don't want to be like, 'We put out two records this year, we'll wait another year.' It's been almost eight, nine months since we finished recording, so we're ready to get to that place again."
Though AC is more than pleased with the "Owl" sessions, the band intends to scrap the studio-heavy sound next time around, focusing instead on short, sharp tunes that hit with intensity.
"Instead of having all the interludes, we just want to have eight or 10 straight-up songs," Baruth explains.
Of course, perception is often the opposite of reality in the world of Appleseed Cast.
"We talk about what we want, but then we play and it is what it is," Crisci says. "It's never what we talked about. I've been talking about a rock record, but I know we're gonna go downstairs, we're gonna play and it's just gonna turn out how it is."
More like this story on Lawrence.com