Thursday, August 23, 2001
If Walt Disney hadn't succumbed to lung cancer in 1966, he would have turned 100 this year. Coincidentally, a Kansas City native who made invaluable contributions toward Uncle Walt's success also would have reached the century mark this year.
Ub Iwerks (born Ubbe Eert Iwwerks) may not have been as well recognized as his lifelong friend and collaborator Disney, but the art of animation � as well as that of filmmaking in general � owes an enormous debt to him. Iwerks designed Uncle Walt's most famous creation, Mickey Mouse, and drew the storyboards and even all of the sketches used to animate the early Mickey Mouse cartoons (Disney was Mickey's voice).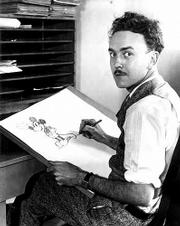 He later became Disney's technical guru, developing (with Petro Vlahos and Wadsworth E. Pohl) the sodium traveling matte process, which made movies like "Mary Poppins" possible. He even created the special effects that made innocuous crows look bloodthirsty in Alfred Hitchcock's "The Birds," earning an Oscar nomination in the process.
On the centennial of his birth, Iwerks is getting recognized for his numerous accomplishments. One person who has helped insure that his legacy isn't forgotten is his granddaughter, Leslie Iwerks. She wrote, produced and directed the 1999 feature length documentary "The Hand behind the Mouse: The Ub Iwerks Story." The film features commentary from former collaborators like Chuck Jones, who later created Road Runner and Pepe Le Pew, and contemporary animation giants like John Lasseter (the "Toy Story" series).
She's also teamed up with John Kenworthy on a book of the same title. The film will play at 2 p.m. on Sunday at Crown Center, 2450 Grand in Kansas City, Mo. Kenworthy will answer questions after the screening and also will sign books on Saturday at Rainy Day Books, 2706 W. 53rd in Fairway, starting at 2 p.m.
Speaking from Santa Monica, Calif., Iwerks states that the Midwest background of Disney and her grandfather were instrumental to their Hollywood success.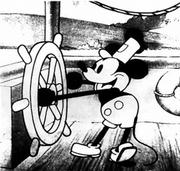 "I think sort of hometown feeling or Midwestern roots were very valuable because they were able to keep that simple barnyard humor (in the early Mickey Mouse cartoons) and apply it to films. It was a humor that everybody could relate to," she says.
In fact, the duo's first major success came shortly after they met as teen-age employees of the Pesman-Rubin Commercial Arts Studio in Kansas City in the early 1920s. Disney had formed a failing studio called Laugh-O-Gram, whose final project, the debut of "Alice in Wonderland," eventually led to their first triumph. (Proceeds from the upcoming screening will be donated to an effort to restore the building on 31st and Forest where that cartoon was made.)
"(Cartoons) hadn't been done in that way before, taking a live action girl (Virginia Davis) in a fully animated environment," Iwerks explains. "It had already been done in reverse with an animated character in a live-action world. In the work they were doing at the time, Walt was the lead man on the project and Ub came in to animate and advise on the technical side with very early optical printing techniques and whatnot. It was laborious. There were technical difficulties, but they were paving the way for the future."
Ideological competition
Maintaining the overwhelming success of that famous mouse eventually led to a rift between Disney and the animator in 1930, when the latter left to form his own studio. The Iwerks Studio produced technically dazzling cartoons (some of which featured multipane camerawork that gave the cartoons an unprecedented depth of field) and introduced the world to the characters Flip the Frog and Willie Whopper. But while Ub Iwerks had kept Disney's animation strong through very lean periods, he lacked his partner's eye for story and management skills.
"I think Ub learned really quickly that to run a company you have to be a motivator, and that wasn't his forte," his granddaughter says. "He was much happier creating. He had people to run his company, but they weren't the Roy Disneys (Walt's financially astute brother) of the world. I think if you're an artist at heart you need somebody who's a good financial person. That was the blessing, that Roy and Walt had each other. As Ub learned, it all boils down to story."
A decade later he returned to the Disney fold and quickly proved himself useful.
"I think that he went back a little bit humbly but knowing that Disney would be very lucky to have him back," she says. "I think they both realized that."
Spirit of invention
While he might occasionally return to animation, Iwerks' contributions during this period were primarily as a technical problem-solver. For example, during the making of the "True-Life Adventures," which featured live animals in the wild, he discovered a way to deal with photographic negatives that had been scratched in the field. He invented the wet gate printer, which not only solved the problem but is still in use.
The younger Iwerks explains, "Today, you could do it digitally, but there are still optical wet gates based on what he did. The theory behind it hasn't changed. The methodology might have changed. In the documentary, I've got a picture of it. It's very Rube Goldberg-looking, but now, it's more streamlined."
In fact, the specialized nature of Iwerks' accomplishments proved to be a challenge when putting together the documentary and the book.
"I was able to generalize it so that your general reader could understand. I thought it was important to show that because it was such a part of Ub's work. If you say that he invented the multipane camera, and you don't have any clue what it took to get there, then you're not getting into Ub's head."
While the book Leslie Iwerks and Kenworthy wrote takes up 264 pages, she admits it only deals with a portion of her grandfather's achievements.
"Even in this book we don't have everything. We just couldn't put in everything. We had to limit ourselves."
It is interesting to note that the composition of the book was handled in an innovative manner that would certainly make her grandfather proud.
She says, "It was a book written through e-mail. We only met once through the whole process."