Thursday, August 30, 2001
Contrary to his lifestyle, Gary Smith does not have a death wish. Though he's served as a war correspondent, traveled to third-rate hellholes, dodged bullets, lightning, earthquakes, floods and erupting volcanoes, Smith would rather be out of harms way � most of the time.
"I'm kind of nuts," Smith says. "But mostly I stay in my house."
It's the times when Smith ventures out that friends and family start to worry about him. Though he's been to scores of countries and shot many peaceful city scenes, Smith gains a lot of notoriety from the times he puts himself into scary situations. Somebody should be taking notes, because his life story would make for a heck of an entertaining film. Until then, however, examples of his work are on display at Fields Gallery, 712 Mass. Although they represent only a smattering of his global efforts, viewers will get an idea of the lengths and distances he'll go to get a shot.
"If my stuff made a lot of money I'd just travel, and I do that anyway," Smith says. "My common interests are intertwined, and this satisfies my wanderlust."
Smith's style is to travel for weeks and months on end, then return home to work on post-production work. Funded in part by a grant from Purdue University, Smith prepares his photography and layouts, fashioning the prints into what he calls dreamscapes. On at least a few of the photos the word nightmare also comes to mind.
What:
The photography of Gary Smith
When:
On display now
Where:
The Fields Gallery, 712 Mass.
For more information:
842-7187 or visit
www.streetphoto.com
Smith started his career in the midst of a hellish civil war raging in El Salvador and Nicaragua, reporting on the carnage and loss of innocent life with his camera lens. And then to top it all off, he managed to survive a magnitude seven earthquake while in the field.
"I really didn't want to be a journalist. I just wanted to wander the world," Smith says. "During the earthquake, the war was shut down for about nine days until they could get the roads cleared and the shooting began again."
Watching villagers respond to dangerous situations gave Smith the idea of specializing in street scenes, capturing subjects responses to trying events. A few years back, the photographer found himself in a village full of stubborn natives, refusing to leave their homes as a volcano boiled and rumbled nearby. When the mountain exploded, Smith captured the ensuring chaos with his camera.
"It's really taking street photography to the edge of fury. To see that mountain blow apart at us; we were essential waiting to die," he says, and then adds nonchalantly, "It was a case of being in the right place at the right time."
His efforts resulted in a slew of awards and the book "Molten Memories." And it has provided him with a career spent chasing disasters � and surviving them. Smith has been struck by lightning twice, and was once swept a mile down river during a flood. He'll often schedule flights into disaster scenes.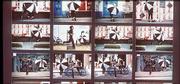 "I'll immediately head for a plane from the moment of recovery. For example, after an earthquake I know they'll be lots of aftershocks," he says.
It's not all fire and brimstone for Smith. He also travels extensively to photograph more benign street scenes. He's been shooting in Amsterdam for more than 20 years as part of an effort to capture the social dynamics of that European city.
"It's a compilation of youth culture and where people gather. People think of Paris and Hemingway, but that's crap from the old days. Amsterdam is a chummy place and it's the capitol of the youth movement," he says.
Smith often carries a backpack and sleeps in a tent. It's that simple methodology that enables him to roam the earth, while most people are just planning trips to Disneyland.
"I didn't like the way things were going, so I made my own career," he says. "It's a way of life."
More like this story on Lawrence.com