Two Asian women who explore basic form in their art have been paired in "Form, Line, and Light: The Work of Shinoda Toko and Park Kwang Jean," an exhibition at the Helen Foresman Spencer Museum of Art at Kansas University.
Japanese artist Shinoda Toko, now 88, has had a long, illustrious career while Korean-born Park Kwang Jean, 44, is gaining recognition at mid-point in her work.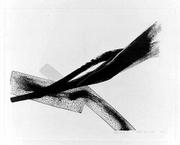 The exhibition runs through Feb. 24.
Abstract lines
Shinoda Toko, born 1913 in Dalian, Manchuria, is internationally acclaimed as one of Japan's greatest artists.
When she was 2, the family moved back to Gifu, Japan, where Shinoda was raised. Her father encouraged her to study calligraphy, seeking to provide her with an interesting and acceptable source of income at a time when there were few occupations open to women.
From the beginning, Shinoda's characters were fresh and spontaneous and quickly moved from literary symbols to abstract markings. She had her first solo show of calligraphic art in 1940 in Tokyo.
Shinoda's works appeared in a group show at the Museum of Modern Art in 1954. Two years later, she moved to New York, where she lived for two years at the height of the Abstract Expressionist movement.
She was interested in the work of Franz Kline, Robert Motherwell and Hans Hartung, artists who were looking at the abstract forms of East Asian calligraphy and searching for an understanding of some of the ideas behind its expression. Unfamiliar conceptions of form and space and the idea of the brushstroke as gesture intrigued them.
Shinoda's work began to receive international acclaim with gallery exhibitions in Boston (1956), New York (1957), Washington, D.C., (1958) and the Art Institute of Chicago (1957). She has done commissioned work around the globe and her art is in major museum collections in Asia, Europe and the United States.
The works in this exhibition are drawn from the last two decades, with an emphasis on her most recent production. Included are six paintings and six lithographs.
Long-term projects
Park Kwang Jean was born in Korea in 1957. She graduated from the College of Fine Arts of Ewha Women's University in 1979, received a master's degree from the same university in 1981, and completed post-graduate work at Tama Art University in Tokyo, Japan. She has taught at Sukmyung University, Ewha Women's University and Hansung University in Seoul.
Park has exhibited extensively within Korea and has participated in group exhibitions in Korea, Japan, Taiwan, Switzerland, Germany, Hungary, France, Taiwan, Yugoslavia, Brazil and the United States.
Park works in long series, often taking a decade or more to explore a single theme. Her first series, in the 1980s, explored the conception of light as an event in time, especially as it hid and revealed the urban spaces in Seoul, Korea, where she lived and worked.
She has for some time been doing a series of works exploring the concept of Yin and Yang, the ancient Taoist philosophy of cyclic and perpetual intermeshing of opposites. She also uses other paired concepts such as heaven and Earth as metaphors to express the abstract Yin-Yang theme. Often she presents her works in diptych to literally present the binary nature of her subject.
Though Park's works are based on ancient Asian philosophy, they are neither traditional nor neatly symbolic. Rather, they are purely abstract and personal responses to one model of cosmological order.
Park creates her large woodblock prints in two steps. After the block is carved and the image pressed onto paper, often multiple times, Park returns to the paper with brush and pencil to add elements of color and give richness and depth to the finished print. Due to this meticulous handwork, the editions of Park's works are very small.
This exhibition includes four paintings and four print/paintings, including two diptychs. It is Park's first museum exhibition outside Korea.