Thursday, December 13, 2001
Many Hollywood writers find inspiration for their screenplays in dangerous or sordid locales: a border town, a dark alley, a riverfront bar, an isolated highway. David Atkins found his in one of the safest, most sanitary places on earth.
"I was looking for an everyman kind of character, and I just thought a dentist is a perfect everyman," says Atkins, an established screenwriter who also makes his directorial debut with "Novocaine." "I find dentists to be very sympathetic, actually. They know that people don't jump up and down with excitement when they have to go see a dentist, yet they welcome people into their offices, always with a smile. Then they lay them down in their chairs and take away the pain."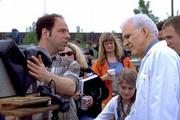 Atkins, a native of Boston, wrote the first draft of "Novocaine" while covertly working in the dental practices of his father and brothers. In the comedic thriller, Steve Martin plays Frank Sangster, a dentist with a thriving practice who is engaged to his uptight oral hygienist (Laura Dern). When a flirtatious new patient (Helena Bonham Carter) comes in with a sore tooth, he falls for her seductive charms, until he discovers she is mainly interested in scamming drug prescriptions. Before long, that's the least of his worries, as he becomes involved in a swelling flurry of con games and murder.
"After Steve came in, that created a lot of heat and a feeding frenzy for a while," Atkins says of the process of bringing "Novocaine" to the screen. "Everybody wanted in. All the talent agencies were calling, calling, calling, just insidiously. It was both wonderful and terrible. It was a beautiful nightmare."
Martin's appeal extended far beyond just his comic reputation, according to Atkins.
"Steve doing a 'Steve movie' is going to generate a certain amount of interest," the filmmaker says over lunch at a Kansas City restaurant while on a Midwest press tour. "Steve doing an edgy, dark noir thriller with sophisticated comedic highlights is definitely a departure. Everybody is like, 'Oh, something different. Let's run over there.'"
Taking over the reins
Although Atkins' only previous screen credit of any substance was penning the peculiar Johnny Depp vehicle "Arizona Dream" in 1993, the 39-year-old was intent on making "Novocaine" his gateway into the directorial world.
"At one point I was told, 'David, we have a great offer for you from the studios; they want to buy it.'"
"'Well great, what's the bad news?'"
"'They don't want you to direct it.'"
"I said, 'No way.'"
Eventually Artisan Entertainment (the studio responsible for "The Blair Witch Project") gave Atkins his creative shot. The indie company turned out to be the perfect match for a writer who was trying to guide his vision from beginning to end.
He recalls, "Nobody interfered. Nobody said, 'You can't do this.' They gave me notes, but they were good notes. More often than not, I took the notes, because they were smart and insightful."
While shooting in Chicago over a tight 32 days, Atkins and Martin would spend every Sunday Rollerblading up and down the shores of Lake Michigan. It proved the perfect setting for the pair to discuss character development and the unusual stylistic approaches of the picture.
Of particular interest was the choice to punctuate the visuals of his narrative with dental X-rays of people chewing and biting that he found at a stock footage house. The clinical images added a creepy, ominous dimension to moments that could otherwise seem mundane.
"I wanted to create a metaphor that said underneath the surface of this seemingly perfect existence there lies rot," he explains. "And it's coming up to get you."
One of the unforeseeable byproducts of the production was that co-stars Martin and Carter began a romantic relationship during filming. Gossip columns and People magazine-type publications began to flock to the situation, providing "Novocaine" with plenty of ink before it was even released.
"It helped the film," Atkins says of the pairing. "The positive energy you feel on the screen between the two of them was nicely enhanced by what was going on off the screen.
"It was fun being around them. Steve is not the type of guy who has to own the room. He can be quite quiet. But even when he's not speaking, he has magnetism. Some people who are funny or interesting can become nothing � become mounds of clay � when they're not on. Steve is always there. He's charismatic and interesting to be around, and so is Helena. She's a gas. She's very different from the Merchant-Ivory films. She's a good girl who wants to be bad. And she's a smart girl who likes to play dumb."
Looking for adventure
Atkins' ingress into the cinematic industry came after starting Columbia Film School in 1986 (where he eventually earned an MFA). While in New York, he worked his way up from a production assistant to camera crew, mostly doing commercials.
"I did a lot of odd jobs also," he says. "I've been a bartender and a taxi driver and a janitor. I scammed in on a marketing thing, where I got 20 bucks per marketing survey I filled out, and I just sort of falsified 10 or 12 a day. I was making pretty good bread doing that. I don't think I've ever had a 9-to-5 job in my life."
Atkins also spent a healthy portion of his career playing drums for various regional acts, including The Do It Now Foundation and Penny. In fact, his musical experience proved valuable when assembling the soundtrack for "Novocaine." In addition to Penny contributing a bluesy track to the effort, the musician got together with the noted French electronica outfit Mellow, co-writing the tune "Le Monde de Frank Sangster."
All the concerts, commercials, dental visits and marketing scams that Atkins has indulged in during the past few years have helped bring a wealth of odd influences to his movie-making skills. But as with any film that must live or die by the pressures of box-office returns, Atkins hopes that "Novocaine," which opens this week at Liberty Hall, isn't too weird for its own good.
"There are some people who aren't going to get it," he explains. "They want Steve in the quantity that they know Steve. ... If you're adventurous and you like exciting, different films, then this is going to be more your cup of tea. If you need to have a 'Sgt. Bilko' type of experience, then this may not be for you."
More like this story on Lawrence.com