Some people learn about politics in the classroom; Truth Cell guitarist Shane Murray discovered them in the mosh pit.
"That's one of the things I learned in the punk rock movement: unity, brotherhood, stand behind your brothers," he says during a recent interview. "Or when you need to, stand in front of your brothers. There's not a lot of that going on with Americans these days; It's a very individualistic society. You can look through history and find out what happened to individualistic societies: They crumble and crash."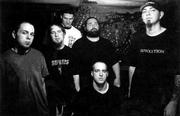 The only crumbling and crashing currently taking place in Murray's life is musical � onstage, at practice or in the studio with Truth Cell. And after four years of pummeling local audiences with its shovel-smack-to-the-face brand of heavy music, the band's socially charged message is becoming the focus of national attention.
In September, Truth Cell was prominently featured in Metal Maniacs, perhaps underground metal's most credible source for news and information. Penned by the magazine's editor Mike G, the article enthused, "There hasn't been a band as political as Truth Cell since the '60s."
The outfit also showed up recently on Metal Edge magazine's "Metal Wire," a column focusing on promising up and comers. The piece described the group as "politically brutal and brutally political," accolades not found in the local rock press. Though the area's well-known alt-rock acts are often revered for their international reputations, bands such as Barphyte, Human Ritual and Saved By Grace have been given the short shrift by their hometown media, according to Murray.
"We hear about Appleseed Cast and The Get Up Kids, but there's another level to what's going on here as far as metal goes," he says. "There's a lot of bands signing to labels, or going out and doing things, but it gets brushed aside because it's metal ... I think it's really sad that (the press) not only blatantly ignores metal but makes fun of it every opportunity they get. What if the tables were turned? What if every time I got up onstage, which is all the damn time, and ripped on (the press)? How long would it be before I heard from lawyers for slander and libel cases? Not too long. On their end, it's OK to slam on anybody, make fun of anybody, ignore anybody they want. They have four of their favorite little bands they write about in every freaking issue. Those are not the only four bands in this area."
Rifling for fans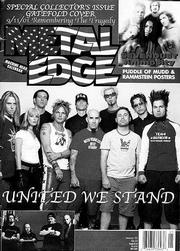 Murray moved to Lawrence in 1991, though he'd been regularly attending shows in the area for years. He and drummer Dave Melody eventually helped create Slackjaw, one of the more popular heavy acts during the mid-'90s. After that band disintegrated, Murray formed Truth in early 1998, becoming Truth Cell last winter. With Murray and White on six-string duty, Melody and bassist Sean Barger holding down the rhythm fort and Renfro and Ren Blake trading vocals like tag-team wrestlers, Truth Cell has evolved into a raging metallic machine.
"We've gone through several different morphing-type changes in sound," Murray explains. "We started off as more of a groove-oriented, stoner metal kind of thing. Now, it's a lot louder, a lot more aggressive, we're better songwriters. The group has gelled into a force. We are definitely a force when we're onstage. When people talk about the loudest band in this area, that is Truth Cell. We are the loudest, most in-your-face band around here. We operate well over 200 decibels off the stage � well past the point of pain. We want people to walk away from a Truth Cell show never forgetting it. When your head's ringing for days afterwards, you're gonna remember it."
Anyone in attendance at The Granada a couple years back for Truth Cell's appearance with Gwar, would surely agree. While Murray and company have shared stages with numerous big-name groups (S.O.D., Disturbed, Sevendust, Hatebreed), they viewed the Gwar show as a personal challenge. After all, it's easy to look pretty dull when opening for the world's most infamous macabre metal-circus act.
"We tried to in some shape or form, top what Gwar's got going on," Murray laughs. "It was about two months after Columbine. A lot of what we have to say is: Pay attention to what's going on. This is a huge, unfriendly evil world. So what we did was, before we played our last song, I gave a little speech about paying attention. As a surprise to all the people in the crowd, we had a buddy hidden out in one of the crow's nests, dressed in black, with an AK-47. So as the song started to kick in, he jumps up and cuts off about seven or eight rounds. Half the crowd hit the floor, half the crowd headed for the door. It scared a lot of people, and we got in a lot of trouble for doing it. It was a real gun. There were blanks in the gun, but it was real flash, real sounds, a real AK-47. What we proved in that little act was you're not safe in Lawrence, Kan. Sometimes you gotta scare the hell out of some people to realize that, hey, there's problems here."Combat rock
Truth Cell's message is as important as its music, and it's virtually impossible to separate the two. Though it's easy to get lost in the band's splintering riffage and skull-fracturing rhythms, politics also play a huge role in the group's oeuvre. Befittingly, the act's logo is an American eagle clutching a guitar in one claw and a machine gun in the other � a symbol that pretty much sums up where Truth Cell is coming from. While metal is usually slighted as music for the mentally disinterested, Murray insists that those with open ears will clearly hear the philosophy beneath the waves of distortion.
"That's one of the reasons we try to take an intellectual route towards the things we have to say, because metal is dumbed down a lot," he explains. "That's sad, but unfortunately it can be true. That's true in any genre of music. You've got De La Soul and Juvenile: the ultra intelligent and the idiots just spouting rhymes. Our goal is to wake some people up, to say that this isn't a perfect world. There are simple things we can do to make it better that nobody's willing to do. We're trying to raise some noise about that kind of thing."
With George Bush in office, the country at war and The Patriot Act stripping away personal liberties at an unprecedented rate, the world could use more bands like Truth Cell � groups unafraid to take on tough issues and address them candidly. According to Murray, it is exactly these sort of times that produce the hardest-hitting music.
"Whenever there's been a republican presidency, there's usually a war at some point in time, and music gets more aggressive, more political, more in-your-face," he says. "Not many other genres in music do that. Punk rock, hardcore, metal are gonna be your leaders in political thought, as far as youth culture goes ... We're not really preachy, we've just got something to say. I've always been in political-type bands. Politics plays a big part in music, for me anyway. If people catch the message and they're down, great. But there's also some brutal music to go along with that. So if you're not into the politics, but you like heavy music, you're gonna dig that."
Asserting yourself
Fans who've already caught Truth Cell's live show will finally get the chance to hear the band infiltrate a recording studio � namely Chapman in Kansas City, Mo., where tracks were recently completed with producer Rick Kloog. Mastering for the project, where the finished album is given a final buffing before being committed once-and-for-all to disc, is being handled by Sterling Winfield, whose extensive live and studio work for Pantera has made him a demi-god of sorts. Having Winfield on board doesn't mean that Truth Cell is walking Pantera's hedonistic path, obvious from the record's title, "Hurajan," � Sanskrit for "Sacrifice the King."
"Is it George Bush or is it Alan Greenspan? Who's pulling their strings?" Murray asks. "Sacrifice THAT guy, because he's the one that's (expletive) us. It's just kind of a blanket statement: Maybe we should let these people getting us into all these problems get us out of these problems."
On "Hurajan," Blake and Renfro's grunting, growling, teeth-gnashing twin-vocal attack is set to the band's forceful sense of impending doom. Rather than squealing and squalling their way through scales like many metal guitar slingers, Murray and White wield their axes rhythmically, using them as blunt, percussive devices rather than an exercise in ego stroking. Filling out the sound are spoken-word snippets that wouldn't sound out of place on a Public Enemy album and Melody's drill sergeant skinpounding. It's a big record, full of big sounds and big ideas � a clear indication of a band that's looking to find success on a scale that outpaces its slacker, indie rock peers.
An extensive East Coast tour in support of "Hurajan" is currently in the planning stages, and the group hopes to make a West Coast trek in the coming annum. Truth Cell's already covered, time-and-time again, most of the terrain between Green Bay, Wis., and Nashville, Tenn., building a small-but-devoted out-of-town following in the process. Those fans obviously understand and appreciate what the band has to offer, but does Murray really believe that music has the power to change the social fabric of our lives?
"I truly do," he nods. "Look at bands out of the '60s and '70s. Those bands made a difference � you can directly point to that movement as (causing) a change in people's attitudes. Music is a huge player in the way people think, even if you don't realize it ... But we deal with a lot of personal politics: waking up, being more assertive of yourself, be a strong individual, don't let things beat you down. People, at this point in time especially, need to really concentrate on being righteous people. That's one of the things we try to say in our music: Before you go bitch about politics and how things are all screwed up, you need to take a look at yourself first."