Thursday, February 1, 2001
If you are a frequent visitor to Fields Gallery at 712 Massachusetts, right now you can see something brand new on the gallery's walls, photographs. In exhibiting the recent photographs of photographer Jeff Barnett, Fields opens their space to photographs for the first time in.
A Wichita native, Barnett returned to Kansas from Kent, Ohio during his adolescence, and now attends Washburn University in Topeka. It was in the studio there that the photographs in Barnett's "Untitled Series" were made.
Though Barnett normally describes himself as a street photographer in search of what Henri Cartier-Bresson called the "decisive moment," these images were created in the studio under tungsten lights rather than with strobes, and using a vintage Graflex six by nine centimeter camera.
The images are black and white prints of very tight close ups of his models. They are studies of partial faces; sometimes a hand is present. In some images his subjects are in motion and in others they remain static.
If you'd like to have your gallery listed here, contact Christine McConkey at 832-7266, or email her at cmcconkey@ljworld.com.
If you would like to be profiled as an artist on theMagonline.com, please e-mail Michael Newman.
The portions of human physiognomy he depicts plays with the viewer's ability to gain perspective. The subjects are shown larger than life, so at once the viewer is drawn in to see the detail and driven back by the exaggerated scale in order to find a sense of normalcy.
Barnett is passionate about photography and is glad to see more exhibition spaces opening up for photographers in the area. A spokesman for Fields, which opened the gallery area last summer, says they were just waiting for the right work to come forward. Jeff Barnett has produced that work.
A reception for the artist is scheduled at Fields Gallery on Friday, February 2nd from 6:00 to 9:00 PM.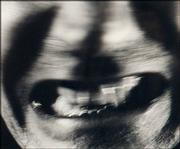 More like this story on Lawrence.com